The 22-year-old has won his last four Virtual GPs
11:47, 20 Apr 2020
Sunday 19 April 2020 was supposed to be the Chinese Grand Prix. The promise was ten Formula One teams, treating us to a fast and furious frenzy in the fourth race of the season. Lewis Hamilton would attempt to defend his '19 win on the Shanghai International Circuit, while Ferrari's young Charles LeClerc was aiming to go one better than last year and drench himself with champagne on the podium.
Instead, on this day LeClerc was enjoying a different victory and celebrating not with a giant bottle of bubbly but a big bowl of pasta.
The 22-year-old is simply unstoppable at the moment. For this weekend LeClerc did indeed conquer China, chalking up his fourth win of the season.
Formula One is currently his playground, albeit with a noticeably Tron flavour.
On Sunday, LeClerc won his fourth major esports race in row - the Formula 1 Virtual China Grand Prix. Having qualified on pole position, the Monaco man raced to yet another victory, perfectly, beating Red Bull's Alex Albon.
The F1-sanctioned contest encouraged viewers to the race to donate to children's charity UNICEF in the ongoing fight against COVID-19 (Coronavirus) in the latest in the #NotTheGP series.
The participants who were attracted included LeClerc and Albon's usual track competitors Nicholas Latifi, Lando Norris, and George Russell. Even Real Madrid goalkeeper and F1 enthusiast Thibaut Courtois joined in, with the Belgian unfortunate to crash out in the first round.
Veloce has been a leading light in the esports explosion during the current 'lockdown' period, being the first organisation to put on a virtual event when it became clear that Formula 1 and other international motorsport series would be postponed.
The action was broadcast live via the Veloce Esports YouTube channel, with the racing starting at 21:00 GMT. Additionally fans were able to keep up-to-date with all key timings via Veloce Esports' various social media platforms.
"We are delighted to have attracted such a strong line-up of drivers and to be raising money for such a great cause," Rupert Svendsen-Cook, Co-Founder and CEO of Veloce Esports, said, "We are proud to be supporting UNICEF UK's work for children affected by Coronavirus in an exciting and engaging way, pitting top racing stars head-to-head in a really unique event and bringing exciting motorsport into the homes of the world during this 'lockdown' period."
"The discipline of esports has really come into its own in recent weeks, "Jean-Éric Vergne, Co-Founder and Ambassador of Veloce Esports concurred, "We have witnessed a general growth in its popularity over the last few years, and a lot of us drivers enjoy taking part in-between our real racing. This unprecedented 'lockdown' and the event postponements have really brought esports to the forefront and kept motor racing alive for fans. We are all delighted to be able to continue competing while raising funds for such a deserving charity as UNICEF."
"I'm actually enjoying very much playing, and streaming. But the post race celebrations are somehow feeling a bit different," Leclerc said after his win, "Switching off the computer and going to cook white pasta is a bit less glamour than spraying champagne on the podium."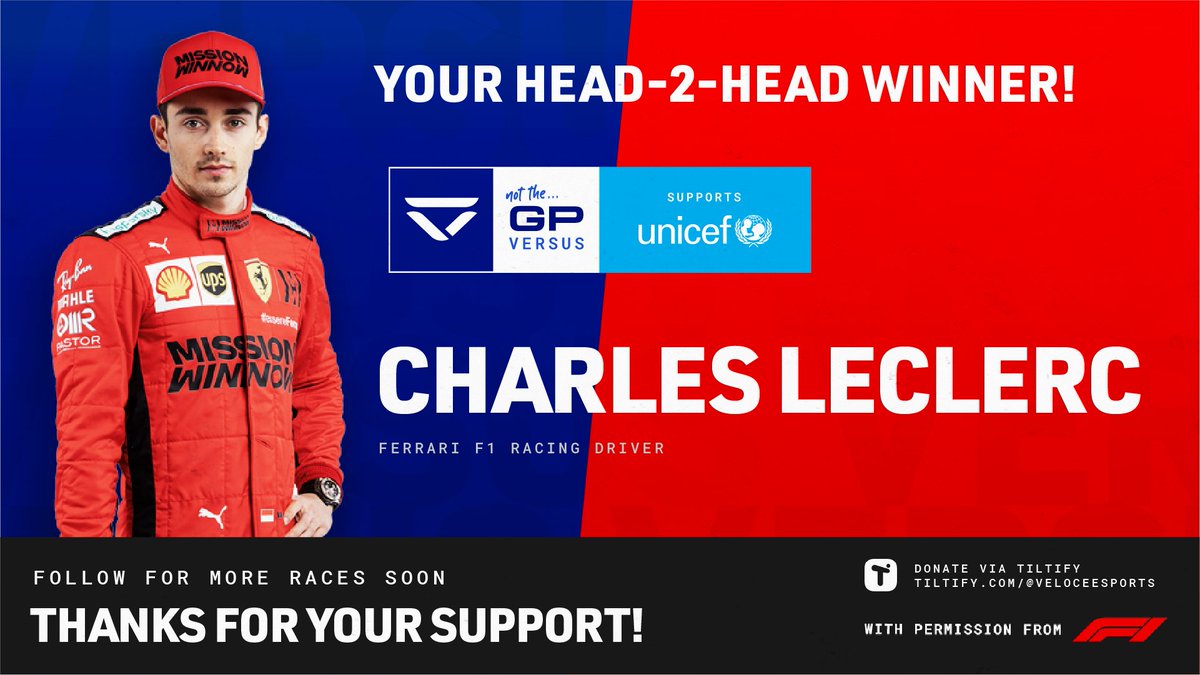 It is a discernibly sunnier story after the clouds started to gather over esports in recent days. NASCAR driver Kyle Larson found himself in the hottest of water when he let loose a racial slur, eventually leading to his expulsion from the organization indefinitely. Furthermore his rival Bubba Wallace lost his sponsorship after he pulled the plug and stormed out of an iRace in frustration.
This weekend's exhibition however at least confirms that Formula One is in pole position when it comes to providing the unblemished entertainment in these precarious times which has denied the world of sport.