Keep up to date with the latest news from the World Cup on our LIVE blog!
08:41, 22 Nov 2022
Last Updated: 22:04, 22 Nov 2022
So begins the four-game per day cycle of the World Cup group stage, starting with Argentina facing Saudi Arabia to get the day underway at 10am (GMT), and with plenty of action to follow. Stick with us throughout the day as we bring you the latest news out of Qatar, as well as anything else we might see throughout the day.
WORLD CUP TODAY
Full-time: France 4-1 Australia
GOAL: Olivier Giroud again | 4-1
5️⃣1️⃣ Olivier Giroud is now LEVEL with Thierry Henry's goal record for France...
📹
@BBCSport
|
#FRAAUS
GOAL: Mbappe puts France in the clear | 3-1
Half-time | France 2-1 Australia
GOAL: Giroud puts the French ahead | 2-1
Two goals in 5 minutes and with 32 minutes gone, France are ahead.
🇫🇷 Olivier Giroud nets his 50th goal for France.
He's now just one behind Thierry Henry and two away from becoming France's all-time leading goalscorer...
📹
@BBCSport
|
#FRAAUS
GOAL: France are level | 1-1
Rabiot is on the scoresheet for France.
GOAL: AUSTRALIA TAKE THE LEAD | 0-1
🇦🇺 WOW. Craig Goodwin scores and Australia have taken the lead against France!
📹
@BBCSport
|
#FRAAUS
France vs Australia team news
FULLTIME - MEXICO 0-0 POLAND
PENALTY SAVED
Ochoa denies Lewandowski and Mexico have a new life.
PENALTY TO POLAND
VAR-assisted nonetheless but it's still now all the pressure on Lewandowski's shoulders.
Half-Time: Mexico 0-0 Poland
Mexico looked the more threatening side in the first half but were unable to get on the scoresheet.
Beth Mead out for the season
Arsenal and England star Beth Mead has ruptured her ACL and will face months on the sideline. We wish her a speedy recovery.
Kick-Off | Mexico vs Poland
The second game of Group C is underway!
Saudi Arabia's King announces national holiday
Mexico-Poland Lineups
🇲🇽 Mexico XI: Ochoa; Sánchez, Montes, Héctor Moreno, Gallardo; Héctor Herrera, Edson Álvarez, Chávez; Lozano, Henry Martin, Vega.
🇵🇱 Poland XI: Szczesny; Bereszynski, Glik, Kiwior, Cash; Kaminski, Krychowiak, S.Szymanski, Zielinski, Zalewski; Lewandowski.
MATCH REPORT: Denmark vs Tunisia
Christian Eriksen made his return to the main international stage 17 months on from the harrowing afternoon on which he very nearly lost his life playing for Denmark against Finland at Euro 2020.
GOAL DISALLOWED!
Denmark have the ball in the back of the net from Andreas Skov Olsen's rebound but it's ruled out for an offside in the build-up!
HALF TIME
Denmark and Tunisia go back into the dressing rooms with the scores tied at 0-0.
Five Other Major Upsets In World Cup History
Can you believe it? Saudi Arabia stunned Argentina in the opening match of Group C at the 2022 World Cup with a 2-1 victory.
Two goals in quick succession from Saleh Al-Shehri and Salem Al-Dawsari saw the underdogs cancel out Lionel Messi's opener in the first-half from the penalty spot.
Here we take a look at some of the biggest upsets in the history of the World Cup...
The Reason Behind Hummel's Kit Design
Hummel have purposely hidden their logo on the Denmark World Cup Kits, here is why...
"We don't wish to be visible during a tournament that has cost thousands of people their lives. We support the Danish national team all the way, but that isn't the same as supporting Qatar as a host nation."
KICK OFF
Denmark get us started and fly out of the blocks!
Pep Guardiola agrees 2-year contract extension
Pep Guardiola has agreed a new two-year contract at Manchester City.
Denmark-Tunisia starting lineups
MATCH REPORT | Argentina 1-2 Saudi Arabia
This goes down as one of the biggest ever shocks the World Cup has ever seen, but the Saudis deserved every last bit of it.
FULL TIME
Saudi Arabia hang on to defeat one of the World Cup favourites, Argentina in Lusail in one of the greatest shock results of all-time.
Injury update
Valiant defending from Saudi Arabia has seen the goalkeeper Mohammed Al-Owais and his defender Yasser Al-Shahrani collide knee-to-head. Al-Shahrani is receiving medical treatment and seems to be okay, despite looking unconscious for a moment. We hope he's okay!
Something doesn't add up here...
An attendance of 88,000 was announced at the Lusail Stadium, which holds just 80,000.
Update: Argentina 1-2 Saudi Arabia
Well who'd have thunk it? Saudi Arabia lead Argentina going into the final ten minutes of play at the Lusail Stadium. Argentina have brought on reinforcements in the shape of Enzo Fernandez, Lisandro Martinez, Marcos Acuna and Julian Alvarez, and Saudi Arabia have brought on Mawaf Alabid as well as Sultan Al-Ghannam.
GOAL!
ANOTHER GOAL FOR SAUDI ARABIA! AN ABSOLUTE SCREAMER FROM SALEM AL-DAWSARI!
ARGENTINA 1-2 SAUDI ARABIA
GOAL!
GOAL SAUDI ARABIA! The first shot from the Saudis finds the back of Emi Martinez's net. Saleh Al-Shehri with the tidy finish!
EXPLAINED: Added Time At The World Cup
Across the first four games of the tournament, there have been 65 minutes added, averaging 16 minutes per game.
Argentina's Offside Struggles
Argentina have managed to be offside more in the first half than they've managed shots, as shown below...
⛳ Argentina have been flagged offside (7) more times than they have managed shots (5)
🇦🇷 1-0 🇸🇦
#Qatar2022
Martinez offside again
The striker has the ball in the back of the net for a second time but it was never in doubt that he was offside. Someone needs to explain to Argentina the laws.
Lionel Messi joins esteemed company
The Argentine's opener against Saudi Arabia has seen him join an exclusive club.
4 - Lionel Messi is the fifth player to score at four different World Cup tournaments (2006, 2014, 2018, 2022) after Pelé, Uwe Seeler, Miroslav Klose and Cristiano Ronaldo. Legend.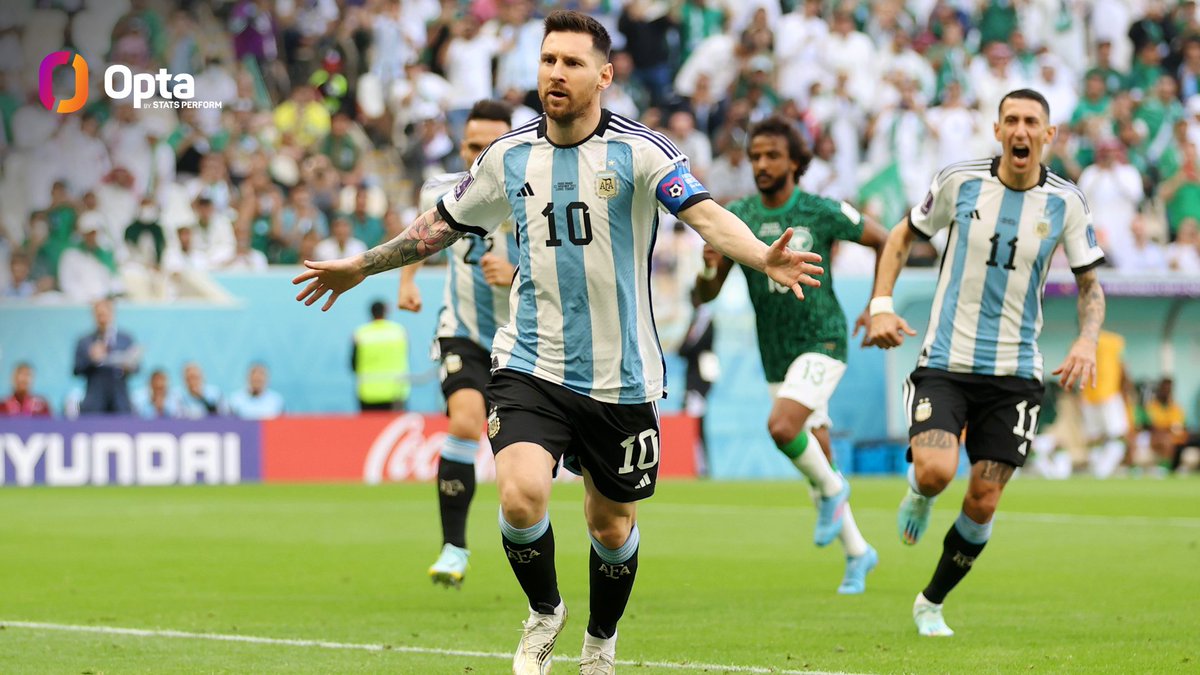 GOAL RULED OUT!
Just a matter of minutes following Lionel Messi's goal being ruled out, Lautaro Martinez managed to chip the keeper but it was ruled out for an offside infringement. Close!
Lautaro Martinez denied for offside
What a delightful lob that was from the Inter Milan striker, such a shame he was not onside for it.
Disallowed goal for Messi
It was almost a second for Lionel Messi. The attacker latched onto a ball from over the top and finished brilliantly, only for it to be disallowed for offside.
Lionel Messi scores
Argentina land their first blow in the World Cup and it is their leading man Lionel Messi from the penalty spot.
GOAL
After a short VAR check, Argentina win a penalty and Lionel Messi converts with ease. 1-0 Argentina!
Argentina's 'Old' Team
A fun stat about Argentina's starting XI.
34 - Argentina are the first team in World Cup history to have four players aged 34+ in their starting XI (Lionel Messi, Nicolás Otamendi, Ángel Di María and Papu Gómez). Experience.
KICK OFF
Argentina get us underway in Qatar!
Today's Betfred World Cup Special
Sane to miss Germany opener
Leroy Sane will miss Germany-Japan tomorrow with a knee injury.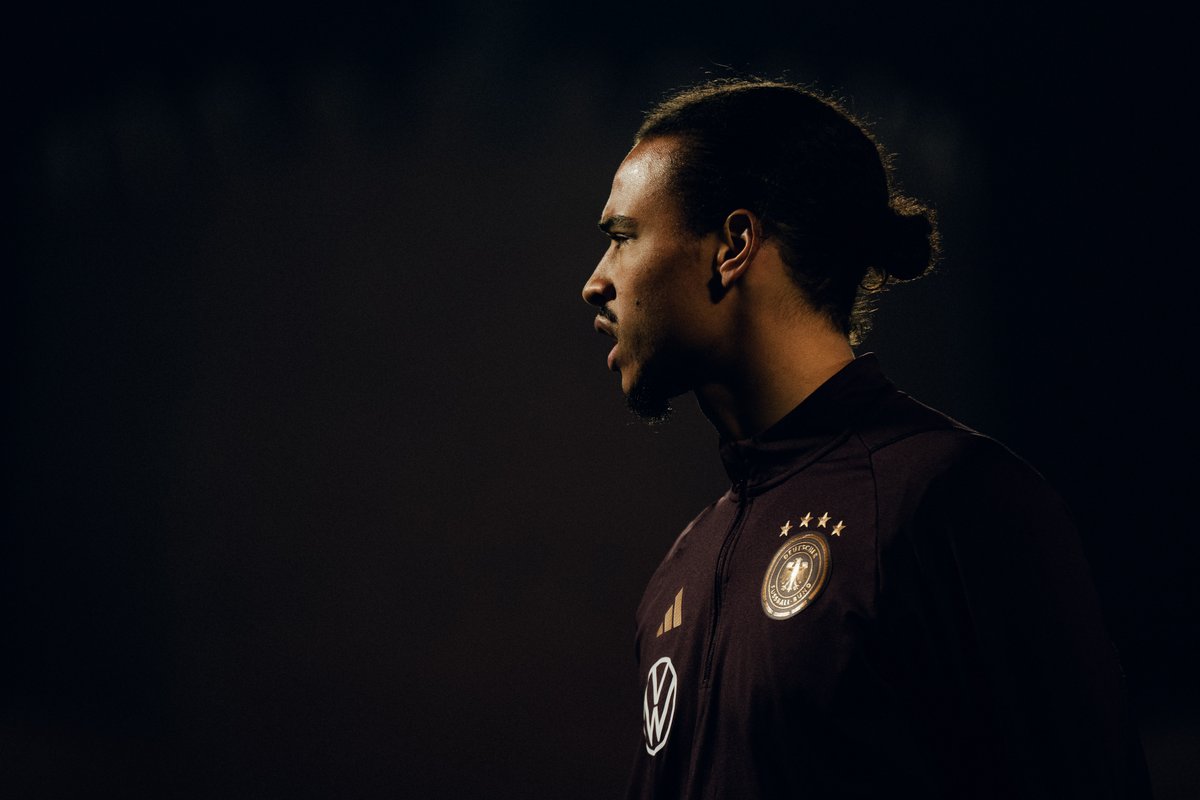 ARG-KSA Lineups
#ARG
XI: Martinez, Molina, Romero, Otamendi, Tagliafico, De Paul, Paredes, Papu Gomez, Messi, Lautaro Martinez, Di Maria.
#KSA
XI: Alowais; Abdulhamid, Altambakti, Albulayhi, Alshahrani; Alfaraj, Kanno, Almalki; Albrikan, Alshehri, Aldawsari.
#FIFAWorldCup
#Qatar2022