Fire And Ice: Can Burning Ambition Help Afghanistan Melt England's World Cup Hopes In Manchester?
12:00, 16 Jun 2019
142 years of cricketing history will separate England and Afghanistan when the two meet in Manchester on June 18 for game 24 of the 2019 Cricket World Cup. England – cricketing aristocracy – are veterans of 1000 Test matches and 700 one-day internationals. By contrast, Afghanistan are the sport's new kids on the block.
After full member status was awarded in 2017 by the International Cricket Council the first of their two Test matches resulted in a crushing defeat against the might of India. The second, however, a win over Ireland last year brought overwhelming joy. Their journey of acceptance from the sports establishment was complete.
Afghanistan belong among cricket's elite, but this tie remains the crudest of sporting contrasts. Once a country without hope, Afghanistan's national history is a joyless chronology of conflict, instability and imperial rule. Cricket has been its salvation. A sport brought back by the Afghans who fled their homeland in the 80s and 90s for the refugee camps of northern Pakistan, cricket is a solitary symbol of national pride for the country's 35million people.
Former national team coach Kabir Khan once said the team's players who had risen from nothing were global ambassadors that offered a counternarrative to widely held perception of nation defined only by extremism and violence. "Nobody even knew about cricket," he said. "But the boys who migrated started to learn about cricket because there was nothing else in Pakistan. It's a game which you can play in the street, that's how they got into this sport."
From the streets of Peshawar and wastelands of Kabul to the manicured lawns of an English World Cup. Against the odds, a team of men who learned the game on the margins of Afghanistan's broken cities find themselves the darlings of this tournament. Cricket is to the people of Afghanistan what boxing has been to the slums and backwaters of urban America for decades. The only way out.
Its players are now stars at home and abroad, their faces plastered over adverts on billboards and local television. The most sought after of them is Rashid Khan, a 21-year-old leg-spinning allrounder who is the world's best T20 bowler and the third best in one-day international cricket. Khan's talents caught the eye of the biggest T20 leagues in the world in 2017 when he signed a US$600 000 contract for Sunrises Hyderabad. It made him the league's first Afghan player and Afghanistan's greatest sportsman.
His cricketing upbringing of displacement, street cricket and tapped-up tennis balls could not be more different to the paths England's stars have trodden. The likes of Joe Root, Jos Buttler and Ben Stokes are champions of cricket's nobility and giants of the modern era. Their merciless and poised brand of limited overs cricket is a product of a near-lifetime of coaching and quality practice on world-class facilities. Remember this: Rashid Khan – almost an entirely self-taught cricketer – didn't touch a real cricket ball until he was 14.
England would do well not to see Afghanistan as just a distraction in what should be a procession to the semi-finals of the tournament and beyond. But any team that has fought its way to the top level of sport in the manner this team has, is one to respect when they are cornered. Afghanistan found themselves at the top of the table when the tournament started – albeit only thanks to alphabetical ordering – but it was symbolic of the fact that they have climbed a mountain to get here. So far in this World Cup, however, they are without a win.
They will not struggle for support. President Ashraf Ghani is expected to cheer his side on in Manchester, taking a few hours out of an official state visit to the UK. He'll have company. Afghanistan's first game of the tournament against Australia brought thousands of passionate Afghan nationals living in the UK out to support them. Thousands more are expected for the showdown with England.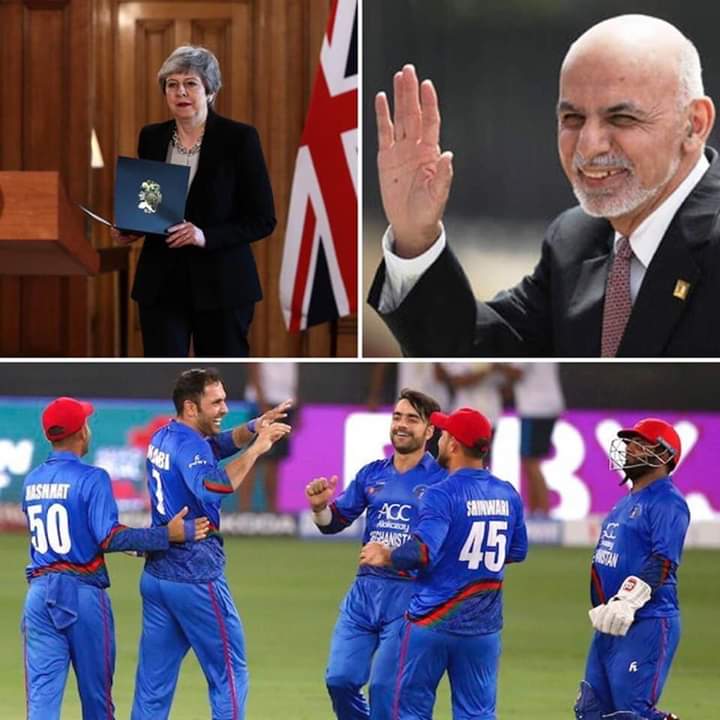 The home side will have the advantage. As the highest ranked team in the world England will have little to worry about from the bottom-ranked side in the tournament, but it is spirit – not skills – that make the Afghans dangerous. England thrashed Afghanistan by nine wickets inside 18 overs during the World Cup warm-up games. Jason Roy crushed a 46 ball 80. But this game will not be quite so easy. Afghanistan proved they are dangerous when they beat Pakistan in a pre-tournament warm-up game and they have previous World Cup-winning pedigree having beaten Scotland in 2015.
Another sport entirely reminded us recently that underdogs with nothing to lose can be the most dangerous of opponents. A lot has been made since, of 'what went wrong' for Joshua including a sense that he was yet another victim of the 'Drake Curse'. Lost in the excuses, however, is the fact that Andy Ruiz brought pedigree and a credible threat. England would do well not to overlook the threat of nation with fire in its belly.