Yan Bingtao got lost on the way to Alexandra Palace, then lost his way at the table
19:00, 09 Jan 2022
Defending Masters champion Yan Bingtao had a bad start to his Sunday, getting lost while being driven to the Alexandra Palace venue – and having arrived late he was then run off the road by a fired-up Mark Williams.
The 21-year-old from China was bizarrely making his debut at the huge arena in north London after winning the title 12 months ago behind closed doors in Milton Keynes.
Successes last year for Yan and then Zhao Xintong at the UK Championship last month led to suggestions a young Chinese wave of talent could even be sweeping most before them for the foreseeable future.
But the 46-year-old Williams, part of the famous 'Class of 1992' along with Ronnie O'Sullivan and John Higgins, and a two-time Masters champion with the last title coming 19 years ago, won 6-4 to show the old guard still have something to offer.
The Welshman roared over the winning line by winning five of the last six frames from 3-1 down in front of 2,000 fans, rattling in breaks of 63, 56, 62, 67, 64, 104 and 85.
And there was something for everyone in a characteristically brilliant if unconventional display, that included some of his trademark 'under-arm' shots, and also an outrageous one-handed snooker escape that saw him fluke the pink to help spark the crucial four-frame blast from 3-1 adrift.
It was a wonderful display from reigning British Open champion Williams, one that saw him into the quarter-finals of the prestigious invitation tournament for only the elite top 16.
Earlier in the day world No15 Yan, in a car with his manager and tournament reserve Zhou Yuelong who was at the wheel, suffered Sat Nav trouble in the Bermuda Triangle that is the North Circular Road and arrived late.
Williams, who has suffered from both Covid and gout this season, is in his 30th season as a professional. The world No8 said: "It was just nice to be playing in front of a fantastic crowd in this wonderful arena – probably the best I have played in in my life, ahead of the old Conference Centre.
The reigning champ falls at the first hurdle for the 3⃣rd time in 4⃣ years. ❌
But Yan will be back. 🐯💪
#CazooMasters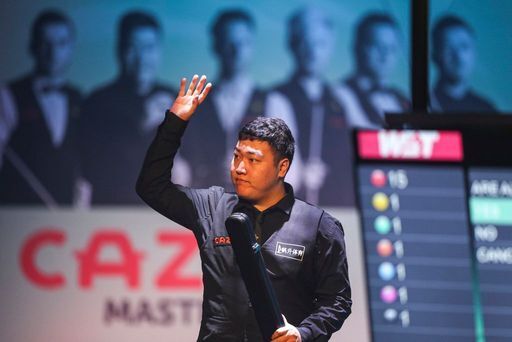 "We are still under the restrictions back home in Wales, and at my age just to get here and experience this is wonderful.
"It was a good game and I have been playing like that all season really. I am all right as long as I don't have to walk up and down any stairs!
"My record since 2003 is not great but it is such a hard tournament to win when you look at who is in the field every year, the likes of Ronnie O'Sullivan and John Higgins.
"In a couple of months I will be 47 and I would never have though I would still be competing at these tournaments at this level – you just have to enjoy the occasions.
"I would just have liked another backstage pass for my wife Jo as well as my coach Lee Walker, it would have been good to see her at the interval – but they seem to be the rules."
Yan said: "Zhou Yuelong was driving us here this morning and he did get lost, we found it a very hard place to find.
"We both played well today so I am not too disappointed. I enjoyed it out there though it was very different. It was my first time in this arena and there was definitely a lot more pressure playing in front of 2,000 fans than last year with no one at Milton Keynes.
"Mark was excellent, I can't remember him missing a long pot or any of the tough shots, so he deserved his victory."
Williams will play the winner of Monday's clash between Higgins and Zhao, and was in no doubt who was his preferred opponent. He said: "I would love to play against John, me and him are the golden oldies and it would be fantastic to play here in this arena with the big crowd."
Considering he is one of the undisputed greats of the sport, Williams' record at the Masters in recent years and at the various venues since leaving the old Wembley Conference Centre has been less than spectacular.
His first title in the tournament came in the classic 1998 final against good friend Stephen Hendry, when the Scot missed a straightforward re-spotted black into the centre pocket, allowing Williams to pot it for the title.
And that was followed in 2003, when Hendry was once more his victim in the final though the scoreline of 10-4 was far more emphatic in what was probably the absolute pomp of Williams' career.
But since 2003 in the last 19 years picking have been a lot slimmer for Williams, who has bafflingly only made the semi-finals once in almost two decades.