Five English Athletes Gunning For Commonwealth Games Glory
10:03, 03 Apr 2018
April will see the elite of English Track and Field descent descend upon Australia for the XXI Commonwealth Games. The Carrara Stadium in the Gold Coast will be the centrepiece for the Athletics competition with Team England hoping to continue their rich history of success. No other country has won more medals in athletics at the multi-sport event than England.
This year's athletes will be hoping to live up to their high expectations and make up for their past misfortunes. With gold on the line, here are five contenders targeting Commonwealth success.
Zharnel Hughes
Everything appears to be coming into place for Anguilla-born Hughes. The 22-year-old has already posted good results this year on both sides of the world. Last month he stunned two-time Olympic gold medallist Yohan Blake to win the 100 meters at the Gibson McCook Relays in Jamaica. Achieving the fastest time of the year so far at 10.01 seconds.
Despite his blistering time, Hughes will focus on the 200 meters and relays in the Gold Coast. At a recent athletics meeting in Queensland, which was hampered by windy weather conditions, he ran the 200 meters in a time of 20.23 seconds. Recording the fastest time for the discipline on Australian soil since 2001 and the joint-seventh fastest of 2018.
20.23 into -1.6 tonight, I'm happy with that!!! Refocused, next stop
@GC2018
Since switching allegiance to Great Britain in 2015, Hughes is yet to win a medal at an international competition. Last year he reached the semifinals of the world championships in London before finishing seventh in his heat. Given his recent surge in form, Hughes' medal drought has a solid chance of ending.
Laura Weightman
Coached by former middle distance great Steve Cram, Laura Weightman is embarking upon a new challenge. Already a commonwealth games silver medallist in the 1500 meters from 2014, the Alnwick-born athlete is set to make her major competition debut in the 5000 meters.
Regardless of her lack of experience in running the longer distance at international level, she has already illustrated promising signs this season. At the start of the month, Weightman won a 5K road race in Podium, Barrowford, in a time of 15:25. The fourth fastest ever by a British female athlete.
"I'm really excited about heading to Australia and doing the 5000m which is something different for me. It's a change from the 1500m and I'm looking forward to it." The 26-year-old told Athletics weekly.
"Me and Steve thought about how to get the most of a year with a Commonwealth Games in April and a European Championships in August. I think this is a good opportunity to try the 5000m and then I can hopefully step back down to the 1500m for the European Championships."
In the history of the commonwealth games, only one English woman has won the 5000m title. Paula Radcliffe claimed gold in 2002.
Andrew Pozzi
Fresh off winning gold at the World Indoor Championships, Andrew Pozzi is hoping to prove a point outside in the 110 metre hurdles. The 26-year-old is yet to win a major title outdoors. Reaching the semi-final stage at both the 2016 Olympic Games and 2017 World Championships.
It's taken 24 hours but it's finally settling in! 60m Hurdles World Champion 😱🥇🎉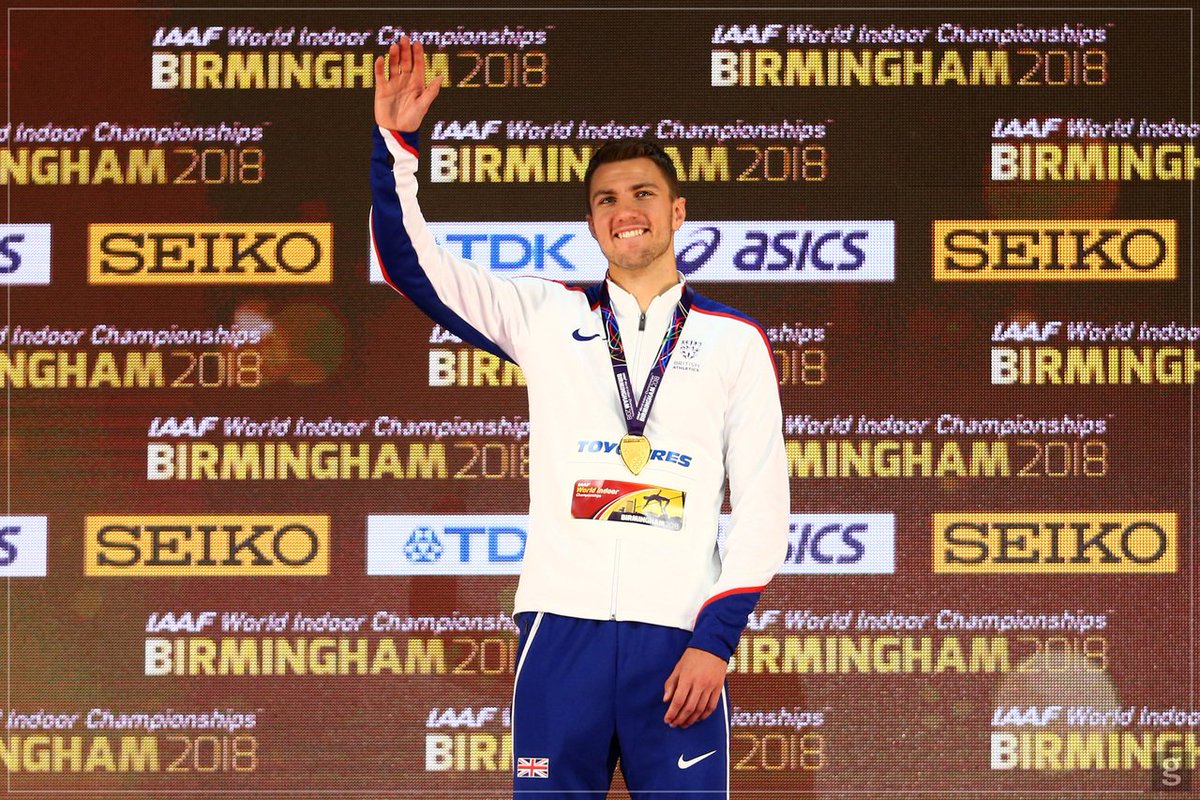 "I want to start delivering at all indoors and outdoors championships. It's taken me a long time to catch up but with two summers under my belt I'm going to take that form into every championship expecting to win a medal and deliver." Pozzi said during an interview with Sky Sports.
In his first outdoor race of the year in Brisbane, the 26-year-old finished fourth in a modest time of 13.99 seconds. 0.86 seconds behind his personal best set last April. Since 2002, all four gold medallists in the 110M hurdles at the Commonwealth Games have run a time of 13.40 seconds or quicker.
Tom Bosworth
Less than a year after his heartbreaking disqualification for the World Championships, Tom Bosworth is eager for redemption. The 28-year-old has been praised for his efforts in trying to raise the profile of race walking. He is the British 20K record holder with a best of 80:13. Nearly two minutes faster than any other athletes from Britain.
Heading into the Gold Coast, Bosworth has illustrated his class this season. At an indoor race in Glasgow, he broke the world 3000 meter walk record with a time of 10:30:28. More recently, he also finished second in a 20K race in Lugano, Switzerland in a time of 81:28.
A British athlete is yet to win a medal in the 20K race walk at the Commonwealth Games. A trend that six-time British record holder Bosworth aims to break by winning his first medal of any kind at international level.
Katarina Johnson-Thompson
The darling of British athletics will be bidding to emulate Kelly Sothernton and Jessica Ennis by claiming Commonwealth honours. Katarina Johnson-Thompson enters the Heptathlon with a lot on expectation on her shoulders.
At the recent world indoor championships, she won three out of five events to claim a gold medal in the pentathlon. Finishing 50 points ahead of her nearest rival. It was Johnson-Thompson's first senior global title at the age of 25.
This year the Liverpool-based athlete is gunning for the hat-trick. Already with one gold medal, she will bidding for a further two this year at the Gold Coast following by the European Championships in the summer.
"I said to myself I wanted two golds and one other medal but I would love three golds. If I can that would be great." She said at the start of this month.
"That is what I am hoping. I am so happy. I have a busy year and this gives me confidence and belief going to the Commonwealth Games that I can compete at a certain level and come away with a medal and not screw it up."
Johnson-Thompson is the third highest-scoring British Heptathlete of all time with a personal best of 6691 points.