And so 2021 is behind us. It's been a hectic year of football played upon the background of a pandemic, but now we must look ahead to what the next 12 months will bring. We have the unique circumstance of a World Cup at the end of the year, while Europe's top clubs will be battling it out for supremacy in the early summer months. But which wonderkids are hoping to have a breakthrough year in 2022? We've picked out five names to keep an eye on over the coming year.
Gio Reyna - Borussia Dortmund
Dortmund look to have found another gem in 19-year-old Gio Reyna and the American is already proving that he has bundles of talent to make it in one of Europe's elite leagues. He scored two goals in the opening three Bundesliga matches this season but has since suffered from a muscle injury and a lack of fitness, although 2022 is set to mark his return to the first team.
With a whole host of talented forwards to learn from, Reyna is sure to make an impact over the course of the remainder of the season as Dortmund look to close the gap on Bayern Munich domestically - while they face Rangers in the Europa League. This wide midfielder is set to be an American superstar.
Florian Wirtz - Bayer Leverkusen
Koln described him as the best player their academy has produced in 30 years. Bayer Leverkusen fought off competition from Liverpool and Bayern Munich to sign him and now, since Kai Havertz's departure, the 18-year-old has stepped up to the plate. Eight goals and 11 assists in all competitions so far is impressive and given his contract runs until 2026, it will take a huge transfer fee to get him away from Leverkusen.
But for 2022, let's just enjoy the development of one of the finest teenagers on the planet.
Here's a look at Expected Assists vs. Progressive Passes for Under 23 players in Europe's Top 5 Leagues:
We should never stop talking about how good Trent John Alexander-Arnold is.
Also, Florian Wirtz being 18 is an absolute joke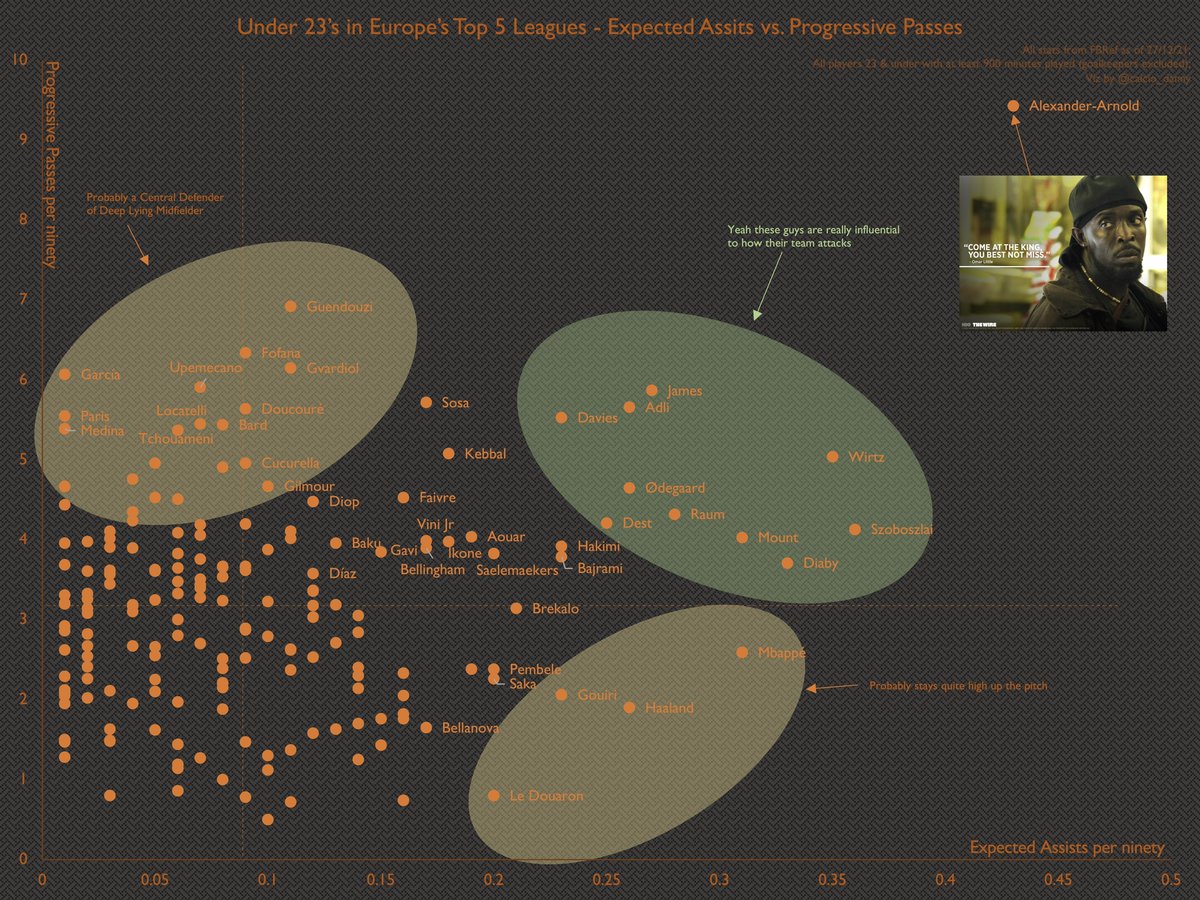 Eduardo Camavinga - Real Madrid
Can we still call Camavinga a wonderkid? He is now running the show in Real Madrid's midfield and as many expected, has made the step up from Ligue 1 look simple. At 19, he is now learning from the likes of Luka Modric and Toni Kroos which isn't a bad schooling for any midfielder.
Real Madrid face PSG in the last 16 of the Champions League and if the young Frenchman can repeat the individual performance that he put in for Rennes against the Parisians in 2019, he could play a big role in their European success. No longer under-the-radar, but still a wonderkid.
Ryan Gravenberch - Ajax
Gravenberch has emerged as one of the top midfielders in Europe and in 2022, he looks set to assert himself even at the age of 19. He has become an undroppable cog for Ajax, played every single minute of their perfect Champions League campaign and is looking to fire them to Eredivisie glory once more.
When Patrick Kliuvert said "he was the next Paul Pogba", this time last year, people sat up and took notice - but now, it appears he was absolutely bang on about the teenage sensation. With how Pogba's career is unfolding at Old Trafford, perhaps that was even doing Gravenberch a disservice.
Jeremy Doku - Rennes
Rennes have quite the habit of collating youngsters from across the globe, from Ousmane Dembele and Camavinga in recent years to their latest addition - Jeremy Doku. The Belgian right winger played at Euro 2020 for his country and at 19 is now looking to kick on and flourish in France, as so many other talents have.
Doku has all the ability to make it at one of Europe's big clubs, but at Rennes he will be given the time to reach his full potential. 2022 could be a huge year for him.