New names and a new coach can raise spirits after Ashes disappointment
07:01, 12 Sep 2019
As an unforgettable summer for English cricket comes to a close, the euphoria of the World Cup has been supplanted by a near-universal, grim acceptance of the Test side's comparative ineptitude.
Australia's 185-run victory Old Trafford confirmed they would deservedly retain the Ashes and today the final Test begins at The Oval.
However, just occasionally, the lowest points can provide the impetus for change. It is not yet time to give up on England as they prepare to embark on a new era ahead of the tour of New Zealand.
A fresh start
Trevor Bayliss' four-year reign is coming to an end, The Oval marking his 59th and final Test. The Australian deserves for his tenure to be remembered for the World Cup triumph.
Bayliss departs with England fifth in the Test rankings. By that measure, they have not got any worse, although performances don't reflect that. Whoever replaces him, whether it is assistant Paul Farbrace, or bowling specialist like Chris Silverwood, who helped Essex to the title in 2017, they will be expected to have a more hands-on approach.
Whoever takes over, director of cricket Ashley Giles is seeking out one coach for all forms of the game. On paper, it will raise questions, but the alternative didn't work too well either – as Giles, who oversaw the total humiliation of defeat to the Netherlands and an early exit from the 2014 World Twenty20, will testify.
Waiting in the wings
England's need is urgent. Fortunately, there are already a handful of players on the cusp of the Test team who look primed for their call-ups. Dominic Sibley has now passed the 1000-run mark with Warwickshire and like a less chaotic Gary Ballance, he has the perfect mentality to open alongside Rory Burns. A more consistent opening partnership might also convince Joe Root to bat at three long-term, if he could be swayed that he wouldn't be coming in after a couple of overs every innings.
Sam Curran and Ben Foakes can also feel aggrieved not to have played a part at Old Trafford and can expect to play a more regular role going forward. A recall for Middlesex's in-form Dawid Malan ought to be on the cards too.
It hurts but we will look to bounce back and level the series at the Oval.
#Ashes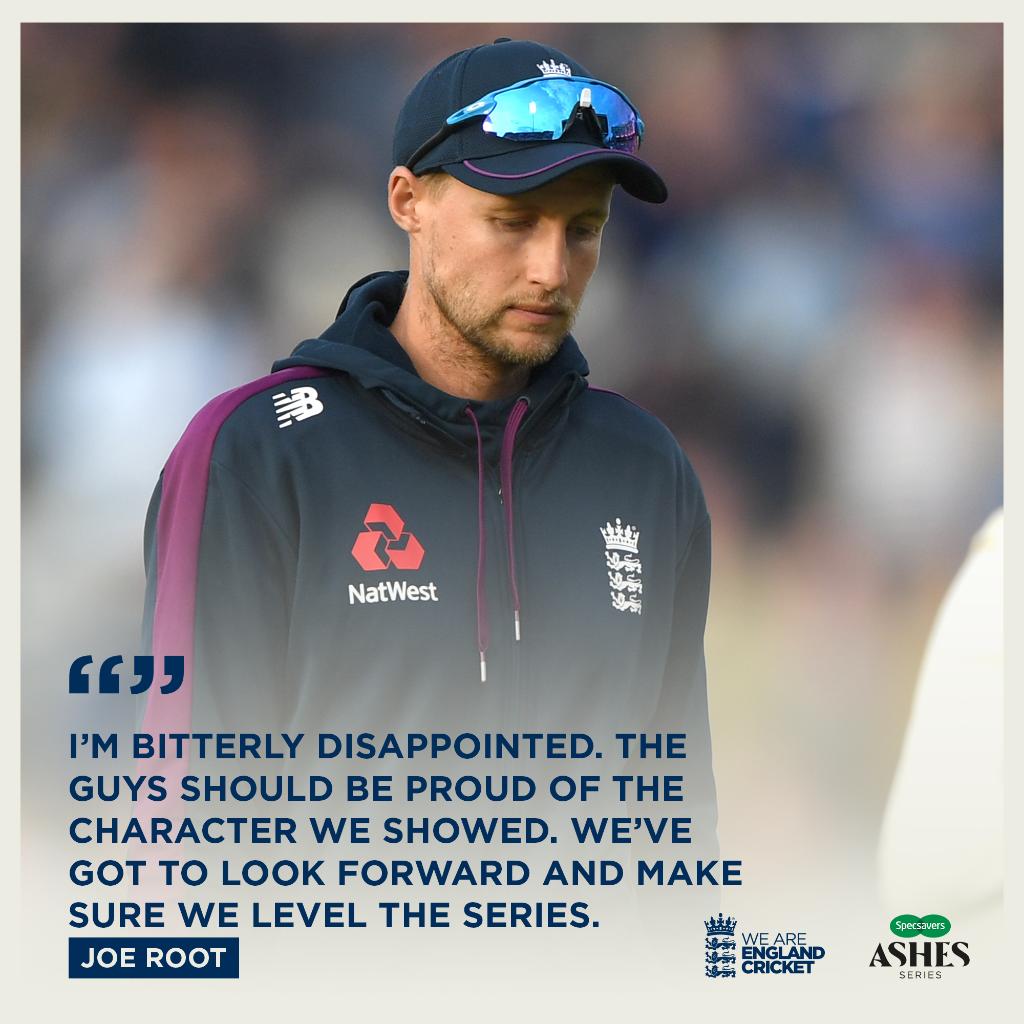 Future talent
Thinking ahead, there are also several batsmen on the county circuit who are being monitored for the future. Kent's Zak Crawley, 21, is one of them, on the back of his best season yet.
Joe Clarke, 23, is another, as an eventual successor to Jonny Bairstow with the gloves and also a potential boost to the middle order.
The ICC World Test Championship
The ECB have more incentive than ever to take Test cricket seriously. They can begin by moving the county season into the peak summer months again and giving serious thought to a schedule that allows their best batsmen to play so little four-day cricket.
The ICC might not have fooled the cricketing world at large of the importance of 'Test points', but it might just kick England's governing body into action.
Joe Root's leadership
Root has faced calls to stand down in light of England's poor Test form. Yet the captain can only work with the tools at his disposal and he took the armband at a challenging time for any Test skipper, given the ECB's priorities.
What England have demonstrated under his leadership is a steely determination, best captured by Ben Stokes at Headingley, but also found in more surprising places, such as in the unlikely stand of Craig Overton and Jack Leach at Old Trafford.
Look at the other captains around. Virat Kohli, he of dodging press conferences when India lose. Look at Tim Paine, trying so hard not to look the lost puppy next to Steve Smith. England are fortunate to have Root and his unconvertable half-centuries. They do not need to create another problem where there isn't one as he nears 7,000 Test runs.