Forget Focusing On The Premier League, Burnley Must Savour Being In Europe
18:00, 29 Aug 2018
On Thursday, Burnley face Olympiakos in the second leg of their Europa League play-off with a two-goal deficit to overturn after losing in Greece. Following a slow start to the Premier League season, that has seen them pick up a single point from their first three games, some pundits are already suggesting that Sean Dyche's side would be better served by dropping out of Europe.
For those that espouse this view, the Europa League is nothing but a distraction, and a damaging one at that. The extra travel, preparation and game time it entails is supposedly taking an excessive toll on the Burnley squad and dividing their focus. So the theory goes, the club needs to focus on the league to avoid relegation, and the sooner their European journey is over the better.
This argument might make hard-nosed financial sense given the rewards on offer for remaining in the top flight, but it's incredibly narrow-minded and joyless – entirely anathema to what football should be about. Burnley supporters have long dreamed of experiencing something like this during years of lower-league drudgery and disappointment. Having finally achieved the unthinkable, to throw away this once-in-a-lifetime opportunity so readily would be a tremendous shame.
This is the first time that Burnley have played in a major European competition since 1961, when they competed in the European Cup as reigning champions of England, and they should savour every moment of it. Their qualification was hard-won, having upset the odds to finish seventh – the club's best performance in the top division for over 40 years. To sacrifice that already would be a tacit admission that money trumps all.
There's no suggestion that Sean Dyche will choose to rest key players against Olympiakos and prioritise the league instead but the fact that such a discussion exists in punditry circles is part of the problem. It's put forward under the banner of pragmatism, a problem that continues to bedevil football. Why dream of something more when supporters of smaller clubs should seemingly be grateful for little other than grim survival?
In recent years, a diverse range of clubs – Birmingham City, Wigan Athletic, Hull City, Stoke City, Portsmouth – have been able to enjoy a rare taste of European football. In many cases it has been frustratingly brief but memorable all the same. Supporters of those clubs remain intensely proud, and justifiably so, of those unique experiences. They wouldn't trade them for anything, let alone another season in the Premier League.
Good morning Clarets fans. Safe travels to all those heading home from Greece.
Don't forget to keep your pics coming for our Postcard from Athens.
Programme@burnleyfc.com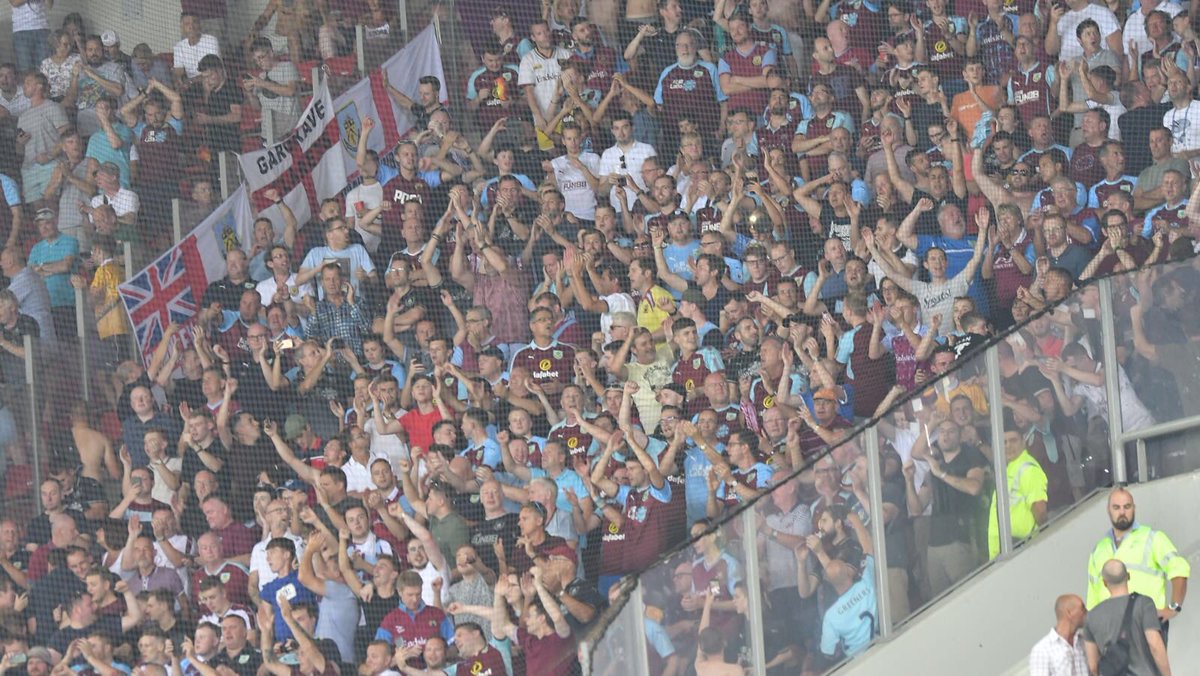 For Stoke fans, there remains an element of frustration at the way Tony Pulis – a pragmatist in the purest sense – left out several key players as the Potters exited the Europa League against Valencia in the round of 32. More than 4,000 supporters travelled to Spain for the second leg, which resulted in a 1-0 loss, and it was as though their manager had already admitted defeat.
English clubs of a similar standing have shown that there's no need to place a self-imposed limit on your ambitions in European competition. Middlesbrough and Fulham both revelled in unexpected journeys to the final of the UEFA Cup and the rebranded Europa League respectively. They might have lost out in the end but that sense of adventure and excitement will never be forgotten. Supporters wouldn't exchange those memories for finishing a few places higher up in the league.
It's certainly something for Burnley to bear in mind. They may well get relegated this season with or without their Europa League commitments but giving up so soon on something they spent a whole year pursuing would be an unforgivable misjudgement, a particularly egregious example of financial concerns winning out over romance in modern football. It shouldn't be allowed to happen.
In such a financially-stratified Premier League, relegation, at some point or another, is simply an unavoidable fact of life for a club of Burnley's size, but the chance to compete in Europe on their own merits may never come again.