Sometimes if it isn't broke, don't fix it and that's the case with Liverpool's star right-back
16:55, 29 Feb 2020
The debate about whether Trent Alexander-Arnold's abilities would be better served by playing in midfield never seems to go away. His range of passing is exceptional and his record of 30 assists over the last two seasons speaks for itself. The desire to bring those qualities to bear further up the pitch is understandable but wouldn't play to all of his strengths.
Alexander-Arnold is undoubtedly a special player. One of the modern breed of full-backs who can run all day and deliver telling crosses on a regular basis. His consistency in this regard is incredible. Few, if any, of his contemporaries are as dangerous when they receive the ball out wide.
Crossing was once a winger's domain, but the role of a full-back has changed almost beyond recognition over the last 30 years. Steady players prized for their defensive solidity have been phased out in favour of dynamic attackers who look to get forward at every opportunity.
Liverpool's pairing of Andrew Robertson and Alexander-Arnold are prime examples of this trend in action. Both have great stamina, desire and crossing ability. They look to work some space and send the ball into the box as often as possible. They compliment each other well too, with Robertson more dogged defensively while Alexander-Arnold has better technique.
Ever since the 21-year-old broke through at Liverpool, a move into midfield has been mooted by pundits. Many want to see such a crisp and accurate passer of the ball affecting games from a more advanced position. Others caution against unnecessarily uprooting a player who is well on course to becoming the best right-back in the world.
Alexander-Arnold fully announced his arrival in a Champions League play-off against Hoffenheim in August 2017. He had played for the first team several times previously, having made his professional debut in a 2-1 win over Tottenham Hotspur in the League Cup, but this was a different level of pressure entirely.
Qualification for the group stage of the most prestigious and financially rewarding competition in European football was on the line and Klopp selected Alexander-Arnold without hesitation. At just 18 years old, he took charge from a free-kick to put Liverpool in front with his first goal for the club. From 25 yards out he demonstrated impeccable technique, curling the ball over the wall and beyond a stranded goalkeeper.
It was a sign of things to come. Alexander-Arnold wasn't an ordinary right-back, content to do his job in an unfussy and unremarkable fashion. There was so much more to his game than that and he wasn't shy about taking the initiative ahead of more experienced teammates.
25 – Only Cesc Fabregas (20y 134d) and Wayne Rooney (21y 63d) have reached 25 Premier League assists at a younger age than Trent Alexander-Arnold (21y 140d). Special.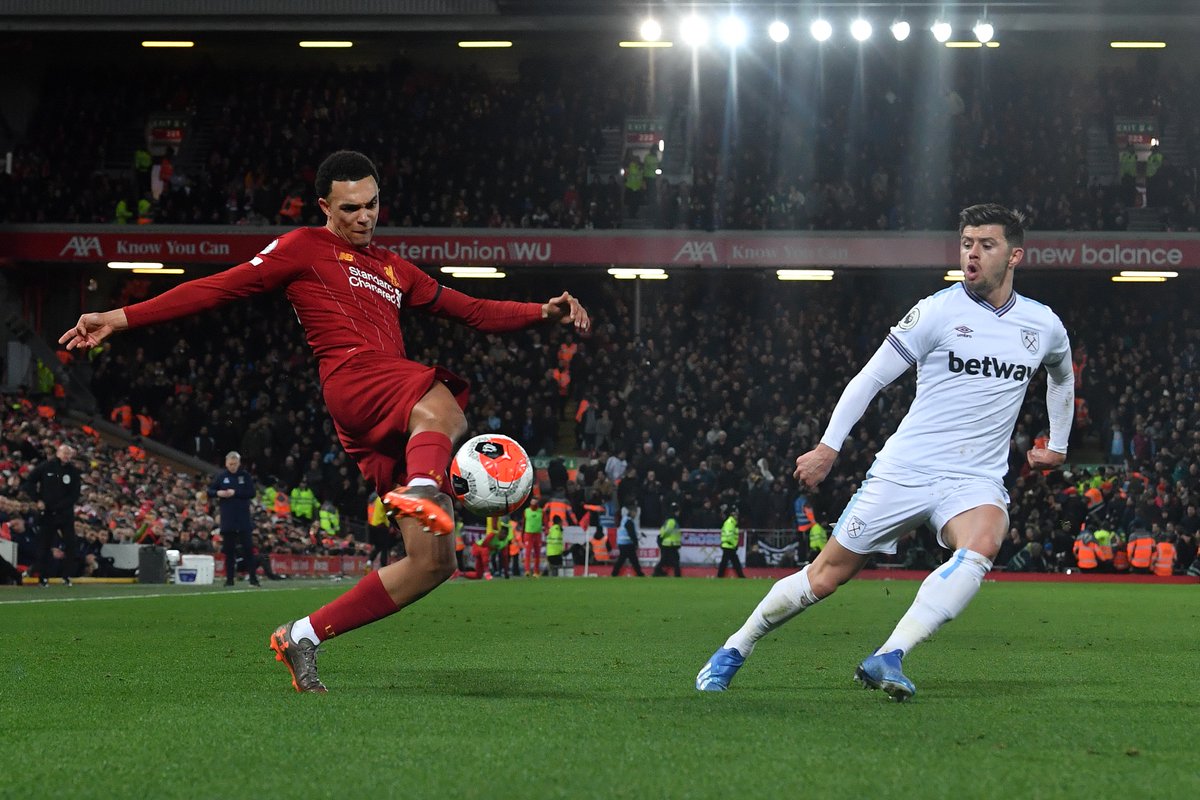 That boldness has remained and has been consistently rewarded over the last three years. His belief in his own ability has been strengthened by so much experience at the game's sharp end. He already has well over 100 competitive appearances for the club, as well as featuring in two consecutive Champions League finals.
Alexander-Arnold's delivery, both from open play and set-pieces, is excellent. The ball is routinely sent in with pace, swerve and pinpoint accuracy. There has arguably been no one better at this side of the game, at least from an English perspective, since David Beckham.
Tuesday's win over West Ham United only emphasised this. Liverpool opened the scoring after nine minutes as Georginio Wijnaldum headed home Alexander-Arnold's sumptuous cross. Lukas Fabianski's attempts to deny the Dutchman were suspect but there was no doubting the quality of the assist. Towards the end of the game, he hooked the ball across for a simple finish from Sadio Mane to make it 3-2.
The clamour for Alexander-Arnold to play in midfield increased as a result, but it overlooks the fact that he was in those positions precisely because of how Liverpool's full-backs are encouraged to play. They are given great freedom to get forward by a solid central defensive unit and the tireless running of their engine room in midfield. This was Klopp's system operating as it should.
The relative weakness of Liverpool's midfield on an individual level, particularly in terms of passing ability, is often commented upon, but as a unit they function perfectly. Without them Robertson and Alexander-Arnold wouldn't have created as many goals as they have or be as highly regarded as they are. Moving one of them risks upsetting a wonderful balance for no clear benefit.
The debate about Alexander-Arnold being pushed forward into midfield is largely idle speculation based on his technical skills and old-fashioned notions of what a full-back should be, which he doesn't adhere to. The England international has a bracingly modern style of play and understanding of football, which it would be a shame to change.
There's still scope for improvement in his defensive positioning, and the way he reads opponents' intentions, but that will come with time. The national team is blessed with many good right-backs and Alexander-Arnold is the best of the lot by a huge margin. There's no reason for his role to change.