FPL Bottom Line is here to guide you through the Christmas and New Year congestion
17:00, 27 Dec 2019
Fingers should be all a flurry for Fantasy Premier League players with a fast and frantic festive season that has seen the intensity and volume of games ramped up. FPL Bottom Line is still here to guide you through the Christmas congestion and into the New Year. Take a look at our tips from our guru below.
#PogBack
Scott McTominay left Old Trafford on crutches after being substituted at half-time in Manchester United's 4-1 win over Newcastle United in Gameweek 19.
'McSauce's' replacement after the interval is our strong bet. £89million record-signing Paul Pogba could make his first start since an injury which had him on the sidelines for close to three months. The Frenchman has made cameo appearances in the previous two league matches, and should make his full return in the Red Devils visit to Burnley.
Utd's form is notoriously topsy-turvy - wins over Manchester City, Chelsea, Leicester City and then losses to strugglers Watford - but they still possess a decent record at Turf Moor, with three wins from their last three trips. Is this where Pogba gets his pomp back? Either auditioning for that mooted January move or - whisper it - sincerely wanting to take his team up a gear.
Following that, it's a venture to Arsenal, the setting of his exceptional performance in the FA Cup almost a year ago.
What Next For Watford?
Following a first-half a season that didn't as much seem to tilt towards the Championship as transport Watford on an Alton Towers Oblivion-style doomed drop, three managers later there's a buzz about the Hornets at the moment (excuse the pun).
Is Nigel Pearson the right man to steer them to safety? It's too premature to really declare, there's still a substantial six points from escaping heading into the Part Deux of the 2019/20 campaign. Pearson's first game in charge was a rampant 2-0 win over Manchester United, and followed that with a 1-1 draw away at the continuously impressive Sheffield United. Two of their next three fixtures are against the struggling Aston Villa and Bournemouth, with both sides lacking substantial firepower.
This is a bit of a punt, particularly with a side who hold the second-worst defensive record in the Premier League at present, but centre-backs Craig Cathcart and Christian Kabasele offer cut-price options (both £4.3m) for those looking to free up funds elsewhere, the latter especially advertising himself well after that Man Utd win in which he claimed an assist to complement his clean-sheet.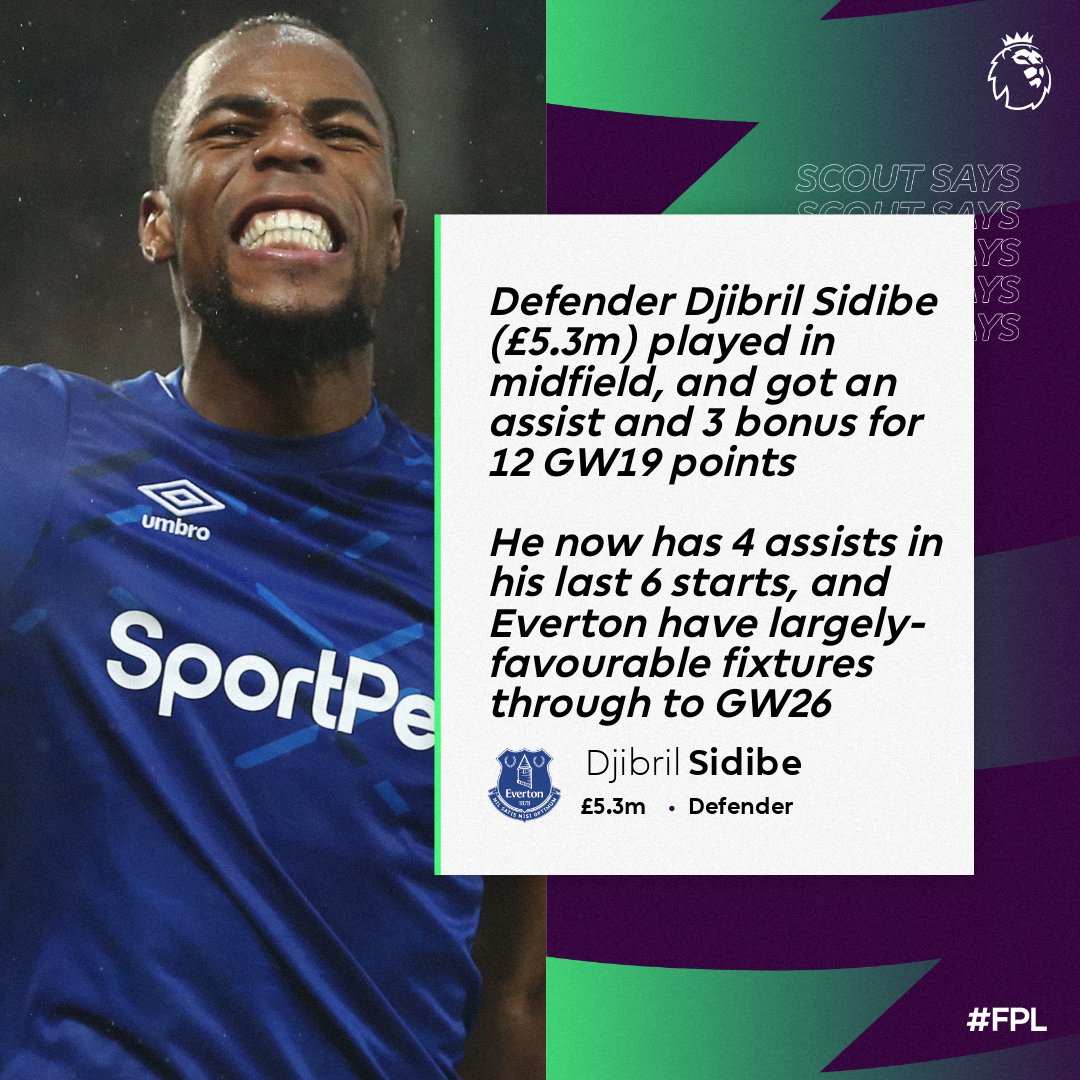 Dominic Calvert-Lewin & Djibril Sidibé
Dominic Calvert-Lewin's late header provided Carlo Ancelotti with a win on his debut in the Everton dugout, the only goal to snatch three points off visitors Burnley. The Englishman latched onto the end of a Djibril Sidibé cross. Sidibé himself was allowed to play more advanced to accommodate Seamus Coleman at right-back. Ancelotti may not have found a formula yet, but he will likely incorporate Sidibé into a similar role.
With a defence that is getting its act together, you're looking at benefitting from the Frenchman, on loan from Monaco, potentially bagging points for a clean-sheet and helping the attack. Get him in now at £5.3m.
On Calvert-Lewin, who now has eight goals for the season, with three in his last five games, Everton's new 'Italian Stallion' commented. "He is a fantastic striker in my opinion, strong with the head. Where he can improve - and where he has to improve - is when we have the ball: he has to be more focused on the goal."
Expect the 22-year-old, available at £5.6m, to lead the line in a team growing with confidence and injected with a new lease of life.