Didier Deschamps answered their critics in emphatic style with a 2-1 win over Spain in the final
10:54, 11 Oct 2021
It has not taken long for both Kylian Mbappe and France to find redemption. Just a few short months ago the Paris Saint Germain striker was being pilloried for missing the decisive shootout penalty for Les Bleus as the tournament favourites crashed out of Euro 2020 in the last 16 to Switzerland.
The inquest into the failure of Didier Deschamps's world champions efforts was long and painful – and at times personal for Mbappe, who had a very public spat with team-mate Olivier Giroud ahead of the event, and was accused by some in the French media of putting his ego before the team.
But three months can be a long time in football. PSG superstar Mbappe, still only 22, scored a winning goal at the San Siro in Milan on Sunday night that saw France lift the trophy in this second staging of a tournament that has delivered on its brief of replacing meaningless friendlies with competitive and exciting contests between well-matched nations.
After all the criticism that followed the Euros failure followed by two shaky draws in World Cup qualifying against Bosnia and Ukraine, even without the irrepressible N'Golo Kante France produced two stunning g comebacks to win the competition.
Spain, who took the lead through Mikel Oyarzabal, knew what to expect having seen their final opponents roar back from 2-0 down against Belgium to win 3-2 in the semi-finals – they just couldn't do anything about it.
Karim Benzema, now 33, the Real Madrid striker having enjoyed one of the best 15 months of his career at club level, levelled things up with another wonderful goal, curling his shot past Unai Simon and into the top corner. And Mbappe then provided the coup de grace with 10 minutes remaining and a goal that had everyone watching screaming for offside and howling at British officials Anthony Taylor and VAR man Stuart Attwell.
The refereeing community will argue that there was no controversy about Mbappe's crucial strike, that saw him from a seemingly well offside position advance on goal and tick the ball under Simon with the aid of a side-step. To many others less in the know, the action of Spain defender Eric Garcia in making an attempt to clear the ball away from an already offside player after Theo Hernandez's pass appears a daft reason for Mbappe to be played onside.
The goal stood though, it may be that the rule is an ass but the officials were deemed blameless, and that allowed Antoine Griezmann on the occasion of his 100th cap, captain Hugo Lloris who pulled off timely saves, and the rest of the France side to celebrate their latest triumph which will now see them try to seal qualification for Qatar 2022 with renewed confidence.
🇫🇷 Congratulations France, 2021 UEFA Nations League champions!🎉🎉🎉
#NationsLeague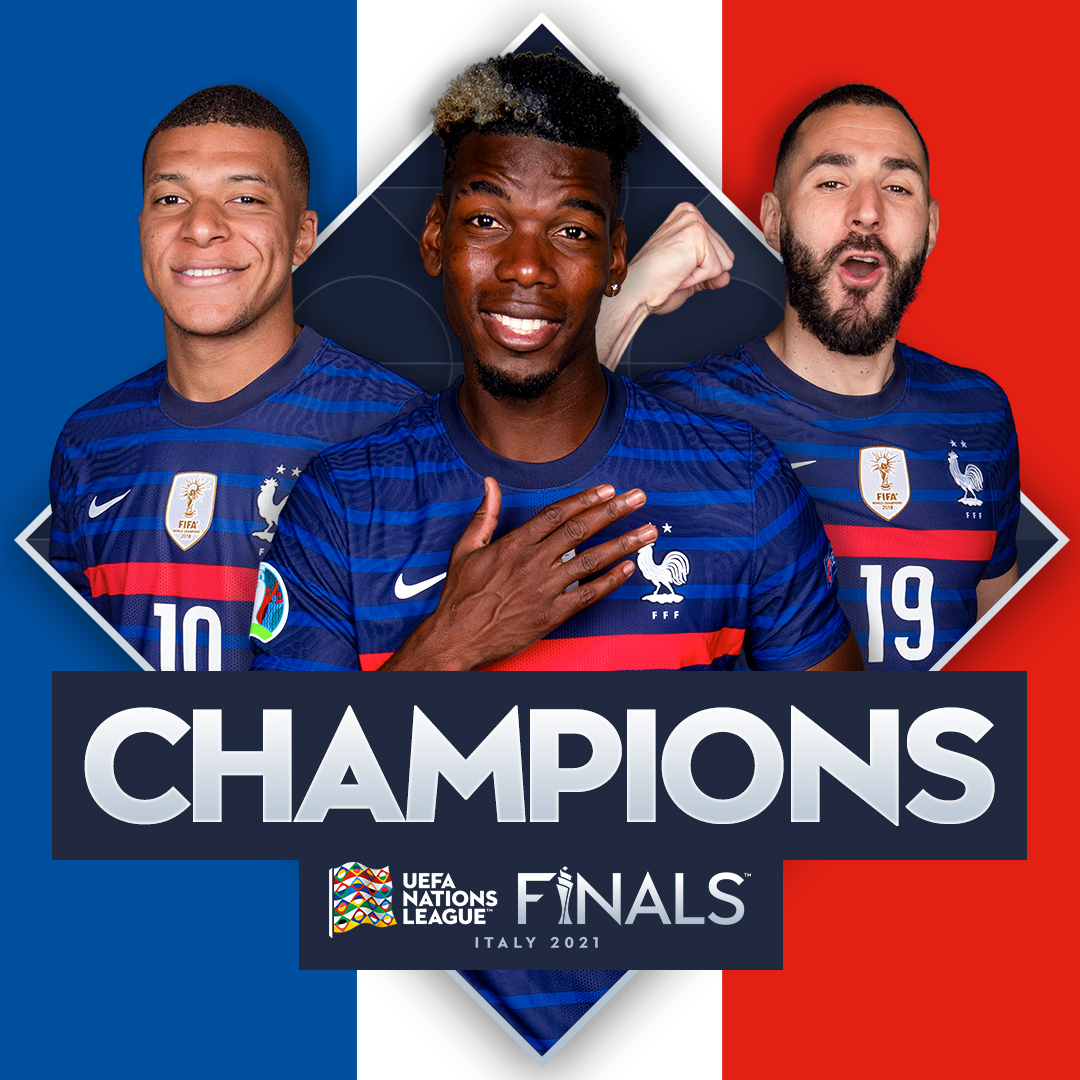 Like Deschamps, Spain coach Luis Enrique has suffered criticism at various times over the last year. The country's early displays at Euro 2020 were less than convincing. There was the agony of losing a semi-final penalty shootout to Italy, a damaging defeat that meant the semi-final win at this Nations League over the same opposition was sweet revenge.
There was also unrest among the Spanish media over a poor defeat to Sweden in World Cup qualifying, and then at the failure to select a recognised striker or Real Madrid players for this tournament. Ferran Torres, also not seen as an out-and-out predator at Manchester City, stepped up with two goals and excellent finishes against Italy but could not repeat the feat in the final.
France could clinch their automatic place at Qatar 2022 with a home victory against Kazakhstan in November to top their qualifying group, vastly preferable to having to get a result in Finland in the last match to be played.
And before then the latest act in the Benzema saga will begin to be played out in a French court. The forward faces charges of being involved in the blackmail of former team-mate Mathieu Valbuena over a sex-tape, something he has always denied, and an incident that directly led to his five-year exile from the national team before being re-integrated by Deschamps before Euro 2020. His form since returning has been nothing short of astonishing, and plenty of eyes will be on that case.
These finals have again vindicated UEFA for their Nations League initiative in 2018, replacing friendlies with more competitive games in a mini-group format, with a finals at the end. It has again produced entertainment and more meaningful action for players and fans.
Meanwhile in the third-fourth place match that no side ever wants to hang around for at such tournaments, Nicolo Barella's strike and a penalty converted by Domenico Berardi gave host nation Italy the very minor consolation of a 2-1 victory over Belgium earlier on Sunday.
So only another 36 matches unbeaten to go now for Roberto Mancini's Azzurri if they are to match the world-record 37-match run ended by Spain in the semi-final defeat in Milan last week.
They returned to winning ways as Barella volleyed a poor corner clearance into the net one minute into the second half and Berardi added the second from the spot in the 65th minute, after Timothy Castagne had brought down Federico Chiesa. Belgium pulled one back when substitute Charles De Ketelaere finished off a counter- attack.