Abraham, Mount and now Tomori are all flourishing for Chelsea
13:56, 16 Sep 2019
Tammy Abraham grabbed the headlines this weekend as Chelsea romped to a 5-2 win over a dangerous Wolves side, but it was Frank Lampard's tactical awareness and faith in his young players that secured another all-important three points.
Lampard handed a Premier League debut to Fikayo Tomori, the central defender who - along with Mason Mount - he had on loan at Derby last year, and the 21-year-old rewarded his patience with a remarkable display. His opening goal was a screamer from 30 yards and fizzed past a helpless Rui Patricio - a truly remarkable way for a young defender to announce himself on the Premier League scene.
His movement and drive then led to the second goal, scored by Tammy Abraham. He powered his way past the Wolves midfield before finding Mount, then the ball dropped to the English striker who fired in. Those three were instrumental in this game and typify this new-look Chelsea under Frank Lampard. For too long, the youngsters at Stamford Bridge have been stifled and ignored and now under their all-time record goalscorer, they've been given the opportunity to flourish.
This was typified by the statistic tweeted by Opta: "Excluding own-goals, Chelsea have become the first team in Premier League history to have 11 consecutive Premier League goals scored by players aged 21 or younger. Zest."
The league goals they have scored this season have all come from the boots of those three Englishmen, all of them having played in the Championship last term, they've made the step up with ease.
21y 124d - The average age of Chelsea's league goalscorers this season has been 21 years and 124 days - the youngest average across the 98 teams in the top five European leagues in 2019-20. Flourishing.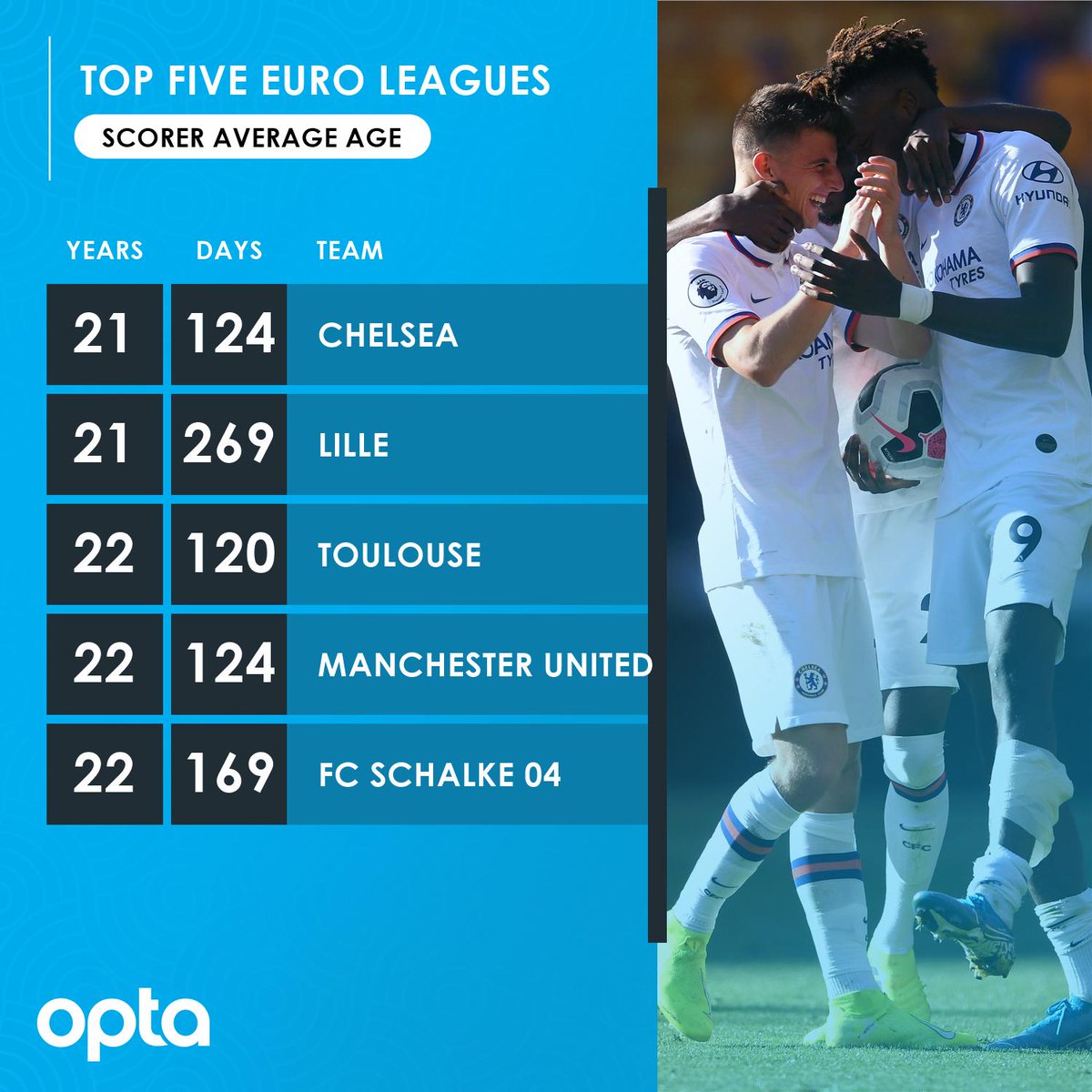 How many other managers would have sent them back out on loan rather than giving them the chance in the first team? Lampard's hand has been forced slightly given the transfer ban the club was placed under, but he's still been braver than many in giving these youngsters first-team opportunities, especially with more experienced professionals waiting in the wings.
This lack of youth has been a problem at the London club for almost two decades now, with English players often not given a chance under the ownership of Roman Abramovich. In fact, Lampard has already rewarded his English U21 players with 960 minutes on the pitch over the first five games, which is almost three times as many minutes as they got last season under Maurizio Sarri across the entire 38 game campaign.
Only in Jose Mourinho's first season in 2004/05 (1170 minutes) did the English youngsters receive more game time on the pitch. Although that record is surely going to be smashed by Lampard this season, as he comes close to that total just five games into the new season.
Lampard set his stall out early on as he made the difficult decision to play Mount over Ross Barkley and Abraham over the more experienced Olivier Giroud, but this decision now looks to be paying off. These young English players will make mistakes but the trust Lampard has put in them will be immeasurable for their long-term development and will not have gone unnoticed by Gareth Southgate and the rest of the England set-up.
In terms of developing young talent, this country has certainly progressed from where it was a decade ago. It is now up to managers like Lampard to either use them in their first team or lose them to a club abroad, who are willing to take a chance on them. Manchester City must rue letting Jadon Sancho go, but it was the best possible decision for his career and he has encouraged others to follow in his footsteps.
For Chelsea, this season seemed like a free-hit. Because of the transfer ban, Lampard was going to be given time to blood these young players but now they are performing at the highest level, expectations will start to rise. The manager must keep his young side grounded, but it has been a positive start to life in a Premier League dugout for the former England international.