After going 27 games without a goal, the Paraguayan has now scored four in his last seven outings
09:00, 18 Jan 2020
Perhaps it was the product of an unusually subdued transfer deadline day, but on January 31 last year Miguel Almiron's £20 million move to Newcastle United had Jim White and the rest of his yellow tie disciples talking. The Paraguayan broke the Magpies' long-standing club record for a transfer fee and arrived at St James' Park with a big-time billing. Newcastle fans were after all told he was a big-time player.
Almiron ripped MLS to shreds during his two years as an Atlanta United player. The Paraguayan playmaker was widely regarded as the best player in the league and one of the best football players to have ever called North America home, scoring 22 goals and notching 19 assists in just 68 appearances.
These numbers made Almiron's long, long wait for a first Premier League goal baffling, with the 25-year-old going 27 games without finding the back of the net for Newcastle. His breakthrough, however, came in a 1-0 win over Crystal Palace before Christmas. The Paraguayan's celebrations in front of a frenzied St James' Park crowd illustrated his relief.
The reaction of the Newcastle support after that goal was telling. They stuck by Almiron despite his troubles in front of goal. They could see the misfortune their record signing was enduring. They know that his moment would come, and indeed it did. Now, Almiron is repaying the faith he was shown.
Miguel Almirón has now scored in three consecutive games for Newcastle:
⚽️ vs. Rochdale
⚽️ vs. Wolves
⚽️ vs. Rochdale
Oh, Miggy, you're so fine.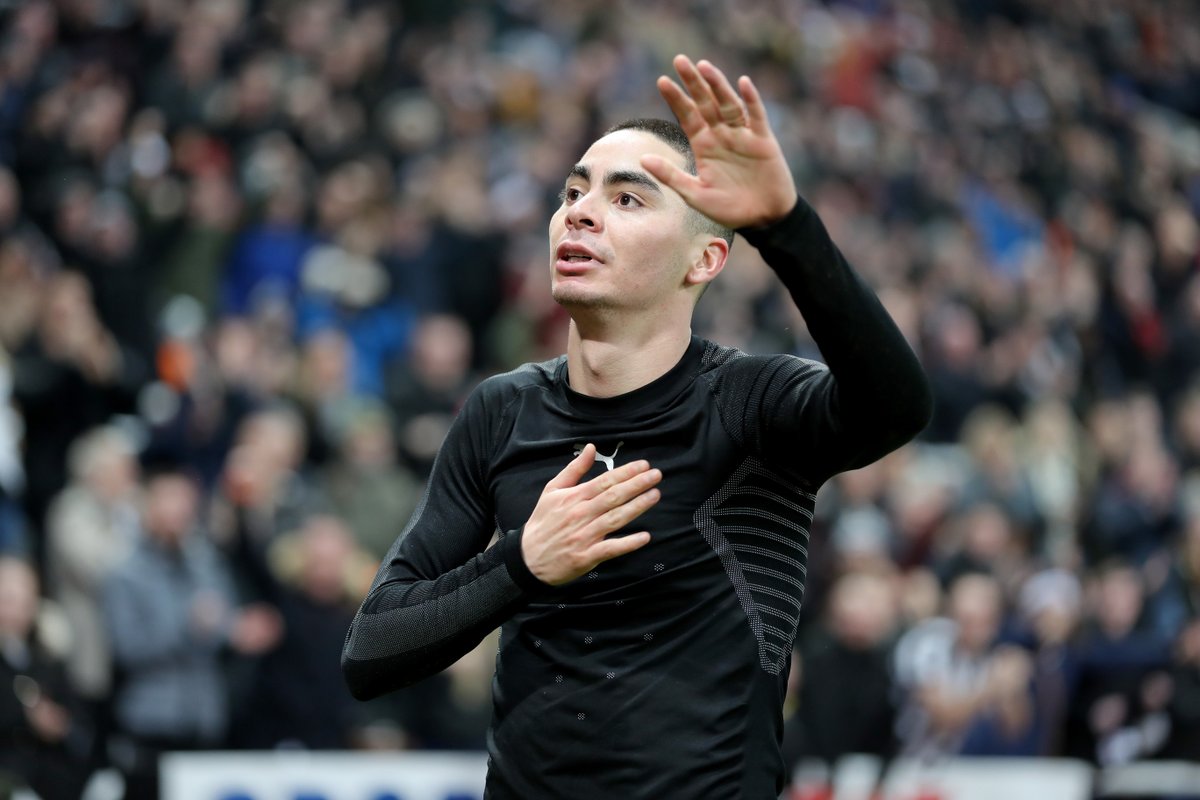 After going 27 games without a goal, Almiron has now scored four in his last seven outings. Confidence is finally coursing through the veins of the Paraguayan, with Steve Bruce now building his Newcastle United side around the playmaker. While others like Joelinton continue to struggle, Almiron is picking up their slack.
The brilliance of Almiron comes in his functionality. Is he a forward? Is he a midfielder? Or is he somewhere between the two? His energy and stamina mean he can cover all areas of the opposition half, not just driving forward, but hunting down. The 25-year-old could still refine his finishing, but with every game he is growing more ruthless. "He's a class act, a manager's dream, trains every day, comes in smiles," Steve Bruce explained in a recent interview with The Shields Gazette. "He's a very, very good player. He's been terrific these past 12 months."
It's been a long time since Newcastle boasted a player like him. Yohan Cabaye was perhaps the last Magpies player to possess the quality of Almiron. Indeed, the Paraguayan could feasibly use St James' Park as a springboard to even bigger and better things, such is the natural ability he possesses. After a lot of discussion over whether or not Newcastle had a dud on their hands, it now seems they have a potential superstar.