We rate the other players from the Primeira Liga this century to ply their trade at Old Trafford
16:23, 30 Jan 2020
Manchester United have finally got their man. It may have taken over six months, £47m upfront and a whole heap of add-ons, but Bruno Fernandes is officially on his way to Manchester and the Old Trafford faithful will be looking forward to welcoming their new hero.
Fernandes will become United's eighth signing from the Primeira Liga this century with some of the signings ranging from the brilliant to the downright awful. We've taken a look back at how they got on at Old Trafford and what new boy Fernandes can learn from them. Let's start at the bottom.
Bebe played professional football for Manchester United. Not the United we know today, but the world-beating, Sir Alex Ferguson led, Premier League champions, Manchester United. He was signed for almost £8m from Vitoria back in 2010 and despite scoring a goal in the Champions League he was quickly shipped out on loan and released at the end of his four-year contract.
Sir Alex Ferguson famously told the media: "Bebe is the only player I signed without seeing him in action," while he also claimed United had beaten Real Madrid, then managed by Jose Mourinho, to Bebe's signature. Fantastic stuff from Jose who had Fergie's pants down here. Let's hope, unlike Fergie, Ole Gunnar Solskjaer has at least watched his new signing play.
From the ridiculous to the sublime, Cristiano Ronaldo may well go down as Manchester United's greatest ever signing. Like Bruno Fernandes, he arrived in Manchester from Sporting but if we have one piece of advice for the new signing, it would be to wear something slightly more fashionable than CR7 sported on his first day.
Ronaldo 🤔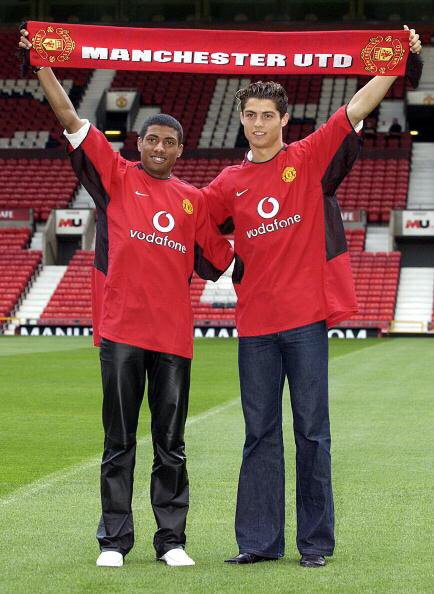 Jeans aside, Ronaldo made an entertaining start to his United career at a young age. In 2003, he scored four goals and bagged four assists in the Premier League as well as scoring a goal in the FA Cup final. But this was not the ruthless goalscorer that perfected his game in Madrid, no, this was the bright spark at his most exciting. Stepovers, brutal pace, trickery, he had it all.
Eventually departing for a then world-record fee of £80m, Ronaldo left as a United legend, with a Champions League, an FA Cup and three Premier League titles in a row under his belt. Joining for £17m, he was the perfect signing. No pressure Bruno.
Although we have looked at both dramatic ends of the spectrum, United have signed a whole host of Primeira Liga players that fall in between this pair. Current players Victor Lindelof and Diogo Dalot have been satisfactory, with the latter not given too much game time to show what he can do, while the recently departed Marcos Rojo was certainly more Bebe than Ronaldo.
Anderson was neither here nor there while the man brought in to replace Ronaldo, Nani, certainly had success, thrilling the Old Trafford crowd with some thumping strikes across 147 appearances. In fact, if you look strictly at the Portuguese players United have signed from Sporting, Fernandes is following two excellent signings in Nani and Ronaldo.
Bruno Fernandes can learn from his predecessors ahead of his Old Trafford bow. He will be given time to settle in, scoring goals is the simplest way to make an impact but the secret to being as successful as CR7?
Get those flares on!
Manchester United is delighted to announce it has reached agreement with Sporting Clube de Portugal for the transfer of Bruno Fernandes.
The deal is subject to a medical and the agreement of personal terms.
A further announcement will be made in due course.