The Gunners defeat to rivals Tottenham Hotspur has left them in a precarious position as they chase a Champions League spot
08:35, 16 May 2022
A lot has been said about Arsenal's progression this year under Mikel Arteta but they are still showing traits of mediocrity that has kept them out of the private club that is the Premier League top four over the last few years.
Three games into the 2021-22 season and they were bottom of the table without a single point and many expected Arteta to lose his job. As he has shown over the course of the campaign, his methods have required patience and there is no doubting that there are positive signs for the future with the squad that he has assembled and undoubtedly still wants to strengthen.
With youth dominating the Spaniard's starting lineup, the foundations have been laid for a promising project at the Emirates Stadium, but with such an array of youth comes a lack of experience. The kind of experience that Arsenal have needed over the last few weeks to secure their return to the Champions League for the first time since 2016-17. Heading into the rearranged north London derby fixture against Tottenham Hotspur on Thursday, the Gunners' hopes of a top four spot looked promising, but a 3-0 defeat to their rivals has left them looking over their shoulders with two games to go.
They were two points clear of Antonio Conte's side and if they won the crunch game, they'd have essentially got the job done. So when the full time whistle blew, the meltdown began and it wasn't exclusive to social media as Arteta moaned about referee Paul Tierney's performance.
After looking sharp in the opening minutes, the Gunners quickly fell apart as Spurs grew into the game and opened the scoring through Harry Kane. Conte's game plan worked to perfection… Arteta's not so much. A point now just separates the two sides, with the Gunners still occupying the multi-million pound spot but their run-in is not as favourable as Spurs'. Arsenal face tough tests against Newcastle United and scrapping Everton to come, whereas Spurs have Burnley and already relegated Norwich to play.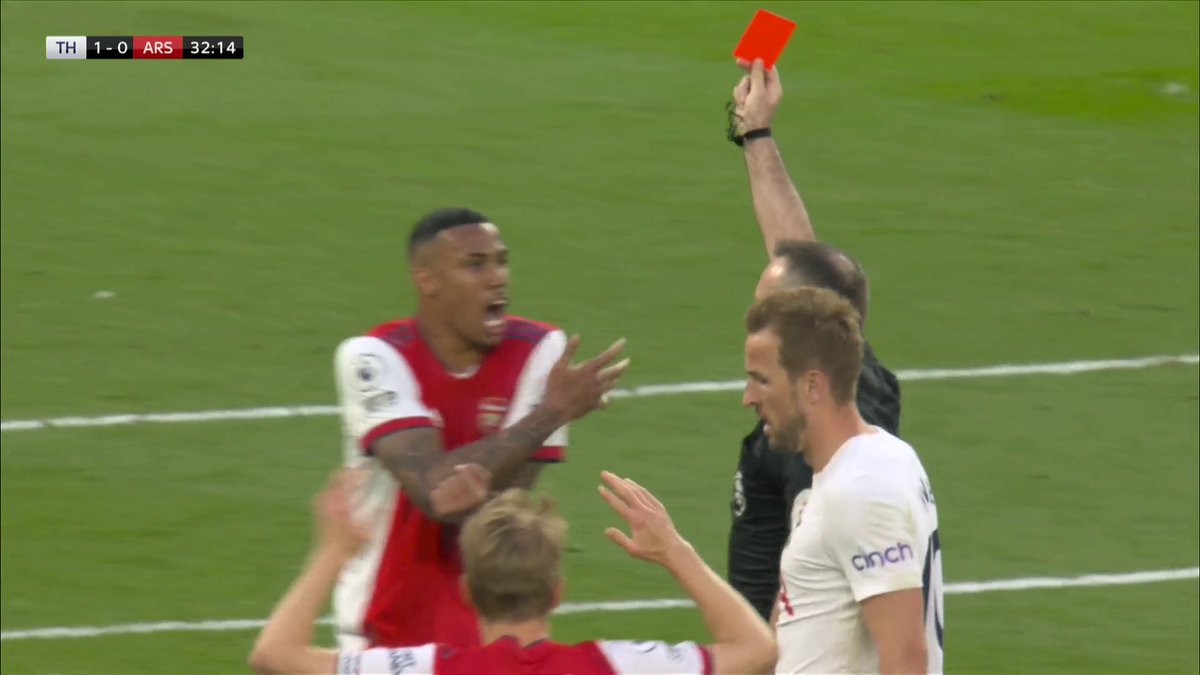 Arsenal's other losses this term, games they should have won or at least drawn, could ultimately be their downfall. To put this into perspective, Arsenal have lost (12) one more game than Manchester United, who have had one of the worst seasons in their history, and with that in consideration they have no one to blame but themselves. Last month's run of three defeats against Crystal Palace, Brighton & Hove Albion and Southampton will be looked back on as the three matches where Arsenal blew their Champions League hopes should they miss out come 22 May.
While some may still see their one-point advantage over Spurs as a positive with two games to go, Arteta will be sweating over putting a strong team together against the Magpies given the one-game suspension of Rob Holding and apparent hamstring injury to Gabriel. The Gunners are suddenly thin when it comes to defensive options. Ben White was in the squad on Thursday after coming back from injury himself but didn't come off the bench when Holding was sent off, which highlights that there are still doubts regarding his fitness levels. Given the crisis Arsenal find themselves in now for their penultimate game, Arteta will seemingly have no choice but to throw White back into the heart of defence. Who his partner might be is anyone's guess.
From being in the driving seat just days ago, Arsenal are now the unsure passenger and a lot will be asked physically and mentally of Arsenal's youngsters who are about to get some serious first-team experience in these last two matches.