The Gunners secured a 4-2 win thanks to their star forward
17:02, 13 Aug 2022
In the week the latest episodes of Arsenal: All or Nothing came out depicting the exit of Pierre-Emerick Aubameyang, the Gunners' new front man bagged a sumptuous brace against Leicester.
Alexandre Lacazette was good, Aubameyang was better, but Jesus is the front man Arsenal have yearned for since Mikel Arteta took the job. His movement is superb, he links play well and his finishing is out of this world, as we saw in Arsenal's thrilling 4-2 win over Leicester as he bagged two goals and two assists.
His opener was utterly majestic. He worked the ball into the penalty area before getting it back with little room to manoeuvre. Then, with five Leicester defenders in close proximity, he lifted the ball into the top corner with absolute ease, to give the Gunners a crucial opener.
READ MORE:
His second was a lurking finish at the back post from a set piece. It wasn't half as sexy, but it showed his intelligence and movement when it comes to the final third. Then we come to his control of the play, and ability to play as a lone striker.
Although Leicester are a poor outfit this term on first glance, their backline was bullied by Jesus. One on occasion in the first half, Aaron Ramsdale hit the ball long to the Braziliian, he controlled it with his head and then rolled Jonny Evans in a fashion only comparable to Didier Drogba.
It's something that these Arsenal fans simply haven't seen in quite some time. Their former Gabonese forward Aubameyang used his searing pace from the left to get in behind and score goals, but to have a central striker with this much ability is rare for the Gunners.
As the All or Nothing documentary showed, Aubameyang casted a large shadow over Arsenal's season last year. He was frozen out of the squad, and then the board worked tirelessly to move him out of the club and cancel his £350k a week contract. They eventually got their wish thanks to a gullible Barcelona side, and now for a fraction of the weekly cost, have a much better fit for the squad.
Not bad for a home debut 😎
📍 Emirates Stadium
#ARSLEI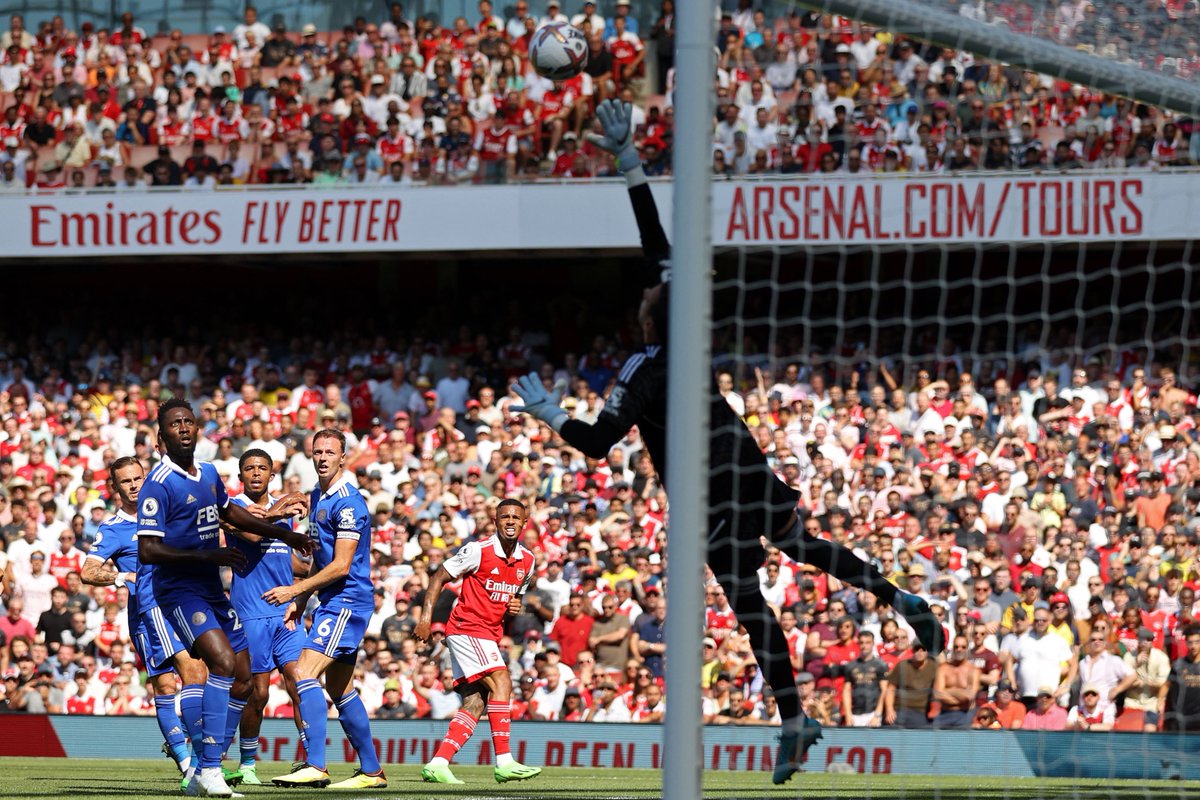 After Auba's exit, Arsenal didn't replace him and Lacazette and Eddie Nketiah were left to lead the line. It was one of the reasons why Arteta's side fell out of the Champions League spots yet now, they look every bit a top four side.
It's early days but Bukayo Saka, Martin Odegaard and Gabriel Martinelli look like they can combine better with Jesus, and as an attacking quartet, they have the ability to cause any side in the league problems.
He was fortunate to be in the right place as Danny Ward dropped a cross at his feet, but he was smart enough to be in the position and lay the ball off the Granit Xhaka while he was involved in the fourth as he teed up Martinelli's strike from range. He is integral to everything they do in an attacking sense and already, it's difficult to imagine Arsenal without him.
At Man City he was one of several stars, but now under the spotlight at Arsenal, he is relishing the task of being their main man. Against Crystal Palace he was good with no reward, but in front of his new adoring home fans, he put on a world-class display. Jesus can be Arsenal's saviour.