The community clubs are back in the cup after a Covid-enforced break
18:25, 14 Dec 2021
'The Road to the Tottenham Hotspur Stadium' may not be as linguistically pleasing as 'The Road to Wembley', but there is still a palpable sense of excitement across Rugby League as the game begins its journey to one of the newest, and most iconic sporting theatres in the world.
While the mix of amateur and Betfred League One clubs who were drawn out for rounds one and two of the Betfred Challenge Cup on Tuesday evening is unlikely to provide our winner in May, we're still very pleased to see them, with nearly all of the sides involved at this stage missing out in 2021 due to the Covid-19 pandemic.
"The magic of the cup" is such a well-kicked cliché these days, but for the 34 clubs and the communities they represent, the Challenge Cup is their annual chance to take part in a competition that transcends the game of Rugby League and resonates well outside of it's Northern strongholds.
There's some tasty ties thrown up as well…
Two clubs prolific in their production of professional talent will lock horns when Rochdale Mayfield and Wigan St Patricks face each other, whilst National Conference champions Thatto Heath Crusaders are tasked with a challenging trip to Lock Lane.
Pilkington Recs will be making the trip across the Irish Sea to take on Galway Tribesmen, who are aiming to become the first Irish side ever to win a Betfred Challenge Cup game.
Edinburgh Eagles mark their return to the competition with a home game against York Acorn, and the two London Clubs in the first round, London Chargers and West Warriors, will take on Ellenborough Rangers and Jarrow Vikings respectively.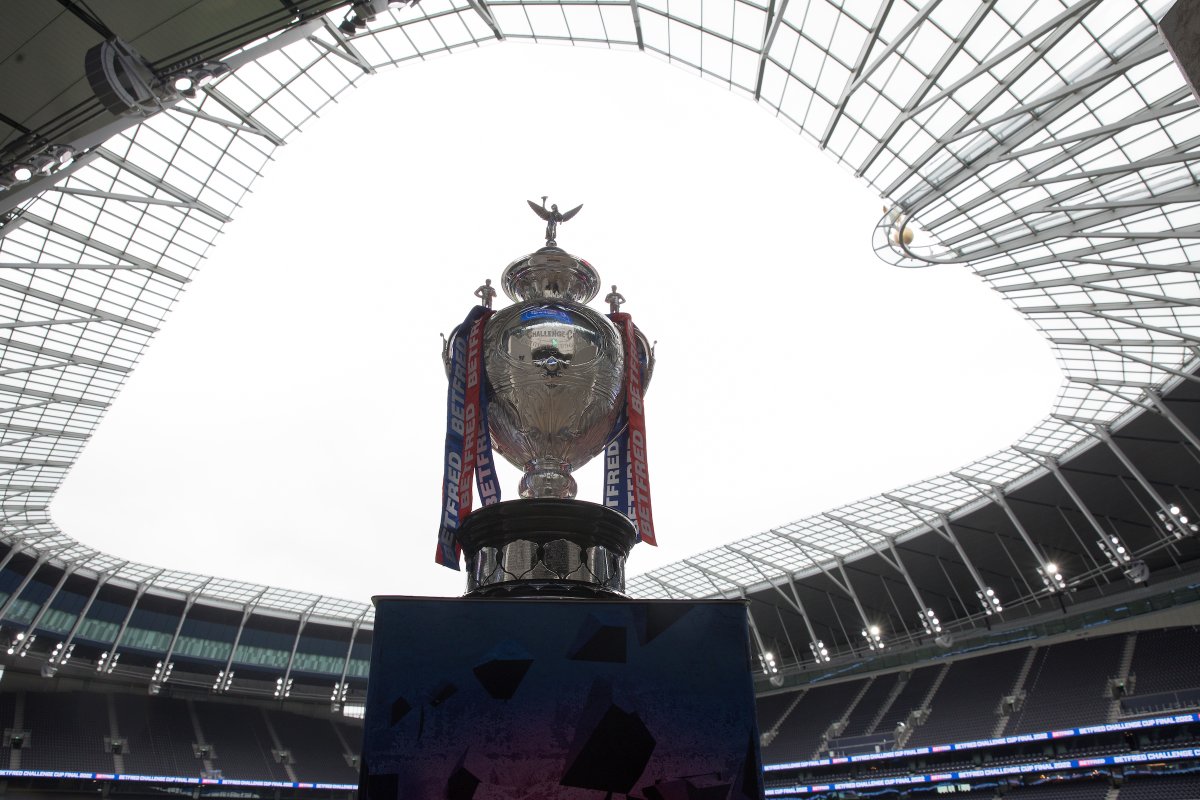 Those ties could deliver us a London derby, with the Warriors and Chargers drawn up against each other in the second round.
Also on the cards in the second round, should they win their first games, is a mammoth forces clash with The Army and the Navy drawn together for a potential game that would attract interest from well beyond Rugby League circles.
It's a long long road to the Tottenham Hotspur Stadium showpiece of course, but we can finally start dreaming about Betfred Challenge Cup final glory again, and perhaps even better, start looking forward to the start of the 2022 Rugby League season in earnest.
Full Betfred Challenge Cup First-Round Draw:
West Hull vs Upton
Featherstone Lions vs Hunslet Club Parkside
Leigh Miners Rangers vs Milford
Siddal vs GB Police
Lock Lane vs Thatto Heath Crusaders
London Chargers vs Ellenborough Rangers
Thornhill Trojans vs RAF
Jarrow Vikings vs West Warriors
Galway Tribesmen vs Pilkington Recs
Edinburgh Eagles vs York Acorn
Rochdale Mayfield vs Wigan St Pats
Bentley vs Stanningley
Bridgend Blue Bulls vs Royal Navy
Orrell St James vs British Army
2nd Round
Edinburgh Eagles or York Acorn vs Jarrow Vikings or West Warriors
Rochdale Hornets vs Midland Hurricanes
Doncaster vs Thornhill Trojans or The RAF
Orrell St James or The Army vs Bridgend or The Navy
Oldham vs Lock Lane or Thatto Heath Crusaders
Galway Tribesmen or Pilkington Recs vs Siddal or GB Police
West Hull or Upton vs Rochdale Mayfield or Wigan St Pats
Featherstone Lions or Hunslet Club Parkside vs Bentley or Stanningley
Hunslet vs Keighley Cougars
Leigh Miners Rangers or Milford vs North Wales Crusaders
West Wales Raiders vs Swinton Lions
London Skolars vs London Chargers or Ellenborough Rangers