The 28-year-old was crowned the WTA Finals champion after a straight sets victory over Estonia's Anett Kontaveit in Guadalajara, Mexico
10:55, 18 Nov 2021
Garbine Muguruza is the first Spanish woman to win the WTA Finals end-of-season tournament after a straight sets victory over Estonia's Anett Kontaveit in Guadalajara – and the win was hailed by an enthusiastic Mexican crowd as if it had been one of their own.
The 28-year-old Muguruza, born in Venezuela before moving to Europe, had been a huge hit with the Latin American fans the whole week and the 6-3, 7-5 win over Kontaveit – a second time in the event after also beating her in the group stage – was sufficient to see her lifting the Billie Jean King trophy and pocket the handsome £1.1million first-prize cheque.
King herself was there for the 50th staging of the Finals in its various guises and different names, along with first winner Chris Evert and Martina Navratilova. And although she has won both Wimbledon and the French Open in her career, the moment was clearly a very sweet one for the new world No3 as Muguruza attempts to reclaim the No1 status she formerly enjoyed.
With coach Conchita Martinez guiding her, it has been a fine year for Muguruza, winning in Dubai and Chicago and getting back into the top 10 as well as reaching the WTA Finals for a fourth time.
World No1 Ash Barty, the Finals winner in 2019 with last year's event cancelled due to the Coronavirus pandemic, was certainly a big miss for this tournament, having taken time off after a gruelling eight-month stint away from home. But after losing a tight group match on a tie-break in the third set to Karolina Pliskova, Muguruza then swept all before her.
Serving was always going to be a major factor in the final against the big-hitting Kontaveit and the Spaniard's stood up better, with double faults and an inability to get the first ball into play at crucial times hurting the new world No7, a highest ever ranking.
But Kontaveit, 25, the first Estonian to qualify for the Finals as a beneficiary of Barty's absence, can be very proud not only of what she has done in Mexico, but a huge breakthrough season that saw her win 29 of the previous 32 matches before the final in an incredible hot streak of form. There have also been titles won in Cleveland, Ostrava, the Kremlin Cup and Transylvania in a campaign that saw a grand total of 48 tour victories.
Garbine Muguruza is starting to have quite a great prize list 👀
🏆 Roland-Garros (2016)
🏆 Wimbledon (2017)
✨ WTA Finals (2021)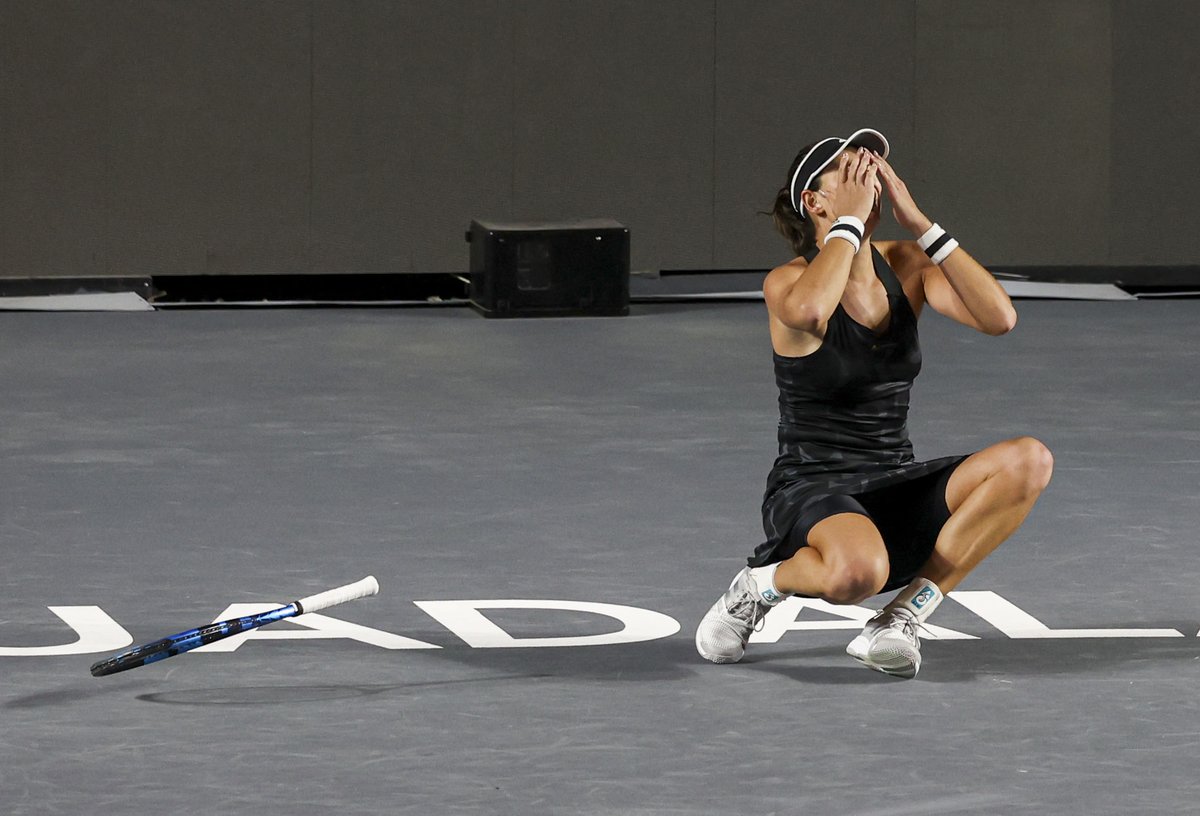 Muguruza had very clearly enjoyed her time in Mexico, pictured dancing in the streets of nearby town Tequila earlier in the week and walking out for the final in a Mexico football shirt – a none too subtle appeal for crowd support that worked like a dream.
She said: "I remember when [WTA CEO] Steve Simon told me that Guadalajara was an option for the Masters I was like 'Oh my god, I have to make it'. I really appreciate the effort of bringing this tournament here. The public has given me everything here, thank you very much.
"It has been a dream come true, so thanks to the public because they have made this so special. I have never played with such an audience. I don't know what Mexico has that makes me excited .
"I would like to congratulate Anett for her incredible year, and for her amazing run in the most recent tournaments – it has been amazing. And sorry that we had to play twice here in Mexico."
The objective for Muguruza now next season must be to start making more inroads into the draws at the Grand Slams having not got past the fourth round in any of them in 2021. The successes at Wimbledon in 2017 and Paris the year before already seem a long time ago for an excellent athlete with such a strong all-court game.
Including the group win Muguruza came into the final with a slight 3-2 advantage in the career head-to-head against Kontaveit, who had though emphatically beaten her 6-1, 6-1 at the Kremlin Cup. By reaching the final the Spaniard matched the achievement of Aranxta Sanchez Vicario 28 years ago, who lost in four sets to Steffi Graf.
Having elected to serve at the start of the match Kontaveit got away with double faults in the opening game, but was not so lucky in her second service game as Muguruza took advantage and got the early break. However that advantage was temporary as the Estonian hit back immediately before consolidating by holding to lead 3-2.
That, though, was as good as it got for Kontaveit in the first set as Muguruza swept her aside winning the next four games, profiting from a higher unforced error count from her opponent. But she reserved her best shot of the set for the most important point, closing it out 6-3 with an exquisite lob – a shot that was supposed to be even harder to pull off and keep from drifting long at the 5,000 foot altitude.
The second set was closer, the first six games going with serve until Kontaveit got what looked like it might be a decisive break in game seven, then adding her own serve to lead 5-3. However, that only served to provoke Muguruza into another powerful surge, and she won the last four games for a famous success.