Mo Salah and Heung-min Son shared the Golden Boot, while Alisson and Ederson shared the Golden Glove
15:19, 23 May 2022
The Golden Glove and Boot are prestigious awards, handed to the players with the most goals and clean sheets respectively. For a fifth time the Golden Boot award was shared, with Heung-min Son and Mo Salah following in the footsteps of previous award sharers like Dion Dublin, Michael Owen and Chris Sutton.
On the other hand (pun intended) is the Golden Glove which has only been shared once (Petr Cech and Wojciech Szczesny in 2013/14) and is now split between Brazilian duo Alisson and Ederson of Liverpool and Man City respectively.
When honours are even, the hunger for division grows larger and people look elsewhere to find reasons to say that player x is better than player y. We've done the work for you, and we have the definitive answers to who was better out of this season's prestigious award winners.
Heung-min Son vs Mo Salah
The South Korean was on fire this season, performing alongside Harry Kane before being joined by enthusiastic Swede Dejan Kulusevski to make a Champions League-worthy trio.
For a player often accused of only turning up for a few months a season, Son has proved the doubters wrong with 23 goals this term, all of them coming away from the penalty spot (Mo Salah scored five penalties this year) with six of them coming to win games for Tottenham. Diving deeper into the stats, the Spurs forward seemed to be one of the most clinical finishers in the league.
He averaged 0.19 xG per shot, a stat that was only bettered by Raheem Sterling, who still scored nine less goals than Son this season. He was scoring a goal with every fourth shot, more than any other player to play in over 50% of their team's games this season.
It's been an incredible year for Son, and his final day brace in Spurs' 5-0 thrashing of Norwich at Carrow Road put him in pole position to win the award, before Mo Salah came and ruined his solo glory.
Son vs Salah: The Key Stats
The Egyptian King is used to getting his hand on Golden Boots. This is his third award in five years, previously winning in 2018 and 2019. Perhaps this season he would've been alone at the top had he not been contending with bigger issues, with Liverpool playing every game possible for them to play this season, as well as attending AFCON with his nation in January.
Mo Salah has scored 23 goals despite playing 244 minutes less than Heung-min Son. Salah was averaging a goal every 120 minutes, meaning that if he hadn't had to focus elsewhere, it's likely that he would've overtaken Son long before the final day.
Looking at how both the strikers compare in terms of exceeding their expected goals tally, it clears up the kind of goals the pair have been netting this season. Heung-min Son has been exceeding his non-penalty xG by 6.6 compared to Mo Salah's 1.0, meaning that Son has been scoring harder chances than the Egyptian.
It's safe to say that, although Mo Salah might've grabbed more assists and had more goals per 90 minutes than Heung-min Son, his achievement of managing to score so many goals without any of them being penalties, as well as converting more difficult chances makes him more worthy of the award. His brace on the final day should've got him over the line to win the award alone and he deserves immense credit for silencing previous criticisms.
Ederson vs Alisson
The two Brazilian shot-stoppers-turned-passing-dynamos have dominated between the sticks since they both arrived in the Premier League. Ederson's incredible passing range and lightning quick reaction saves provide for great entertainment as well as a high level of professionalism in the goal. Alisson has shown the heart of a lion, putting his head where most people wouldn't put their feet and proving himself to be agile and dynamic in the net, and even proved to be a goal threat last season.
Splitting the two is difficult, as Ederson picks up his fourth Premier League medal and Alisson heads to his second Champions League final and third final of the season. We've found some stats that might help us pick a winner.
Ederson conceded two more goals than Alisson, an early point for the Liverpool keeper. Alisson also made 17 more saves than Ederson this year, with a 75.3% save percentage compared to Ederson's 69.9%.
Before this ends up becoming one way traffic, we'll recognise that Ederson outperformed Alisson when it came to set-piece goals conceded. Liverpool were undone four times from corners compared to just once for Man City.
Unfortunately for Ederson, Alisson dominates the rest of the stat-line. He was expected to concede 4.1 more goals than he did, whereas Ederson conceded 2.2 more than he should have done for Man City this term. Jamie Carragher also brought research with him to the Monday Night Football studio courtesy of goalkeeper analyst John Harrison. His research displayed a keeper's stats in 1v1 situations against attackers, a stat where Alisson blew away the rest of the competition.
I hope everyone is looking forward to the final day of the
#PremierLeague
!
Here is the penultimate 1v1 performance table:
👑
#Alisson
has had the best 1v1 performance my model has seen!
👀
#Sanchez
&
#Sa
have excelled vs 1v1s!
↔️
#DeGea
,
#Ederson
, &
#Lloris
have been average.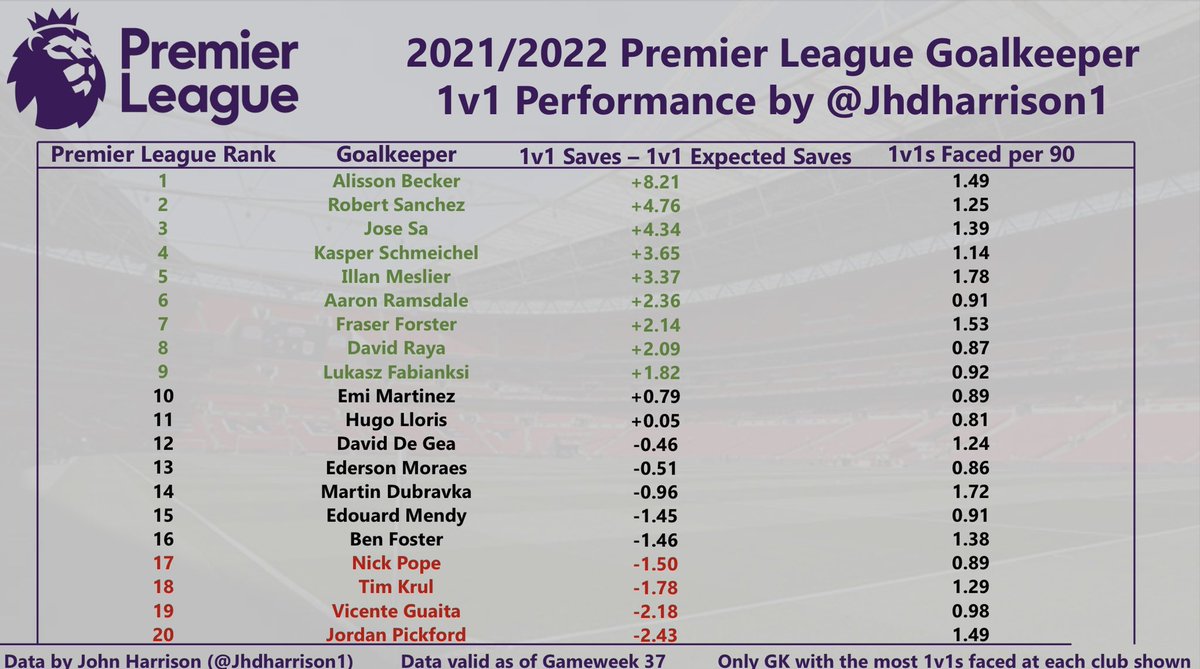 Alisson Becker's record in 1v1s excelled so much, his saves minus expected saves was +8.21, meaning that he was making difficult saves way more often than he was missing the ball. Ederson in comparison, was average at this stat, ranking in 13th place among the keepers with the most 1v1 situations per club and having a minus record.
This time round, Ederson failed to get the better of Alisson, and although Ederson may have had to face more attacks due to defensive injuries in the Man City XI, he has failed to make saves he should in comparison to Alisson, who excelled despite the amount of action he faced.