There's something deeply satisfying about watching football perfection play out. That sort of untouchable, unassailable brilliance that propels the very best teams into history. The kind of teams that play like the opposition even having a touch is some grave embarrassment to be immediately rectified. Teams that break points records, goal records and hoover up trophies left, right and centre. These teams are part of the very fabric of football. They're also just a little bit boring, aren't they?
Contrast that sterile dominance with Monday's Premier League action. Nottingham Forest 4 Southampton 3. Fulham 5 Leicester City 3. High-flying Brighton & Hove Albion 1 relegation-threatened Everton 5. Goals everywhere. Mistakes everywhere. This is as far away from footballing perfection as it gets. And we're all the better for it.
There will always be room for teams like Manchester City of course. Like their manager Pep Guardiola already showed us at Barcelona, there is an aspirational beauty to football played perfectly. But those 100-point seasons can also lack excitement for the neutral. City fans won't care and nor should they. But for the neutral we must get our kicks elsewhere. More often than not, we look for those kicks in instances of the game being played just a little bit badly, rather than oppressively well.
Take that 5-3 scorcher between Fulham and Leicester. The Foxes being bad enough to go 5-1 down followed by the Cottagers being lax enough to make it a contest late on and be pegged back to 5-3 is what made it special. If either team does their job entirely properly in that game it gets forgotten the second it ends. The lack of quality, rather than the quality, is what made it special.
Brighton's humbling defeat to Everton was far less competitive. But it serves as another example of the game being played badly and offering more entertainment than if it had been played well. If the usually-efficient Brighton who have challenged for Europe all season showed up then Sean Dyche's melting Toffees don't get a kick. But Roberto De Zerbi's men inexplicably forgot how to play football. The result was a remarkable and memorable game rather than a predictable and straightforward one.
Leicester's relegation fears grow 😨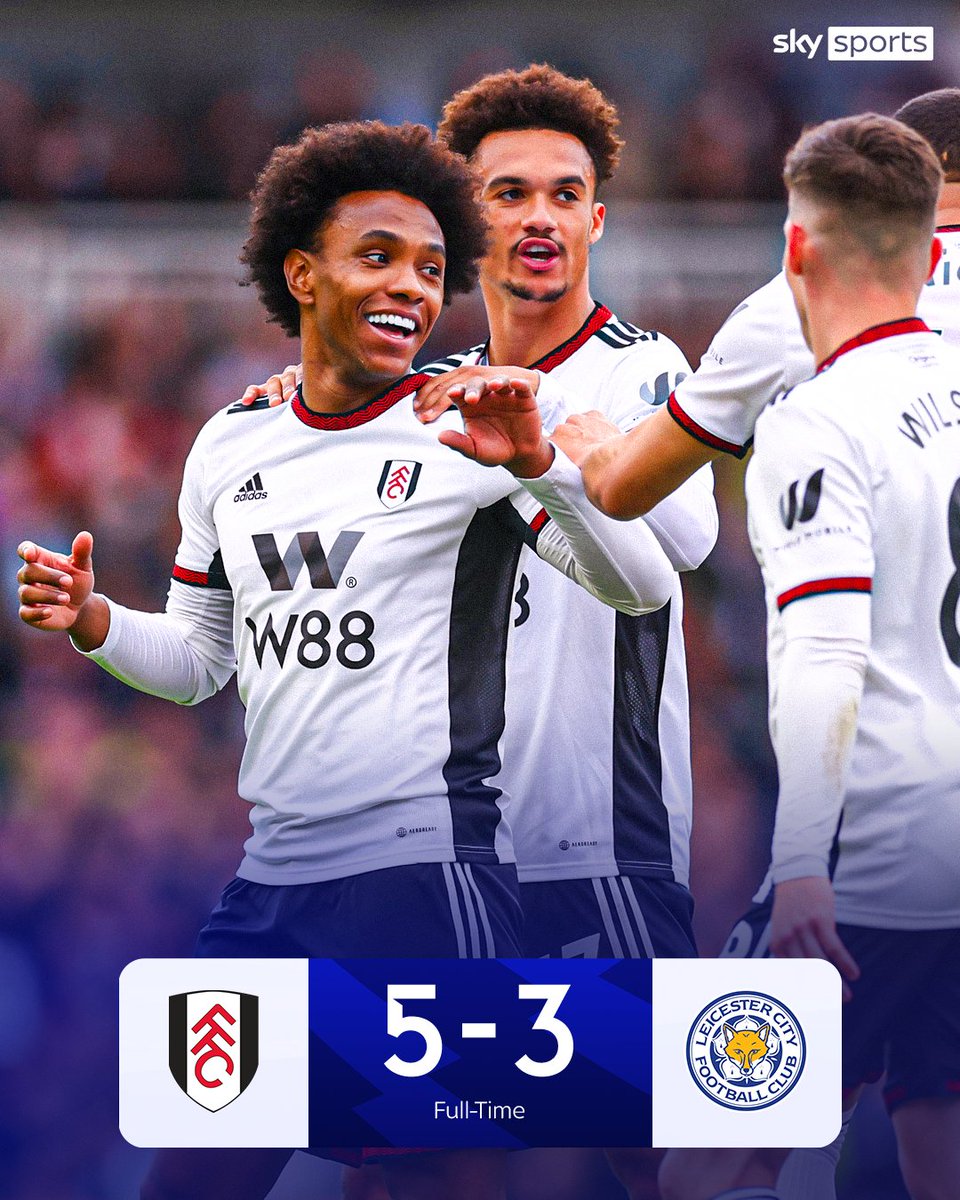 This is not to say all football should be rubbish. Too much of a good, or bad, thing is still too much. But we exist in a time when the gap between the haves and the have-nots has never been wider. It is unfair to keep picking on City, but look further afield and it is the same old faces doing the same old things largely. Nobody can touch Paris Saint-Germain with any regularity in France. Bayern Munich are on course to win the Bundesliga again despite enduring their worst campaign in ages. The bar is so low for the underdogs of La Liga that Barcelona returning to their throne is being treated like a novelty. Celtic would win the Scottish Premiership without fielding a team most weeks.
Contrast these self-evident truths with some of the more bizarre occurrences we've enjoyed this season. Liverpool at their lowest ebb finding a way to give Manchester United a 7-0 kicking. Chelsea somehow toiling down in 11th despite buying 67% of the world's professional footballers. Tottenham Hotspur collapsing in on themselves in a hail of press conference barbs and clueless temporary managers. Increasingly, the shocks don't come from teams performing unexpectedly well, but surprisingly poorly.
So long live the shambolic defending, the wayward shooting and the butter-fingered goalkeeping. As much as we all love to crown a new "GOAT" or marvel over some slick tiki-taka, sometimes football is at its best when it's just a bit crap. After all, we all got into this game because of the goals didn't we. Nobody genuinely prefers a tactically-astute 0-0 to a batsh*t 5-3. If they say they do it's because they have a tactics podcast and a Twitter account where they talk about creating overloads and the 3-box-3 formation. But the rest of us? We love a bit of chaos, don't we?
*18+ | BeGambleAware | Odds Subject To Change