Roy Keane was a proven leader for both club and country, not to mention the Republic of Ireland's biggest star heading into the 2002 World Cup, yet wouldn't kick a ball that summer after one of the most remarkable bust-ups in football history.
Mick McCarthy and Roy Keane shared a decorated history that stretches back to their days as Ireland teammates, but their infamous split just days before the 2002 World Cup provided one of the biggest talking points in Irish sport.
Ireland's combustible captain's public criticism of his country's pre-World Cup preparations, not to mention his own manager, would send shockwaves throughout the Emerald Isle and beyond on May 23rd, 2002.
Indeed, his headline-grabbing exit from the squad ahead of the biggest competition in world sport briefly transformed the tiny western Pacific island of Saipan into the most famous place on Earth.
One of the craziest 24 hours in international football began when Keane asked to be left out of the squad for personal reasons, with Colin Healy drafted in before the Manchester United midfielder had a last-minute change of heart and returned to the team.
But this was to be just the precursor of what was to come as Keane then directed his anger at the Football Association of Ireland and the team's World Cup preparations; furious about the 17-hour flight to Saipan for their World Cup training camp as well as the conditions that awaited them on the Pacific island.
Unhappy with everything from the team's training facilities to their travel arrangements, McCarthy's tactics and even the team's diet, it all proved too much for the hot-headed star, who reneged against his manager's strict media ban to lift the lid to the press.
"It's different if we came here to a top training facility," he told the Irish Times. "The hotel is fine, but we've come here to work. You wonder why players get injured? Well, playing on a surface like that.
"I can't imagine any other country, countries in the world who are far worse off than us, playing on something like that. I don't think it's too much to ask, just for a pitch that's even watered. It's so dangerous. It's rock hard.
"One or two of the lads have picked up injuries. I'm amazed there hasn't been more but give it time. But you know, we're the Irish team, it's a laugh and a joke. We shouldn't expect too much."
Keane, who had almost single-handedly dragged Ireland to the World Cup finals in Japan and South Korea, having qualified out of a group with Holland and Portugal, had revealed his intention to retire from international football at the end of the tournament, though his actions would mean that decision would ultimately be taken out of his hands.
This day 19 years ago – 23 May 2002 – an argument between Ireland captain Roy Keane and manager Mick McCarthy in Saipan resulted in Keane leaving before the World Cup.
McCarthy told a press conference the next day he would not tolerate "the level of abuse that was thrown at me."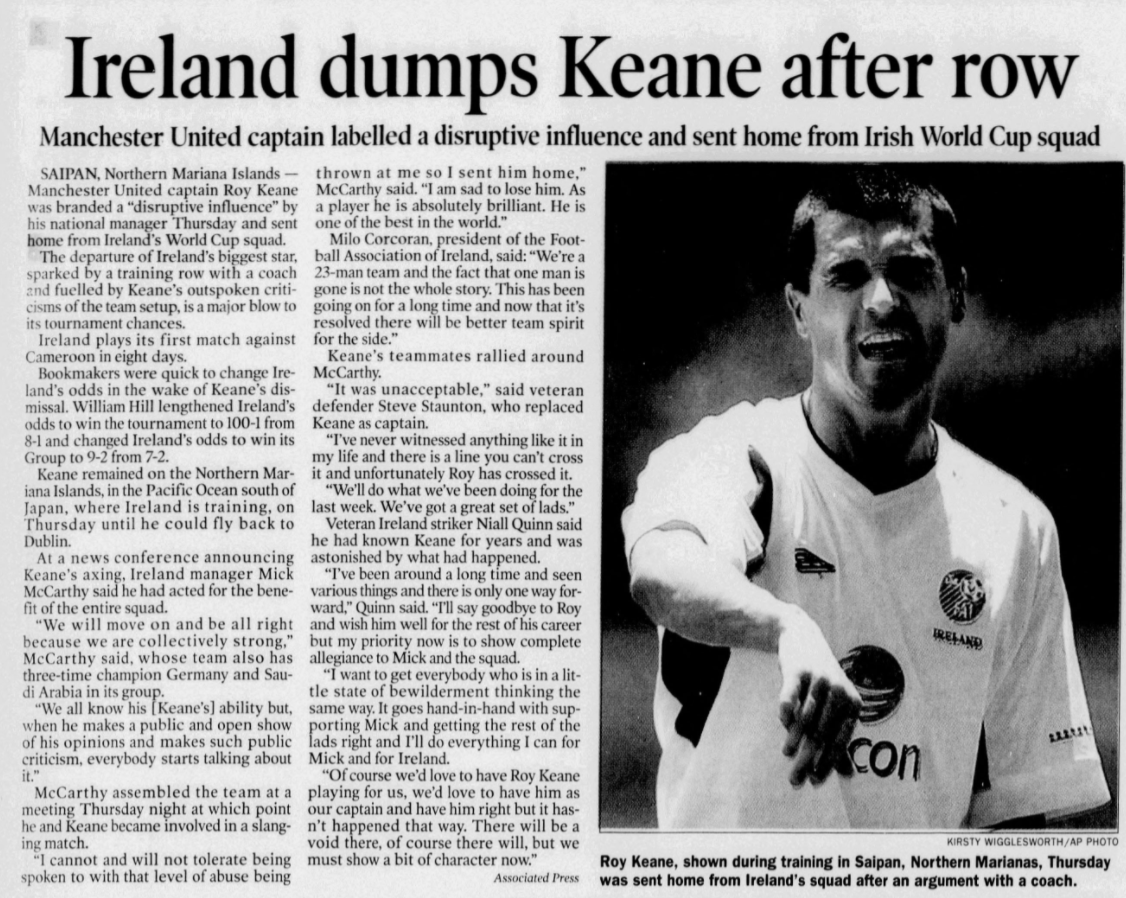 Following Keane's revelations to the papers, McCarthy decided to bring his players together for an evening meeting to air any grievances they may have, prompting the now-infamous showdown which saw Keane embark on a character assassination so brutal, the target of his scorn felt compelled to say he could no longer work with his captain.
"You're a f***ing w***er. I didn't rate you as a player, I don't rate you as a manager and I don't rate you as a person.," Keane is alleged to have shouted at McCarthy in front of his stunned teammates.
"You can stick your World Cup up your a**e. I've got no respect for you. The only reason I have any dealings with you is that somehow you are the manager of my country! You can stick it up your b*****ks."
He didn't stop there, even questioning his gaffer's on-field ability as well as his right to manage the side having been born in Barnsley, despite representing Ireland as a player.
"You were a bad player anyway," he's reported to have said of his boss. "You had a rubbish first touch and you're a poor manager. The only manager I respect is Sir Alex Ferguson, and you're English, you're not even Irish."
To this day the dispute still rumbles on as to whether Keane walked or he was pushed, though the official line is that McCarthy felt he could not tolerate the level of abuse being directed at him and had no alternative but to send the country's most high profile player home.
Unsurprisingly, the row and subsequent fallout threatened to derail their World Cup and even saw Irish Prime Minister Bertie Ahern launch a bid to resolve the dispute, but the damage was done and Keane headed back to Manchester from Saipan.
To what extent Keane's premature exit impacted the Irish side's chances in that World Cup is still debated to this day; with many feeling that it was the country's best chance of glory since they reached the quarter-finals of the 1990 World Cup.
But despite the fact that their best player was walking his dog in the Cheshire countryside some 6,000 miles away, his former teammates represented their nation with pride as the dust settled on a row that divided the population.
Ireland made it out of the group stages with a win and two draws – finishing second to Germany in Group E – but eventually exited the tournament in the last-16 after they were beaten by Spain on penalties.
However, talk to most people about what they remember of Ireland in the 2002 World Cup and it won't be long before the name of Roy Keane, who played no part in the action that summer, will be mentioned.