Judd Trump reached a first ranking final of the season with a brilliant comeback win at the Welsh Open on Saturday.
The Juddernaut edged a thriller 6-5 against Iran's Hossein Vafaei in the International Convention Centre at the Celtic Manor Resort.
And the world No3 had to dig very deep and find his best form when it mattered most after trailing 5-3 and looking to be down and out in Newport.
Although Trump had racked up 14 ranking titles in the previous three campaigns this term has seen his form and confidence take a dip.
But victory on Sunday would see him pocket the £70,000 first prize and take huge steps towards securing a £150,000 bonus from a sponsor's series, and qualifying for the Tour Championship.
However this was a devastating loss for world No21 Vafaei, 27, who was looking to back up his recent debut title success in the quickfire Shootout.
Trump, looking for a first success in this tournament, said: "It took me until 5-3 down to start playing, I wasn't playing well before that.
"Hossein was the better player in every department – his break-building was better, his potting was better, his safety was better, everything was better.
"I just had to really dig in and absolutely grind it out. I knew I was capable of winning three frames in a row and did well to pretty much one-visit twice to make it 5-5.
"Then I potted some good balls in the decider and was in a great position before leaving myself cueing over the black – but luckily he missed the chance to clear up.
"It is very pleasing to play your best under the most pressure and get over the line. I didn't feel especially good in among the balls, but I was more relaxed than of late.
"And I took a bit of inspiration from how Jack Lisowski won his quarter-final from 4-2 down with a great finish.
"I was trying my best but it hadn't been happening, and I just tried not to panic and was able to dig in and do what the rest of the great players do.
"Every frame becomes important, he missed a couple in the sixth when he could have gone 4-2 up but then still got to 5-3.
"Having made a couple of swift breaks to get it back to 5-5 I had the momentum in the last frame and because I had kept him out for 20 minutes he was a little but cold, which contributed towards him missing the pink.
𝗖𝗢𝗠𝗘𝗕𝗔𝗖𝗞 𝗞𝗜𝗡𝗚 👑
Judd Trump 6️⃣-5️⃣ Hossein Vafaei
The ♠️ recovers from 5-3 down to prevail in the deciding frame. 👏
#WelshOpen
•
#HomeNations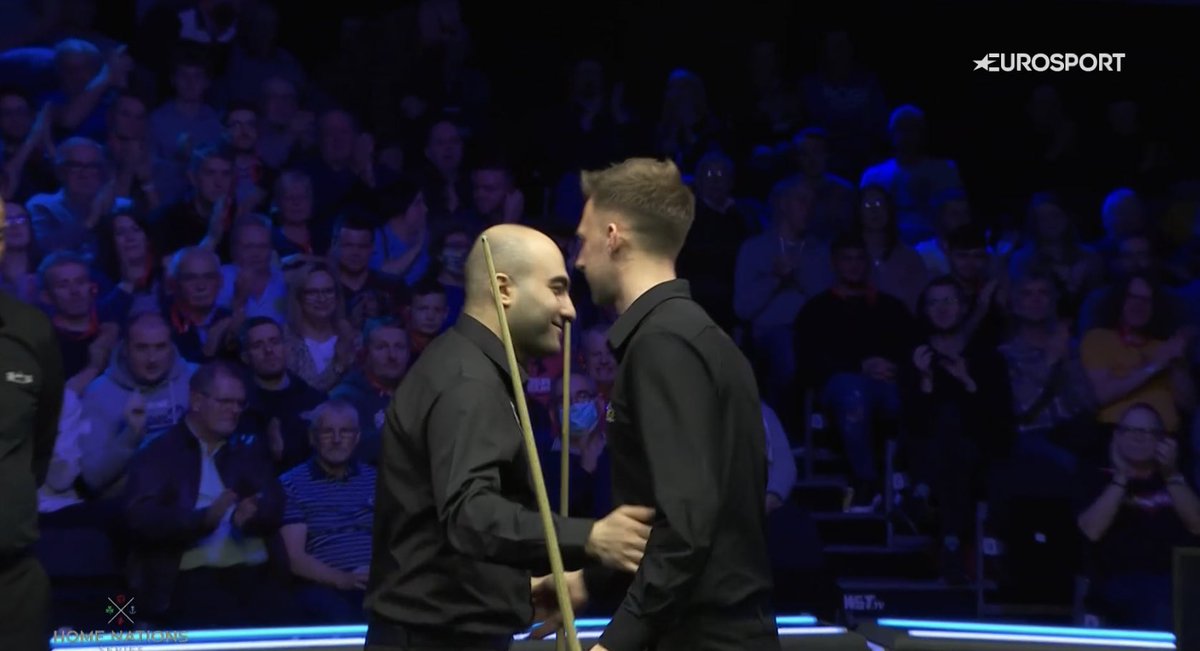 "I have had a rubbish season really, it has been a long time since I was in a ranking final and I can't wait to get out there – especially the way I have got through this.
"I know that at my best I am more than a match for anyone out there, but in this one I have won when not at my best which is really important to be able to do.
"The crowds and the atmosphere at this tournament have been incredible in Wales and I'm sure it will be the same in the final."
Vafaei said: "I'm disappointed because I didn't perform that well - I had chances, and didn't take them.
"I am happy though, I had a very good week and you have to see positives. This is just the beginning, more great results are coming for me."
Vafaei was the better player for much of this semi-final – but Trump found form he has been looking for most of the season to ensure the dramatic finale.
Breaks of 94 and 85 helped the Iranian to a deserved 3-1 lead, only for the world No3 to peg him back at 3-3.
Once more Vafaei kicked on and moved two up with three to play, but Trump then found something when he needed it most and breaks of 66 and a superb 121 forced the decider.
Trump takes on Joe Perry in the final after the 47-year-old came through another epic contest 6-5 against Jack Lisowski late on Saturday.
World No42 Perry has shrugged off a poor season in Wales and earned a great chance to win just a second ranking title of a 30-year professional career.
Perry, a lesser-mentioned member of the 'Class of 1992' in the shadow of Ronnie O'Sullivan, John Higgins and Mark Williams, has lost four of his five ranking finals.
The sixth is the first on home UK soil, and Perry said: "Normally I'd be buzzing but I didn't enjoy the match at all, and felt so bad. I had a headache come on, and could hardly see the balls from distance.
"I am so pleased I won and I have played well all week, but I'll write that one off, get a good night's sleep and look to play better in the final."
Lisowski, sporting a Ukrainian flag on his waistcoat with family roots in that country, said: "I struggled all night, and was a bit off it. When he got to five that spurred me on, but the damage had already been done. I hope this can turn my season around."