The 23-year-old was named the club's Disabled Supporters Association's Player of the Year
11:00, 22 Dec 2019
Ahead of their travels to Vicarage Road to face bottom side Watford for Matchday 18, the Manchester United Disabled Supporters Association named their Player of the Year as midfielder Scott McTominay to cap off an exceptional year for the academy graduate.
23-year-old McTominay has defied expectations and the plaudits have snowballed. Though granted his first-team debut under José Mourinho, few players as 'McSauce' embody the ethos that Ole Gunnar Solskjaer has been attempting to instil in a Manchester United that has struggled to find a clear identity since Sir Alex Ferguson retired in 2013
"Every time he plays for us he is improving," Solskjaer has said about McTominay, "He's a great athlete, he wins his challenges and he's quick on his feet."
This campaign he's even chipped in with three goals in the Premier League, one better than he managed in the entirety of the last term. He's also just one appearance away from matching his total league appearances across 2018/2019. He has also received three Player of the Month awards by his club in the space of six competitive playing months.
But still, there has been the air of him not being able to truly convince the naysayers despite his consistency.
His senior debut for Manchester United in a six-minute cameo in May 2017 in a 2-0 loss to Arsenal and was granted his first full 90 minutes three games later in a 2-0 win at home to Crystal Palace. Then it was back to prolonged spells on the sidelines.
With the clear break into the first-teams not forthcoming, a notable appearance came in the 0-0 Champions League knockout game in Sevilla, a game in which McTominay became the fourth-youngest Englishman to start a Champions League knockout match for the Red Devils, but was half a result that saw United dumped out of the competition.
The Manchester United Disabled Supporters Association has presented Scott McTominay with their Player of the Year award for 2019, at the group's annual Old Trafford Christmas dinner. [mu] ♥️
#mufc
#RS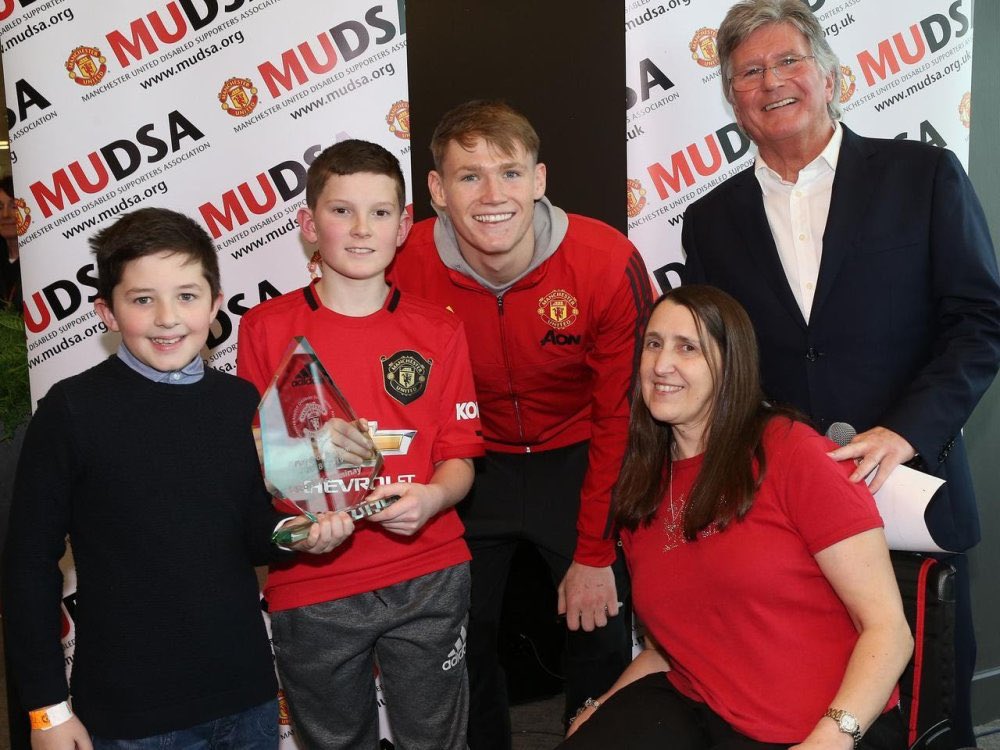 It might have also been due to the Lancaster lad opting to represent Scotland, a nation currently ranked 50th in the world, at international level rather than England, fourth, that cast doubts and aspersions on his ability to be the engine that United desperately need, nor does he look or sound like the most glamorous player, with the least disrespect intended.
Perhaps one of his most defining moments that helped establish him as a true Manchester United player was in the remarkable turn-around in Paris. Two goals for the worse from the first leg at Old Trafford to PSG, McTominay failed to be threatened at the Parc des Princes as the Red Devils produced one of the most remarkable turnarounds in Champions League history, with McTominay the red-bull-fused beating heart of the thrilling performance.
His recent absences on matchday have also reverberated, with back-to-back enduring draws to promoted sides Sheffield United and Aston Villa. Ultimately his presence in the heart of midfield has lessened the impact of Paul Pogba's continued absence. Though not blessed with the technical ability and pazzazz of Pogba, McTominay instead instils grit, determination and passion.
The contrast in the situation is palpable. McTominay has been at the club since he was six years old and Paul Pogba slipped through United's fingers to leave on a free to Juventus in 2012, only to later make him the most expensive purchase in Premier League history to bring him back to Manchester for £89million four years later.
Tabloid reports suggest the Manchester United squad are now convinced the Frenchman, on £290,000 a week compared to McTominay's purported £10,000, has played his last game for the club. He has made just five appearances this season, the last coming in a 1-1 draw at home to Arsenal at the tail end of September.
Although Solskjaer was adamant in a press conference today that Pogba would be going nowhere in the New Year.
"It [the injury] was something that really needed sorting but I don't think I should give you all the medical info, but he's now feeling good and getting better, it's worked. He's not getting sold in January.
"When he comes back and plays well, with a smile on his face and do what he did a year ago when I came here, Paul has been fantastic and we've got one of the best players in the world, when he plays well."
McTominay has also been seen to have had a direct effect on the performances of fellow midfielder Fred, a previously much-maligned £47million signing, who is transforming into one of the most reliable and hard-working players in United's arsenal, the two of them building up a strong rapport and partnership.
"I think Scott McTominay in midfield was like what I used to call 'a mad dog' said Mourinho, "But when I use this expression it's obviously in the total positive sense of the word.
"Afraid of nobody. Imposing his respect."
And respect is exactly what the player deserves - at the moment it seems that McTominay is really here to McDominate.