The six-time world champion was back to winning ways on Sunday at the World Grand Prix
22:23, 19 Dec 2021
Ronnie O'Sullivan showed true grit on Sunday night to make more history and end a losing streak of five finals in winning a second World Grand Prix title.
The Rocket had been misfiring throughout the tournament in Coventry, but after hanging tough he finally hit top gear to run out a 10-8 winner over Australia's Neil Robertson.
Six-time world champion O'Sullivan, 46, had not lifted a trophy since the World Championship success in 2020 and lost every showpiece last term. But he extended two records by claiming an unmatched 38th ranking title as well as pouching the £100,000 first prize against the frustrated world number four Robertson, who was the better player until the climax.
As well as the new record total, this latest triumph came 28 years and 21 days after O'Sullivan's first ranking title win at the 1993 UK Championship, pushing back another boundary.
But this was agony for Robertson, 39, who must have thought at 7-5 up that he was heading for a second Grand Prix win in three seasons.
O'Sullivan said afterwards: "I was determined all match. Neil should have been well ahead in the afternoon but wasn't. And I found something tonight after Neil had an unfortunate miscue. He is a great champion, a great ambassador, one of the best players ever and I enjoy competing against him.
"With Covid and everything it is great to see all the fans here tonight – it's like 10 Downing Street, a mass spreader! I have won so much in my career, that's not being big-headed, it's just about enjoying life and the game and I did give it my all tonight and a win is all right."
Robertson added: "The first session I could have had a lead but Ronnie battled really well, especially the last frame to go 4-4. But I came out again playing well tonight and from 7-5 up I knew I needed just three more chances. But Ronnie played some superb stuff after that.
"It is disappointing because I would have liked to get to a decider and a miscue hurt me, but as a snooker fan it is also good to see Ronnie back winning titles again.
"It wasn't looking great for me to be here a couple of weeks ago after having the symptoms and being diagnosed with the tinnitus, and it was great to be contesting a final with Ronnie."
What drought?
@ronnieo147 wins the 2021
@CazooUK
World Grand Prix, his first title since winning the World Championship for the sixth time last year.
It's his 38th career ranking title
#CazooSeries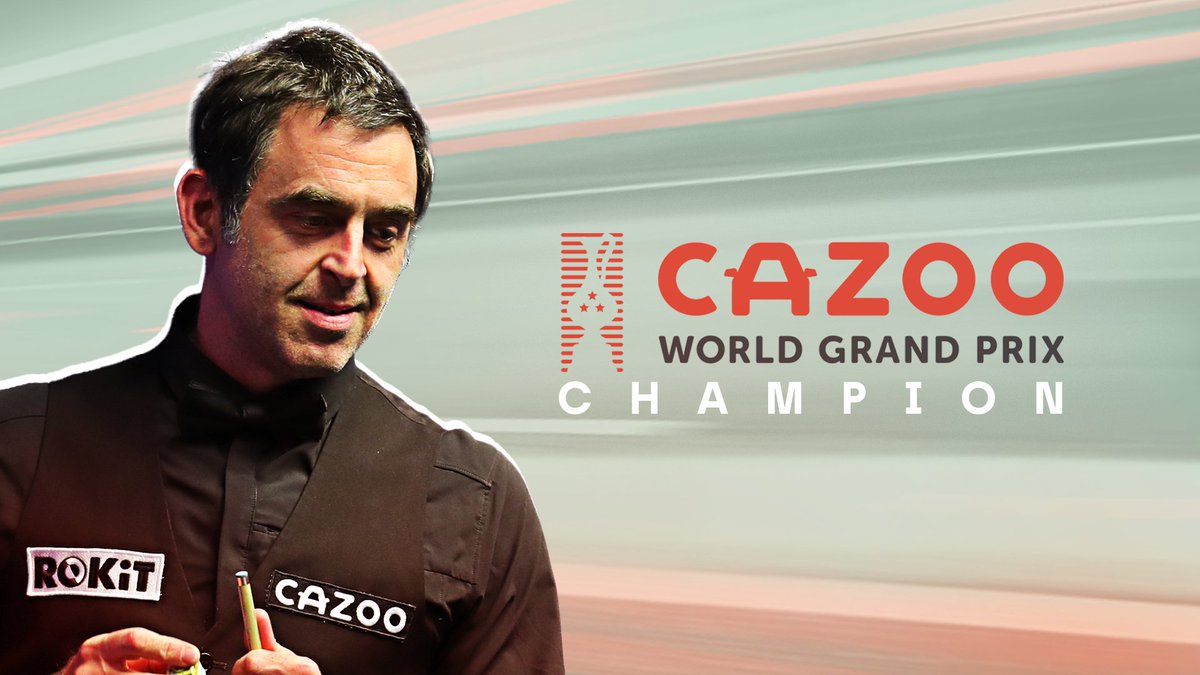 Robertson also had a lot to play for, and had been chasing a second World Grand Prix crown in three seasons, as well as a 22nd ranking title. And his reference to a health scare came after being forced to pull out of the previous event at the Scottish Open after being diagnosed with pulsative tinnitus.
That had left his balance and hearing affected, with an increased heartbeat ringing in both ears that left the Australian worrying for his career if he had something similar to Finland's Robin Hull, who was forced to retire with heart problems.
O'Sullivan, for his part, had not played anywhere near his best all week or indeed for most of the season, and predicted before the final that he risked being overwhelmed if he delivered more of the same.
But, once again struggling, the Rocket showed rarely-required battling and scrapping qualities to somehow stay in the contest in the first session.
Robertson surged into a 2-0 lead with breaks of 72 and 62, only for the world number three to claw his way back level, helped by a run of 51. Once more the Australian established a two-frame advantage, but after a fluent break of 90 from O'Sullivan halved the deficit, he showed Mark Selby levels of tenacity to get to 4-4. And the Essex pro got the two snookers he needed to steal a frame Robertson thought was long gone to plant a seed of doubt in the left-hander's mind.
The pattern continued initially in the evening, Robertson edging in front and then looking irritated and bewildered at his inability to get clear as his opponent again levelled matters. But the 39-year-old cut loose in frame 11 with a 128, the first century of the final. And he followed that up with a huge steal and break of 88 for 7-5 after O'Sullivan broke down on 49.
However, that seemed to fire up O'Sullivan, who knocked in a break of 90 and then bossed frame 14 to leave the pair locked once more at 7-7 – before making it three on the spin with a run of 77.
Another 77 from O'Sullivan put him on the brink of victory only for Robertson to keep the match alive with a break of 78. But yet another break of 77 from O'Sullivan was enough to see him through the winning line to the delight of his partisan and raucous fans in the arena.