No manager has defined the competition quite like Mou
11:55, 26 Jan 2022
It's fair to say that Jose Mourinho exploded into the public consciousness like a whirlwind. Back in 2003/04 as a little-known coach of Porto he elbowed aside many leading figures of the game to take the unfancied Portuguese champions to a first Champions League title.
Since then, he has become synonymous with the competition. He may have only won the tournament twice - the same amount as contemporaries Sir Alex Ferguson and Pep Guardiola - but he's set himself aside by being one of only five coaches to have done so with multiple clubs.
Mourinho truly belongs in the Champions League, and on his birthday, we reflect upon his adventures across the continent.
It is under this particular spotlight on the European stage more than any other that Mourinho has consistently demonstrated why he is box office and as attractive to watch, scrutinise, and enjoy as the world's best footballers. But why has he not always hit the heights in terms of performance?
Porto - The Whirlwind
Prior to his appointment at Spurs, Mourinho had only taken over a club mid-way through a season once before, at Porto, to take over from Jupp Heynckes. He led the Dragões to their first ever UEFA Cup success in his first season and then backed it up with something even more momentous.
A memorable last-gasp goal at Old Trafford in the last-16 to inflict misery on Manchester United instigated a famous moment, Mourinho exploding out of the dugout and motoring down the touchline towards the East Stand. A month later, he masterminded a comprehensive 3-0 win over Didier Deschamps' Monaco in the final.
Jose was understated after the final whistle, demonstrating a remarkable amount of tact in simply letting the cameras capture the moment as his side celebrated while he mulled over his next move...
20 years ago today. Jose mourinho became porto manager
127 games
91 wins
6 trophies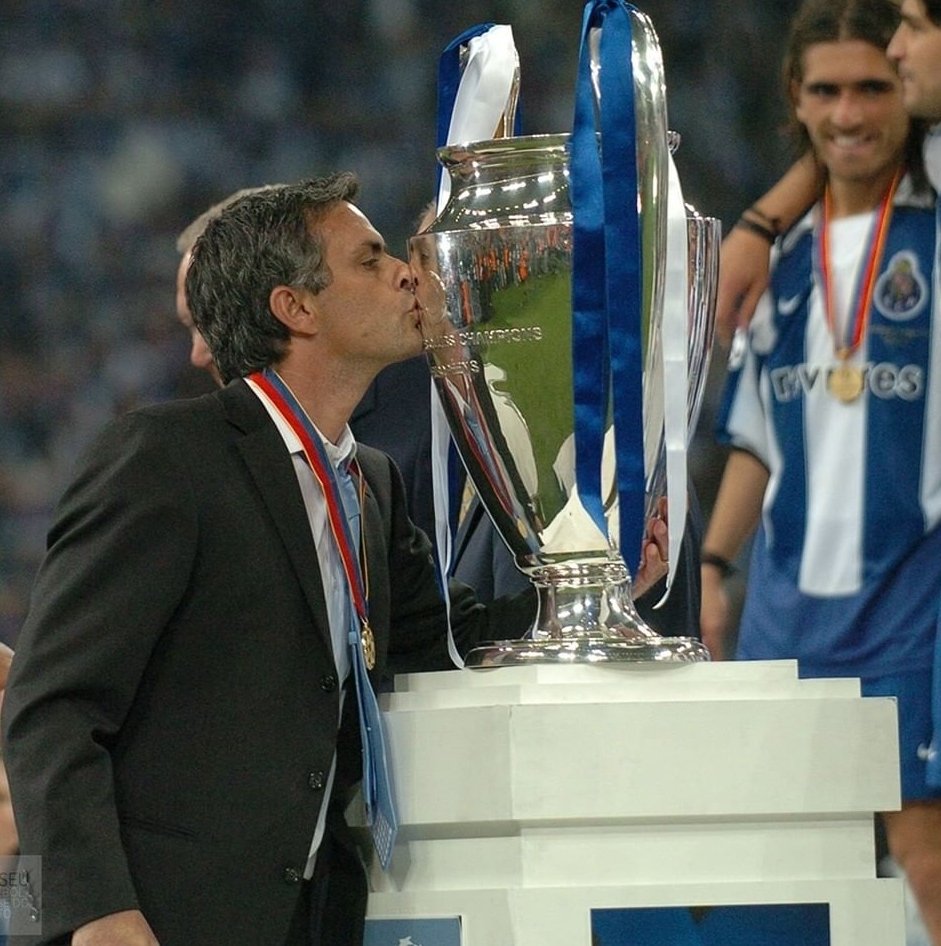 Chelsea - The Special One
A week after that first Champions League win with Porto in 2004, Mourinho was at Chelsea. July 2 was when he faced the world's media at Stamford Bridge in a now legendary press conference. Following the £150m+ spending spree provided by Roman Abramovich's bottomless pockets, the new Blues gaffer uttered the words that have defined his career.
"Please don't call me arrogant because what I'm saying is true. I'm European champion. I think I'm a 'Special One'."
Alas, he was destined never to become a European champion with Chelsea, with his first tilt including a memorable collision with Frank Rijkaard's Barcelona. A touchline ban for his behaviour against the Catalans saw Mourinho resorting to sneaking into the Chelsea dressing room in a laundry cart when Bayern Munich came to town. The grudge with Barcelona, where he had previously been an interpreter under Bobby Robson, would raise its head again later in his career.
Defeat in the semi-finals to Premier League rivals Liverpool via Luis Garcia's second-leg 'ghost goal' would prevent him from becoming a defending champion, and it was the same opponents who would stand in his way at the same stage two years later. Somewhat ironically, Chelsea would manage to reach their first Champions League final in the season that he left, with Mourinho having departed with a 49% win ratio in Europe's premier comp.
Inter Milan - The Perfect Storm
Notably, at both Inter and Porto Mourinho showed he knew how to sign off from a club. Both Champions League triumphs were his last occasions in charge of the respective clubs, and both completed historic trebles.
Inter had had to watch in envy as fierce rivals AC Milan had taken home five since the Nerazzurri's successful back-to-back dalliances in the mid '60s. Not only did a victorious campaign, culminating in the defeat of Bayern Munich in Madrid, provide Inter the ultimate bragging rights in achieving a feat that no other Italian side had ever accomplished, it also yielded the iconic image of him.
Mourinho rushed onto the Camp Nou pitch after his Inter side had upset the odds with 10 players, sticking his fingers up into the night sky in an exceptional act of defiance at the club who had labelled him 'The Translator'.
#OnThisDay
in 2010, a Mourinho masterclass at the Camp Nou that saw 10-man
#Inter
progress to the Champions League final after beating Pep Guardiola's famous Barcelona team over two legs
Which sparked a vintage Jose celebration... 🏃🏻‍♂️☝🏻
#UCL
Real Madrid - El Ego
Mourinho and Madrid seemed like a match made in heaven. With a new breed of Galacticos, who better to temper the egos of such players as Cristiano Ronaldo than a man with a seemingly insatiable one himself?
Three years at the Santiago Bernabeu ultimately proved that his touch wasn't entirely golden. Though he recorded a 64% win rate in Europe, thrice the Portuguese was unable to vault the penultimate hurdle in the Champions League with Los Blancos, including to his hated Barcelona in 2011 despite the brobdingnagian wealth of the squad he was in charge of. Bayern Munich got the better of him in 2012, and as soon as his side was knocked out by Borussia Dortmund in 2013 he revealed he was off to somewhere he would be truly loved...
Chelsea Part II - Eat, Sleep, Repeat
The second marriage was even shorter than the first, with just over two seasons for Stamford Bridge to enjoy the new Mou. The tenure brought another Premier League title, but it was the same old story in his Champions League saga with the west London club, reaching the semi-finals (again) in his first season back before falling to Diego Simeone's La Liga-conquering Atletico Madrid but heading out at the round of 16 to the same opposition in the next.
Once more, despite the reverence that still exists for Mourinho with some Chelsea fans, he never delivered truly on the big stage.
Manchester United - The Boast
Mourinho led United to their first-ever Europa League triumph in his inaugural season with the Red Devils, but he couldn't repeat his back-to-back Porto successes at Old Trafford. Mourinho only managed United in one-and-a-half Champions League seasons, though this produced on the most disappointing nights in the club's illustrious European history on a cold night in March 2018 with a debilitating defeat to Sevilla at Old Trafford. He compounded the misery by boasting afterwards about the times he had led opposing teams past United at the same stage in previous campaigns.
Just a month before losing his job at Old Trafford, Mourinho was at least capturing the headlines once again after a dramatic win at Italian behemoths Juventus, an act of startling defiance in which he once again encroached on the pitch, a perpetual snarl on his goading face, cupped hand to the ear, feeling - and revelling in - the hatred of 40,000 angry Bianconeri supporters. Oh Jose!
Tottenham Hotspur - The Forgettable Chapter...
Mourinho is a winner. His total haul amounts to an eye-watering 20 top trophies, including some of the most prized silverware in Europe, more than Spurs have won in their entire 140-year history, yet he couldn't bring that success to the club. In Europe, the lost in the last 16 of the Champions League to RB Leipzig in his first season, before a shock exit to Dinamo Zagreb the following year ended their Europa League hopes at the same stage.
Although he led them to the League Cup final, the less said about this chapter, the better.
Roma - The Missing Piece?
Jose Mourinho seems to be enjoying life in Rome and although they sit sixth in Serie A, they won their group in the new Europa Conference League. That means they are straight through to the last 16, and look like one of the strongest outfits in the competition with Tammy Abraham on fire in front of goal. He's won the Champions League, he's won the Europa League, so it would be fitting that Mourinho became the first manager to win the Europa Conference League, and complete his collection.
He still belongs in Europe's premier competition, and has given us some of the truly iconic moments in Champions League history