The world champion is going into a new season with the world at his feet
08:00, 20 Mar 2022
Max Verstappen is the world champion. Whether you agree with how the Abu Dhabi Grand Prix ended last season, that fact cannot be disputed. Yet, as we approach the dawn of a new season, we are beginning to see a new side to the effervescent Red Bull driver.
So used to being the aggressor in the sport, he has vowed that his driving style will not change as he defends his crown, but the responsibilities of being a world champion may have changed his mindset.
In an interview with BBC Sport, building up to the Bahrain Grand Prix, the 24-year-old seemed to have matured. Reflecting on how the season finale went down, Verstappen took a wise approach to a topic he has now been quizzed on hundreds of times.
"The sport doesn't need to heal, there are these dramatic moments which are part of the sport as well," Verstappen said.
"F1 is a very tough world. I think Lewis can feel the pain a bit less if you already have seven [drivers' titles]."
Netflix's Drive to Survive series has engaged thousands of F1 fans, but also drawn a more neutral audience to the sport. Viewers have been completely gripped by the new series that painted the picture of the most dramatic we have seen in a generation.
But Verstappen, who refused to take part in the series, was pretty damning in his condemnation of Netflix's attempt to portray the sport - which many have compared to a reality show.
"I watched two episodes, but I was not very impressed. It's just not my thing, faking rivalries.
"Lando (Norris) and Daniel (Ricciardo) are two great people I know - they have really great characters and immediately at the second episode it looks like they are not very friendly to each other, and for me that's not correct and that's why I'm also not a part of it."
Max didn't enjoy the new series of Drive To Survive 😤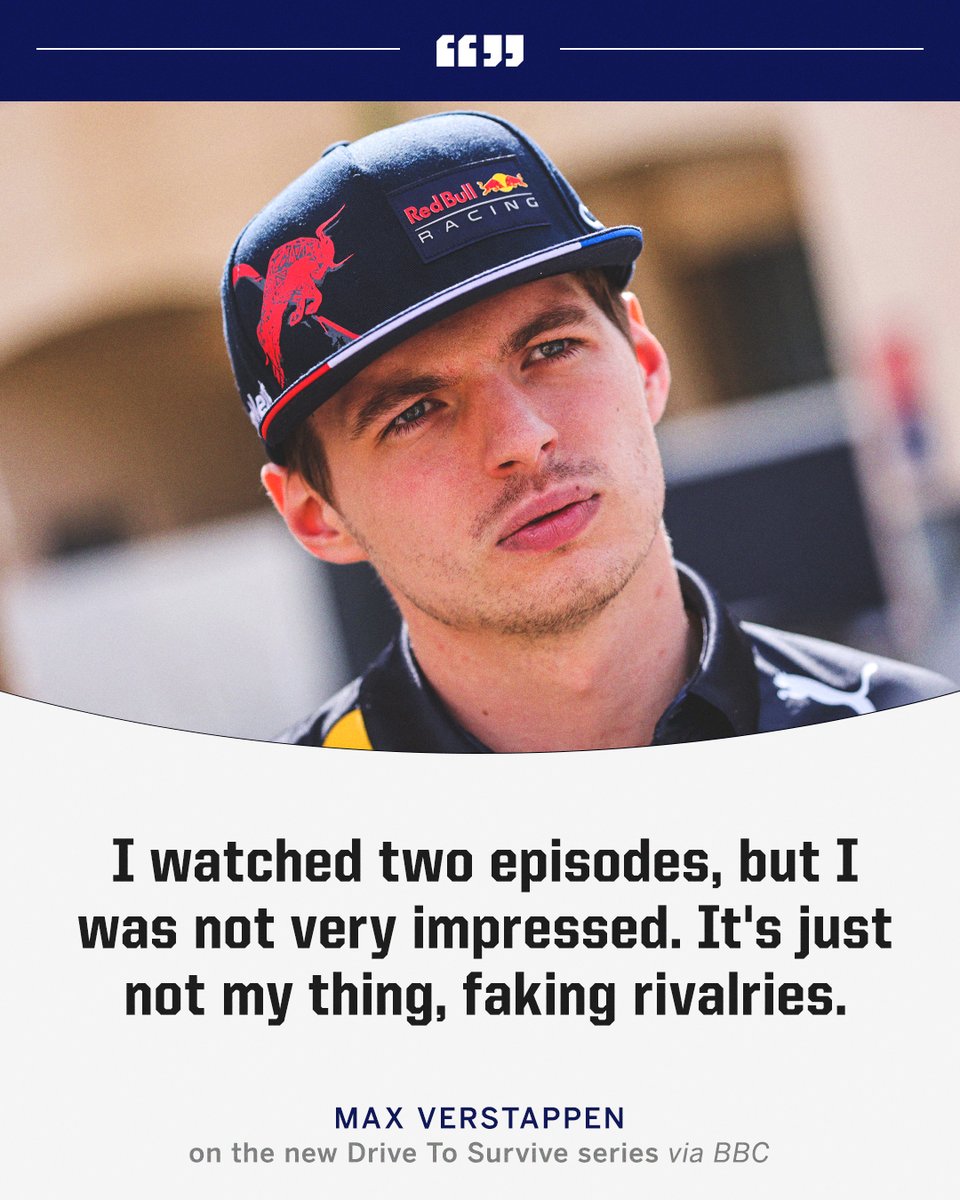 Although many would see this condemnation as childish, it's actually the complete opposite. It shows the integrity behind the world champion and a man who is more bothered about what goes on on track rather than how it comes across on television.
He's also gained huge respect in the pit lane over the past few years, and wasn't happy with how other drivers were portrayed, as he stated in the quote about McLaren's drivers. Graham Watson, his former team manager at Toro Rosso knew he had a grounded driver on his hands, even though Verstappen became the youngest driver in Formula One's history at the age of 17.
Breaking through to the big time at Red Bull by the time he was 18, it's no wonder critics labelled him arrogant. He was doing things that no other driver had done before but there's a slight difference between arrogance and self-confidence. Verstappen has always been on the right side of that line but had to make an impact in the sport.
With his aggressive and entertaining driving style he certainly did that and now with a world title to his name, he is able to take a step back. He made a frenetic start to life in the sport, but the early signs in 2022 are that Max has matured. On the track though, we've got a season of vintage Verstappen to look forward to.