The British home favourite is out of Wimbledon as Jule Niemeier progresses
18:15, 03 Jul 2022
Heather Watson saw her best ever run at a grand slam tournament finally brought to an abrupt end by rising German star Jule Niemeier on Centre Court at Wimbledon on Sunday.
And the 22-year-old Niemeier, on her Wimbledon debut, will next take on compatriot Tatjana Maria, 12 years her senior, with both of them into what will be a first quarter-final at this rarefied level of grand slam competition – and guaranteeing at least one player from Germany with their rich tradition in Wimbledon singles into the semi-finals this year.
For Watson, 30, there was certainly disappointment after a comprehensive 6-2, 6-4 defeat to Niemeier, but no self-reproach. The big-serving and power-hitting German was always the better player, and though Channel Islander Watson rallied to test her in the second set and saved a couple of match points, the result was never in much doubt from early on.
READ MORE:
The players had to wait until after 2pm for a ceremony bringing many of the all-time great champions onto court – including Billie Jean King, Roger Federer, Novak Djokovic, Margaret Court, Chris Evert, Venus Williams, John McEnroe, Bjorn Borg, Rod Laver, Andy Murray and Petra Kvitova - to mark the 100th anniversary of the Championships and Centre Court at the current location.
And of course Sir Cliff Richard got in on the act, the 81-year-old singer giving a performance of 'Summer Holiday' that was widely panned on social media.
Watson said: "Walking off the court, I was obviously extremely disappointed. I've taken every match here as a big opportunity and managed to take advantage of it until today. But credit to my opponent. I felt like she played really well, especially in that first set - flawless tennis. I was thinking at the end of the first set how many unforced errors she'd hit, and I could only think of two.
"She served very big, which I think was a big difference today. I felt like I was always reacting to her ball. Not on the front foot like I had been in my other matches. But often people are breaking through later now, experience counts for a lot. Everybody's journey is different, and this is mine. I broke a barrier this week so I am definitely hungry for more."
The quarter-final Watson had been hoping to be involved in will be between Niemeier and the 34-year-old mother-of-two Maria, who only came back from her second maternity leave a year ago and is still laying down new career milestones at Wimbledon.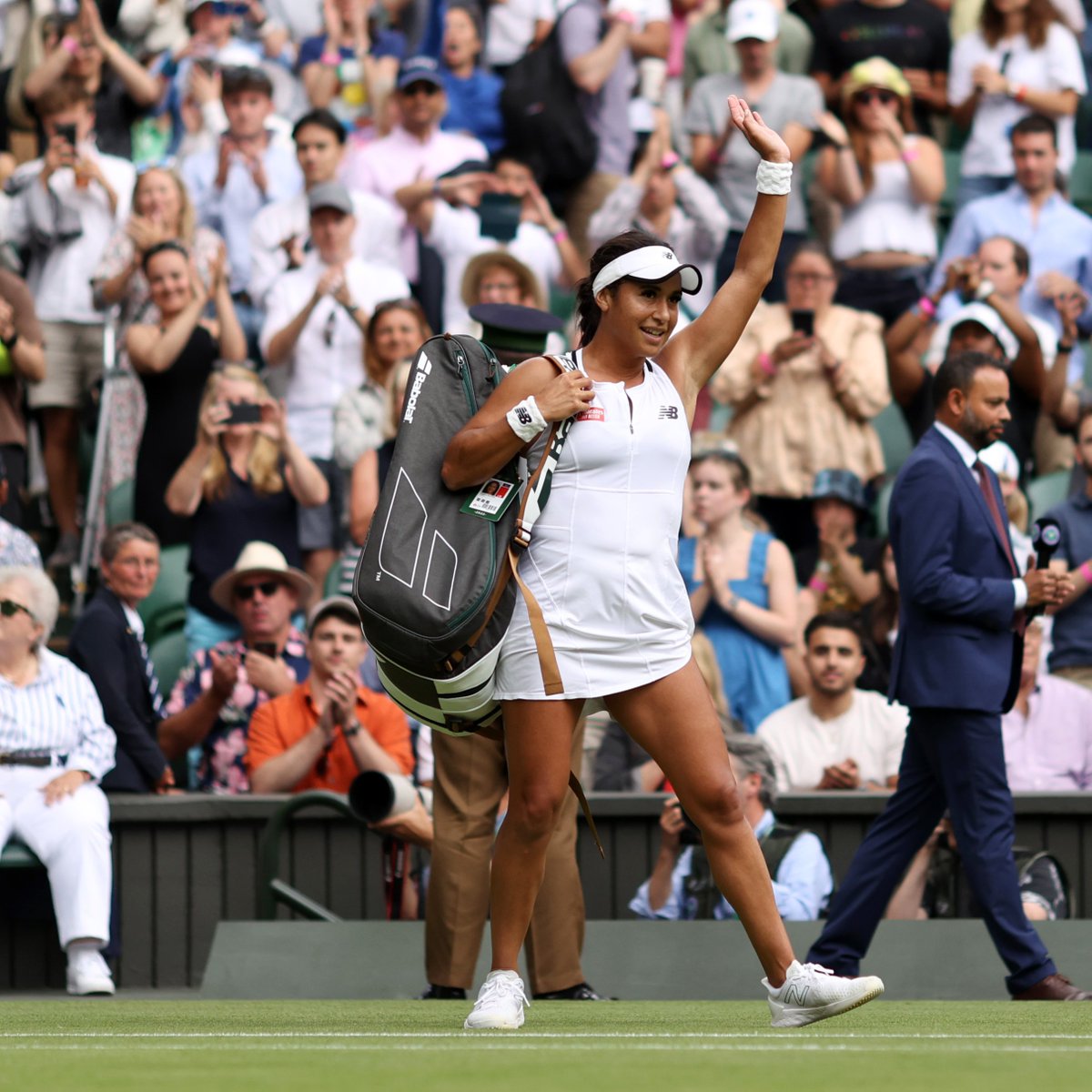 Niemeier, very much at the start of her career, saw her time as a junior hampered by a series of niggling injuries that set her back in her development. But the power-play display against the British player suggested she has well and truly caught up and is ready to do some real damage on tour.
Her demolition of the second seeded Anett Kontaveit 6-4, 6-0 was clearly no fluke as the world No97 has backed it up twice more since.
But Maria's story is even better. Taking time out from the tour twice to have her two daughters has required huge commitment and dedication to come back as good as she was or even better. But it is unlikely Maria has had a better day in her life than practising with her elder daughter Charlotte in the morning, and then coming back from a set and 4-1 down against former French Open winner Jelena Ostapenko to win 5-7, 7-5, 7-5 to confirm her best ever run in a major.
Maria, whose country are forever looking for the next Steffi Graf or Angie Kerber, said: "There were a lot of people who didn't believe in me because when you get kids, automatically people think, 'Okay, she got a child, so that's it'. My husband is the one actually who was always on my side and he's the one who believes in me every single second.
"My oldest daughter is practicing every morning here in the indoor courts. Today I warmed up at 10.30am, so at 8.30am we arrived at the indoor courts, we practiced with her little friend. Then we went on the other side, and I practiced before going to prepare for my match.
"Maybe I can appreciate this achievement more now because I know that there are more important things in life than playing a tennis match. And it's nice for German tennis that Jule and I are playing in the quarter-finals against each other because one of us will be in the semi-final."
*18+, terms and conditions apply, odds subject to change.