Ryan Garcia conquered Javier Fortuna by sixth-round knockout, but now he must mobilise for 'Tank'
16:39, 17 Jul 2022
Ryan Garcia reminded the boxing world that there is a brilliant fighter behind the social media bluster with a six-round destruction of Javier Fortuna. 'King Ry' had the former world champion down three times in the bout, lowering the boom for a sixth-round knockout win.
The win was impressive though, as with anything involving the divisive 23-year-old, it comes with caveats. The bout took place at the 140-pound super lightweight limit, 10 pounds above the super featherweight division where Fortuna briefly reigned as WBA 'regular' boss. The win is a solid stepping stone but far from an end in itself.
The endgame as it is being presented is a fight with Gervonta 'Tank' Davis. Garcia's promoter, Oscar De La Hoya was vocal about making it happen in the aftermath. So too Garcia himself, who told broadcasters "I'm not going down to 135 for nothing. But I will fight Tank if he wants it at 140." There's those caveats again.
'Tank' Davis is the current WBA 'regular' champion at lightweight and, while he did hold that body's secondary title briefly at super lightweight, he vacated that title to return to 135lb. Not for the first time, Garcia is claiming he wants a fight before putting obstacles in the way of it.
This has been people's issue with Garcia. He's a good-looking kid, has marketed himself tremendously on social media and has been famous since long before he was world-ranked. His critics feel the hype and notoriety may outstrip his ability and the reason for him building a name on second-rate opponents is to disguise this. Garcia himself is aware of the criticism, saying after the Fortuna win, "I'll make sure to record all the negotiations (with Davis) so you can't say I was ducking. I want that fight because it's going to give me the respect I deserve. I'm never afraid."
Getting that Knockout In DIOR was special, thank you to Kim Jones for the Design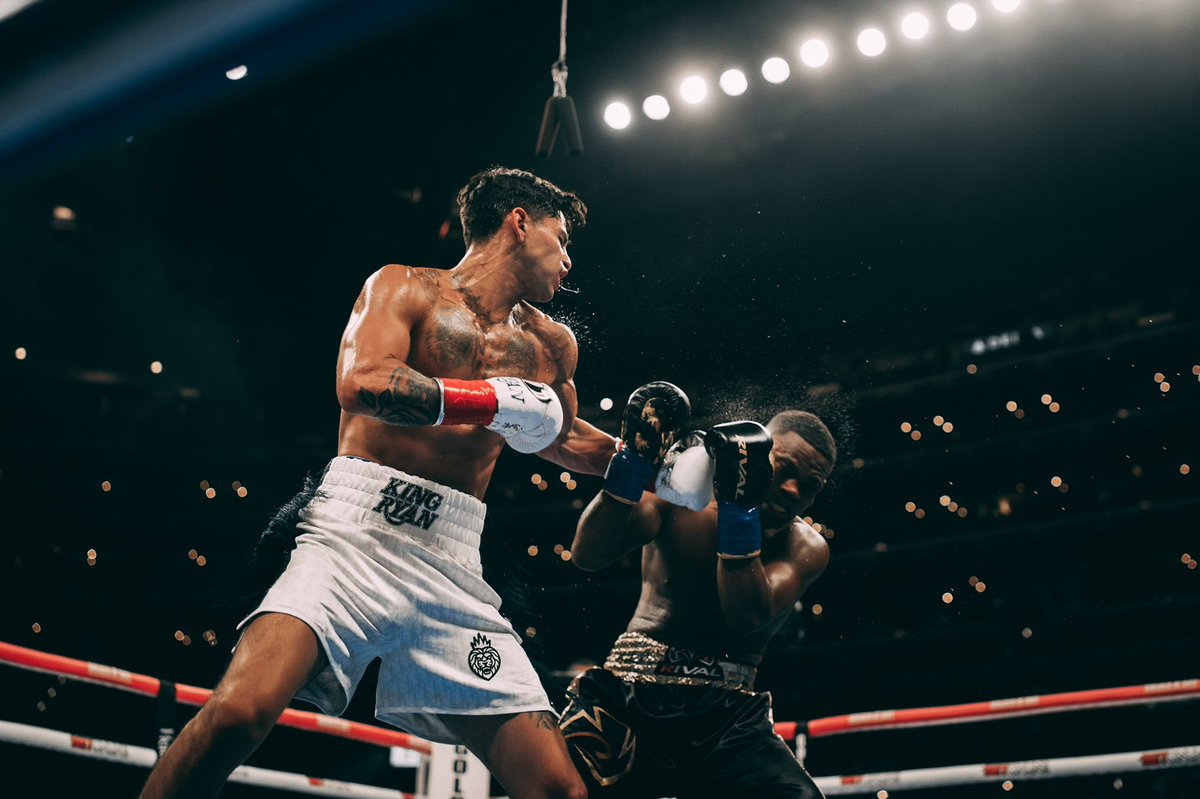 But to say and to do are two different things. Garcia also offered up the name of Teofimo Lopez, the recently-dethroned lightweight champion, as an alternative if the 'Tank' fight falls through. The fact he is already looking for an escape route, and one that is wrapped in the red tape of being promoted by rival promoters Top Rank, doesn't bode well. Add in the fact Lopez is on the comeback trail after a recent loss and it confirms the worst suspicions about Garcia's approach.
It really is do or die at this point. That might seem a bold assertion about a 23-year-old fighter, but fans are already growing weary of The Ryan Garcia Show. His friends are too. The fighter has had a very public falling-out with former pal and training partner Saul 'Canelo' Alvarez.
But where there is adversity there is also opportunity. Right now Garcia is a young fighter coming off a spectacular knockout win. If the fight does come off against 'Tank' Davis and he wins, these growing pains will be forgotten. Even bravery in defeat would likely see Garcia better regarded than he is now. An '0' is hollow unless the level of competition is high. Now is the time for 'King Ry' to really earn that crown. Nothing ventured, nothing gained.