Iran's Hossein Vafaei insists he was "born to make history" after securing a Crucible debut.
The 27-year-old came from 61-0 down in the decider to beat teenager Lei Peifan 10-9 in a thrilling Betfred World Championship final qualifier at the English Institute of Sport on Wednesday.
Vafaei won his first ranking tournament this season at the quickfire Shootout, and has had to overcome losing the early years of his career due to visa issues linked to his nationality.
He said: "I believe I was born to make history, and I want to make people in my country happy. Snooker wasn't famous in Iran and I have put it on the map.
"And I would also like to be a 'People's Champion'. When I won the Shootout this season my social media followers went up from 40,000 to 100,000.
"And I hope this will inspire more people back home and make them start playing snooker, and make it as big as I can.
"I don't want to be a normal snooker player, I want to give people something that they can enjoy. I have courage and personality, and not many players have both of those.
"I am feeling unbelievable to have won that match, really over the moon. I don't know how I won, but I was telling myself 'never give up, something may happen, your time will come'. And he missed an easy red into the middle, and I knew it was my chance.
"The same thing happened against Liang Wenbo in the Shootout, he gave me a chance and all of a sudden he won the tournament. Everyone is human, and can make a mistake on the biggest stage.
"I am sorry to all snooker fans for how I played in this game but I will do my best to improve and I will do better at the Crucible. I want to be a good fighter.
"Today my whole body was shaking, I don't know why. I make these games, this Judgement Day to get to the Crucible, so big for myself. And I should only have thought of the Crucible as just another venue.
"I don't really care who I play in the first round, they should be worrying about playing me. I have nothing to lose, what is the worst that could happen?
"They have coaches, psychological coaches, everything and I am alone. And I will fight as much as I can until my last blood. And if I didn't believe I could win the title, I wouldn't be here.
"Some people said the Shootout was small tournament, but it's still a win. I have been to the Crucible before and watched Ronnie O'Sullivan. It is the home of snooker."
Meanwhile Jackson Page thanked mentor and three-time world champion Mark Williams after also clinching his World Championship debut.
The 20-year-old from south Wales began practising with Williams, 47, when he was just 13 years of age.
Two debutants in a matter of seconds.
Jackson Page and Hossein Vafaei will be at the Crucible.
Emotional moment for the Prince of Persia, tough one for Lei Peifan, the 18-year-old losing on the final black in the decider.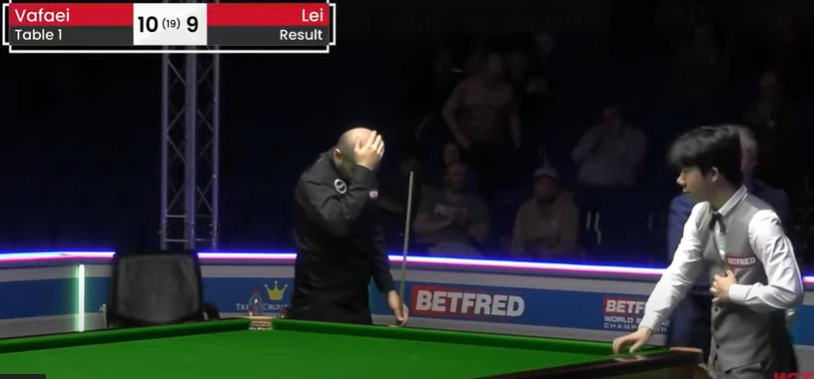 And having that role model and source of advice has paid dividends as world No90 Page beat Leeds' David Grace 10-6 to go into the first-round draw.
Page said: "Mark has helped me so much, I have picked up shots from him and at least now I can give him a game in practice.
"Today was a really good game, probably the best game of the week for me. There is always going to be pressure, but I dealt with it pretty well today.
"And it is brilliant to be at the Crucible for the first time, it has always been the goal and I can't wait to get there and hopefully do some damage there.
"I have been to watch there, when Mark won his third world title, and I really enjoyed the surroundings."
On another dramatic day former world champion Graeme Dott lost to Wales's Jamie Clarke 10-8.
It has been an incredible final qualifying round for Wales, who have seen five players get through to the Crucible from final qualifying to join the seeded Williams.
World No66 Clarke, 27, also managed to save his place on tour while coming through the gruelling process.
He said: "My main goal in this event was to win the first match to stay on tour, and once I did that there was a lot less pressure.
"Having said that I bottled it from 7-2 up, and then I almost bottled it again from 6-3 and 8-4 up today. It was very tough, but I am chugged to get through."
Two-time finalist Matthew Stevens completed the Welsh trio of winners on Wednesday by coming through 10-8 against another ex-runner-up in Ali Carter.
Stevens, 44, said: "I was also in real danger of falling off the tour coming into qualifying, I might have had to go and get a job.
"If I play well I can beat anybody, so I don't mind who I play. Hopefully I can have a good run, I haven't got many points coming off."