How Aston Villa's Championship Play-Off Win Could Be Worth Over £1 Billion
14:05, 28 May 2019
"The richest game in football". A phrase that must have been uttered over a hundred times this weekend around the Championship play-off final which saw Aston Villa overcome Derby at Wembley. With the television rights and parachute payments, promotion this year was estimated to be worth £170m, the same as it has been worth since 2016 when the new television deal came in.
But now, due to research by SportingIntel, it has been shown that promotion could be worth over £1 billion to the Villains over the next few years. The data shows that, since 2007, every side that has been promoted has earned more than the finances estimated at the time. For those clubs who managed to spend more than one season in the top flight, riches awaited them and if they could establish themselves in the top flight, the financial rewards were huge.
You only have to look at the three clubs promoted between 2011 and 2013 to see this. Swansea beat Reading to win the play-off final which was thought to be worth £90m at the time but, after they spent seven seasons in the top flight earned the club a whopping £699m. That included an increase in attendance of 29% which brought in an extra £73.9m in gate and commercial revenue, but they also have £52m in parachute payments to come.
That total remarkably was exceeded by West Ham who came up the following year having beaten Blackpool in the final. The two clubs could not have experienced more contrasting fates since that day with Blackpool going through all sorts of turmoil, dropping all the way down to League Two, before eventually getting rid of their owner, Owen Oyston this year. Now in League One, the Tangerines will be hoping to climb their way through the divisions over the coming years, their fans deserve no less.
For West Ham, it has been relatively plain sailing by comparison. Seven consecutive seasons in the top flight, and counting, has meant their coffers have been well and truly full over the past few years. In total, winning that play-off final has been worth £1.01bn to the club and that figure will only increase the longer they remain in the top flight.
With their new stadium, that revenue will continue to rise and they are able to spend more on players, securing their top-flight status. Players such as Felipe Anderson, Issa Diop and Marko Arnautovic have been brought in for over £20m which seem like a smart investments when you look at the money coming in.
Which is all a different way of saying that Villa v Derby in the play-off might be worth £170m. But almost certainly it will be more. And possibly it will change the destiny of a club, a city, a set of fans. No pressure then.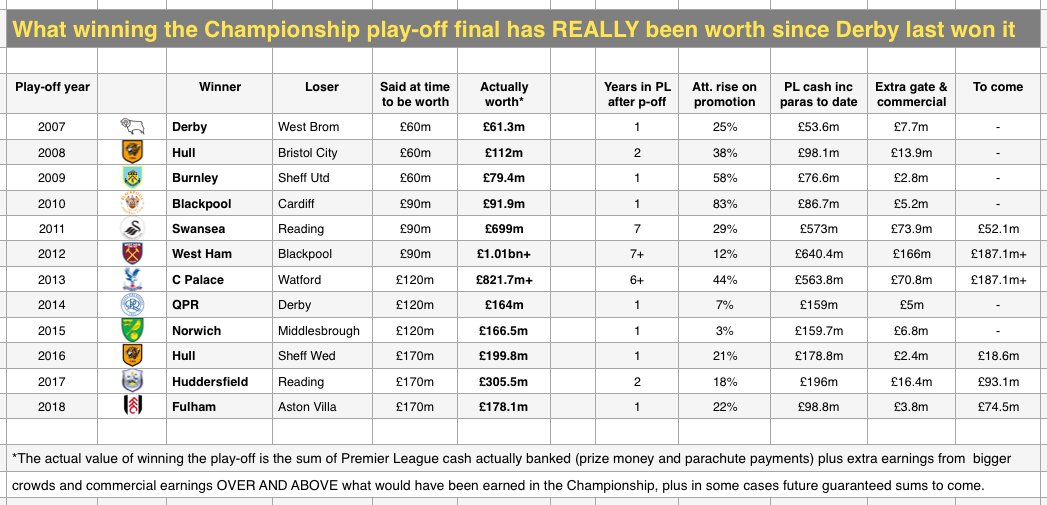 Crystal Palace the following season received the same financial boost with their total now past the £800m mark and the club still in the Premier League. Since the Eagles though, the winner of the Championship play-off final has struggled in England's top division.
QPR, Norwich, Hull and Fulham were all relegated in their first season back in the Premier League and although the clubs have picked up hefty payments for their showings (Fulham earned £178m), it could have been so much more. Huddersfield, despite being relegated this year proved that if you can manage more than one season, the earnings increase massively, they took home over £300m for their two seasons of participation.
Having not invested too heavily in players, that puts them in a great position to launch a promotion charge next season in the Championship. Those five clubs show that life will not be easy next season for Aston Villa, who will be hoping to replicate West Ham rather than Fulham and earn some serious money by staying in England's most prestigious football division.
£1.01 BILLION ... and counting. The amount of EXTRA money that West Ham have earned for being in the Premier League as a result of winning the 2012 Championship play-off final vs losing that game. Sliding Doors.