How Italy's Women Triumphed Against All Odds In The Women's World Cup
09:00, 02 Jul 2019
Italy's "Ragazze Mondiale" sank to their knees in devastation after being eliminated from the Women's World Cup by the Netherlands last Saturday, a 2-0 defeat and a poor second half performance that was ultimately to be the end of their tournament.
From the outside looking in, it would be all-too-easy to point to their superb qualifying campaign and declare that – just like their male Azzurri counterparts in recent times – this World Cup had been a story of unfulfilled potential.
Yet a deeper look at the story behind this tournament for Italy highlights exactly what a success it has been, and how important this team is in changing attitudes that have for too long been entrenched on the peninsula.
With a quarter-final finish in France, the Azzurre equalled their best-ever finish in the World Cup. The last time they reached this stage was 1991 and their only other outing in the competition was reaching the group stages in 1999. This means that in 1995, 2003, 2007, 2011 and 2015, one of the world's most famous footballing nations failed in their attempts to even enter the tournament with their women's team.
Italy's top sports papers pay homage to the
#RagazzeMondiali
who were knocked out by
#NED
after a brave fight.
@Gazzetta_it says thank you, while
@CorSport
advises them to wipe their tears as "now you are great".
What a success their campaign has been in changing attitudes 🇮🇹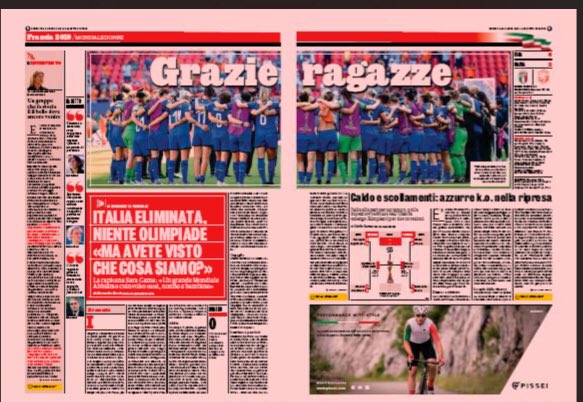 The reason? A genuine apathy among those in charge.
With major sides in France, Germany in England all having well-established teams for female players, Italy's Serie A giants, on the other hand, had none as recently as 2015. Fiorentina led the way in 2016 by becoming the first in the top flight to form their own "Calcio Femminile" side.
"In Italy, people love football, but everybody thinks that football is only for men — they think it is a macho sport," Fiorentina official Sandro Mencucci told the New York Times in 2016. "Here, we know we are not typical. We think football is for everyone."
Unsurprisingly, Juventus were the next to follow suit, going through the same process as the Viola had done the year before by taking over an already established women's side and handing them the official branding of the club. The difference from before and after such takeovers were glaring for the players. Former Fiorentina midfielder Giulia Orlandi admitted that before they became professionally affiliated, the players had many jobs to do outside of playing and training such as washing their own kits.
An official UEFA report published in 2017 revealed that Italy – ranked 8th in the UEFA coefficient – spent just €4.25 million on women's football during the previous years, compared to almost €11 million in Germany, €10 million in France and £14 million in England. Even Norway, a country with a population listed as 5.3 million as opposed to Italy's 60.6, pledged €7.5 million for the women's team, a figure that really does put Italy to shame.
Furthermore, government rules actually make it illegal for clubs to pay their female players professional wages, and they would face sanctions if they ignored this. Gabriele Gravina, president of the Italian FA (FIGC) is currently putting pressure on the relevant authorities to allow this antiquated rule to be changed, but bureaucracy on the peninsula is tough to break.
The good news is that TV viewing figures during the World Cup have demonstrated that there is an appetite for the women's game in Italy. Over 7 million people watched the Azzurre beat China in the Round of 16, an audience that blew the previous audience record of 202,844 out of the water.
Over half of the 23 squad members called up for the tournament belong to either Juventus or Fiorentina, with six more belonging to AC Milan, another big side that have followed suit since the former duo set up their women's team. These are the same women that were washing their own kits not so long ago, and it is simply incredible to see where they have ended up this summer against all the odds.
"In Italy, we are behind," Mencucci admitted in the aforementioned interview back in 2016. "We need to make big steps. Not little steps. Big ones." The Women's World Cup has maybe, just maybe, allowed the Azzurre to make a giant leap.