Football /
How Juventus Made Paul Pogba - And Why The Fans Would Love To See Him Back
Paul Pogba returns to Turin with Manchester United this week
The Juventus Curva Sud has been in the news a lot this season, unfortunately for all the wrong reasons. Home to the club's hardcore supporters, the sector – both tiers of one full end behind the goal – was closed for the recent visit of Genoa as punishment for racist chanting during an earlier game against Napoli.
It has made the headlines for various protests too, particularly vocal in their stance against increasing ticket prices, as one of the head Ultras explained in this recent interview. The supporters were also unforgiving towards Leonardo Bonucci, this previous post explaining how badly the defender was booed and jeered in his first few games after rejoining the Bianconeri from AC Milan.
Their reaction to Paul Pogba on Wednesday evening is likely to receive plenty of media coverage too, although the Frenchman can rest assured he will not here the same vociferous whistling that Bonucci endured throughout August and September. "Pogba left an incredible mark at Juventus and the fans still have incredible memories about his time in black and white," says Maurizio Giovanelli, a season ticket holder in the Curva Sud and founder of the Around Turin website. "Despite the fact that we didn't like the way he left at all, I believe there will be a good welcome for him at the Stadium."
Leaving Juve in the summer of 2016, there is clearly no ill will towards the 25-year-old who arrived at the club as a prodigious but unproven talent and left as the world's most expensive player ever. Yet his rise was anything but meteoric. Pogba joined the Bianconeri when his contract with Manchester United expired in July 2012, the English club receiving €800,000 compensation in a move that angered Sir Alex Ferguson.
"Pogba signed for Juventus a long time ago as far as we're aware," the Scottish manager told MUTV. "It's disappointing. I don't think he showed us any respect at all, to be honest. But I'm quite happy that if they carry on that way, they're probably better doing it away from us."
With Arturo Vidal, Andrea Pirlo and Claudio Marchisio having already helped the Bianconeri to a league title in 2011/12, it was clear the path to regular football was going to be difficult. Slowly, Pogba won the faith of Antonio Conte, making 18 league starts in his first campaign and then 33 in 2013/14.
This morning's
@Gazzetta_it
focuses on the return of Paul Pogba with a "Pogback" headline, speaking of his love of Turkish kebabs and bowling during his time in Turin, and reveals he lived on Via Filadelfia, close to where Torino play at the Stadio Olimpico Grande Torino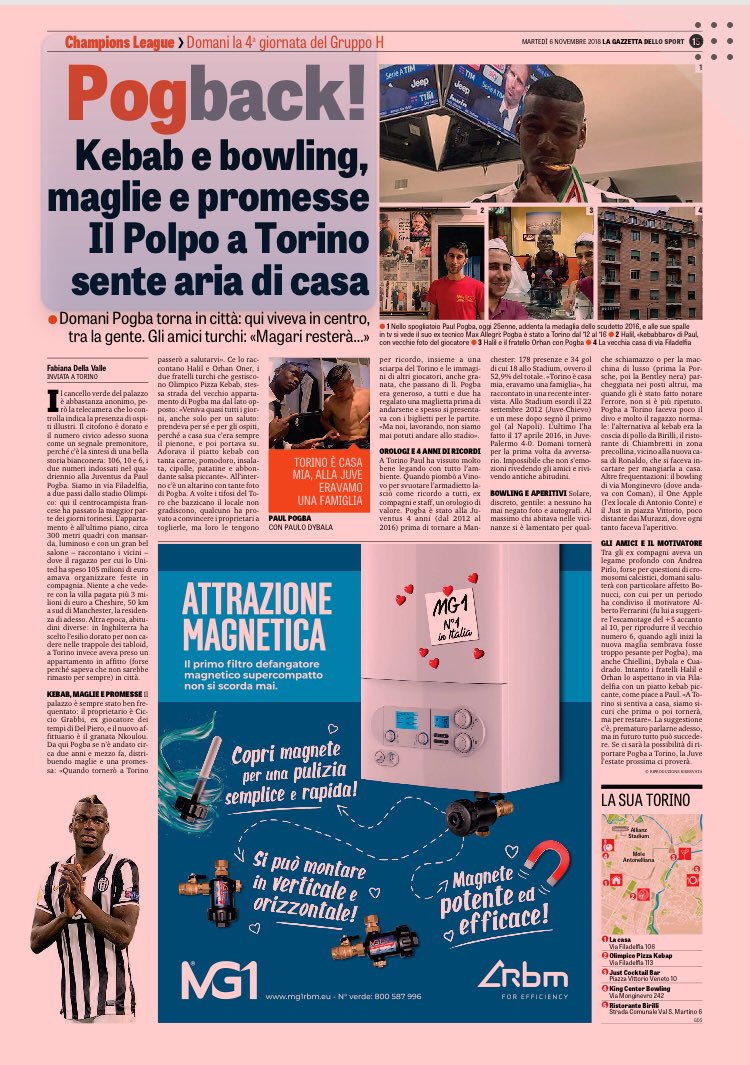 At the end of that season, Conte was replaced by Max Allegri and it was the new boss who fully unlocked his vast potential. The three-man defence was dropped in favour of a 4-3-2-1 formation that placed Pogba – who had previously found himself largely deployed as the deepest-lying midfielder – now given a more advanced role on the left of a midfield trio.
There he thrived, bursting forward to join the attack at every opportunity but never neglecting his defensive duties. A complete player, Allegri reined in expectations and constantly demanded more from the young star, Pogba responding with consistently excellent performances that made him one of the most wanted players in the world.
United of course won the race to sign him, paying €105 million (£89.3 million) for the privilege and the man himself was clearly delighted to be back. "One of the reasons why I chose to come to Manchester United is because it's where I spent my childhood and it feels like going home," Pogba said at the time. "I am very grateful and happy for the love, trust and opportunity Juventus gave me. They played a crucial role in making me the player I am today."
Struggling to gel his own proactive, modern style with Jose Mourinho's love of parked buses, he will now come face-to-face with the club that shaped him and he seems to be relishing the prospect.
"There will be a lot of emotion when I go back. I also see it as being my stadium – I know I'm at home when I'm at Old Trafford but I also feel very much at home when I return to Juve," Pogba told UEFA.com this week, admitting he is in regular contact with Blaise Matuidi, Juan Cuadrado, Paulo Dybal and Leonardo Bonucci. "We speak on a very regular basis as we had a really good group – we felt like a family. Since leaving Juventus, I've only returned once to see the players. But to go back and play there will be a very good moment and I think the feeling will be mutual."
There is no doubt it will be a very special occasion for both Pogba and the Curva Sud as they get to show their appreciation for a player who became a global star while wearing their famous black and white stripes.