We spoke to a psychology professor about what separates CR7 from everyone else
12:58, 23 Jan 2020
"Give credit to his mother for creating such a specimen!" Juventus manager Maurizio Sarri decreed as the Bianconeri's superstar Cristiano Ronaldo helped them progress to the Semi-Finals of the Coppa Italia.
Ronaldo opened the scoring in Turin in a comprehensive 3-1 victory over Serie A rivals AS Roma to continue to make good on their defence of the domestic trophy.
Not only was it CR7's 13th goal in his last 10 appearances, It means the forward, who turns 35 years old on February 5, has now scored in 15 different club competitions, stretching back across his 18-year career to his time at Sporting CP and competing in the Taça de Portugal.
"Ronaldo is in extraordinary physical and mental condition, scoring with remarkable consistency," Sarri said to Rai Sport, an apt description for a five-time Ballon d'Or winner with 719 career goals for club and country, but who shows no signs of slowing down.
It's a high-performing longevity that stands out not just in football, but in sport in general.
"It's reflective in the personal choices he's made throughout his career," Professor of Organisational Psychology Damian Hughes told The Sportsman, "If you look throughout his career he's made some very deliberate choices on the premise of 'How do I become the best footballer in the world?'
"Former Man Utd fitness coach and head of performance Tony Strudwick recounted that when he went to visit Ronaldo's house everything was designed for peak performance, from the pre-prepared and packed meals in the refrigerator to the weights room and the plunge pool, he had basically set up his home to facilitate him being the very best. His whole lifestyle has been about how to be that and maximising himself."
This has been intrinsic and unrelenting throughout the four football clubs at which he has featured: his initial beginnings at Sporting CP, the number seven at Manchester United for six years, the four Champions League wins as Real Madrid's all-time top-goalscorer, and now in Italy with Juventus as a €100m player.
"He chose to move from Madeira to Lisbon at around 13 or 14. That was a choice that he made.
"When you hear Mike Clegg, who was the conditioning coach at Manchester United, talk about Ronaldo stating that he wanted to be the best footballer in the world, asking 'How can you help me do it?', and then his choice was then coming in every day earlier than the rest of the players to do strength and conditioning work.
"A sports figure that I know once told me he divides his day into easy choices and hard choices.
"The process of becoming mentally tough is about consciously making those hard choices so that it becomes ingrained within you.
"If you look at Cristiano Ronaldo he's been making hard choices all the way from a young age, it's become a habit, and that's the definition of mental toughness."
Cristiano Ronaldo eats up to 6 meals and sometimes naps 5 times a day 😳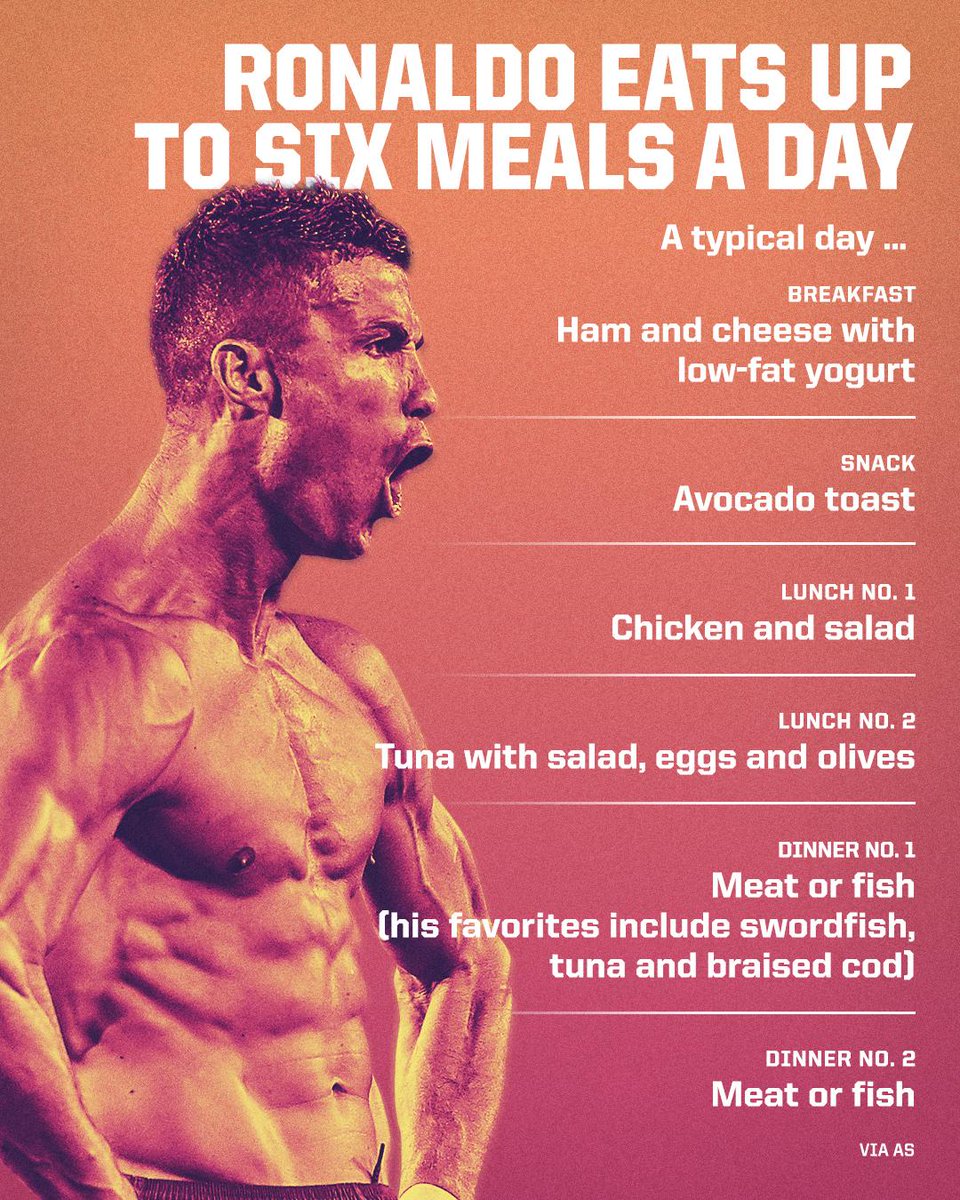 "Go and sign him" was the message from the Manchester United players to Sir Alex Ferguson after they became victims of the then 18-year-old in a friendly match with the Verde e Blancos back in 2003. "We're not leaving this ground until we've got that boy signed," the legendary gaffer reminisced about that night in Lisbon. A £12.24m fee for him to become the most expensive teenager in English football history at the time and Ronaldo was on the ascendancy.
"What you are seeing now are seeds from a young age," says Damian, "His physical conditioning isn't 'a freak', it's a result of a heap of hard work that's gone in after the last twenty years or so.
"He's just redefining the parameters of what physical capabilities a footballer has."
Since moving to Juventus in summer 2018, Cristiano Ronaldo has scored 47 goals in 68 appearances, including 16 this season to put him in contention for the Capocannoniere, the title awarded to the highest goalscorer in Serie A.
Heading into his mid-thirties however, raises the question as to how long the most advanced natural engine the footballing world has arguably ever seen will last.
"The last thing to go in a footballer is the footballing brain," says Damian, "His intellect isn't going to diminish in the next decade. It becomes about how long his body can maintain it and it's looking likely to be a good few years yet.
"My definition of world-class is about the narrowness of the gap being good days and bad days compared to normal people. When you analyse that consistency of performance, you end up talking about Ronaldo in the same bracket as Roger Federer, Muhammad Ali and Floyd Mayweather."
And what from the man himself?
"I think I look good for my age!" Ronaldo joked at a Champions League draw earlier this season.