Football /
How Mousa Dembele Became Tottenham's Most Important Midfielder
Tottenham Hotspur's impressive start to 2018 has been magnified further by recent performances. The victories over Manchester United and Arsenal, along with the draw at Anfield in the last fortnight have put Mauricio Pochettino's team in a commanding position in the race for a top-four finish.
It has also signified a vast improvement in results against direct rivals, with Spurs losing to Chelsea, Arsenal, United and Manchester City in the opening months of the season. The wins over Real Madrid and Borussia Dortmund in the Champions League no longer appear quite as prestigious given the two sides domestic problems.
Mousa Dembele has been a huge factor in their upturn in form against the top sides. Dembele has been sublime since the turn of the year and has now overtaken Victor Wanyama as a midfield regular.
His partnership with Eric Dier allows Spurs more attacking players to create opportunities, whilst his eloquent style is vital to their build-up play. He does the simple things extremely effectively and his ability to improvise makes it look so easy.
Dembele has had his injury problems, but his commitment has meant that he has often been on the pitch when carrying knocks. Last pre-season he was asked if he would always have to manage the pain after recovering from foot surgery.
"Yes, but I don't think there are any footballers playing at 100 percent, without anything wrong," he replied. "All my career I've played with things - this was too much and that's why I had to do something."
Mousa Dembélé vs. Arsenal:
97% pass accuracy
100% take-ons completed
100% tackles won
1 attempt at goal
8 ball recoveries
Can't touch him 🔥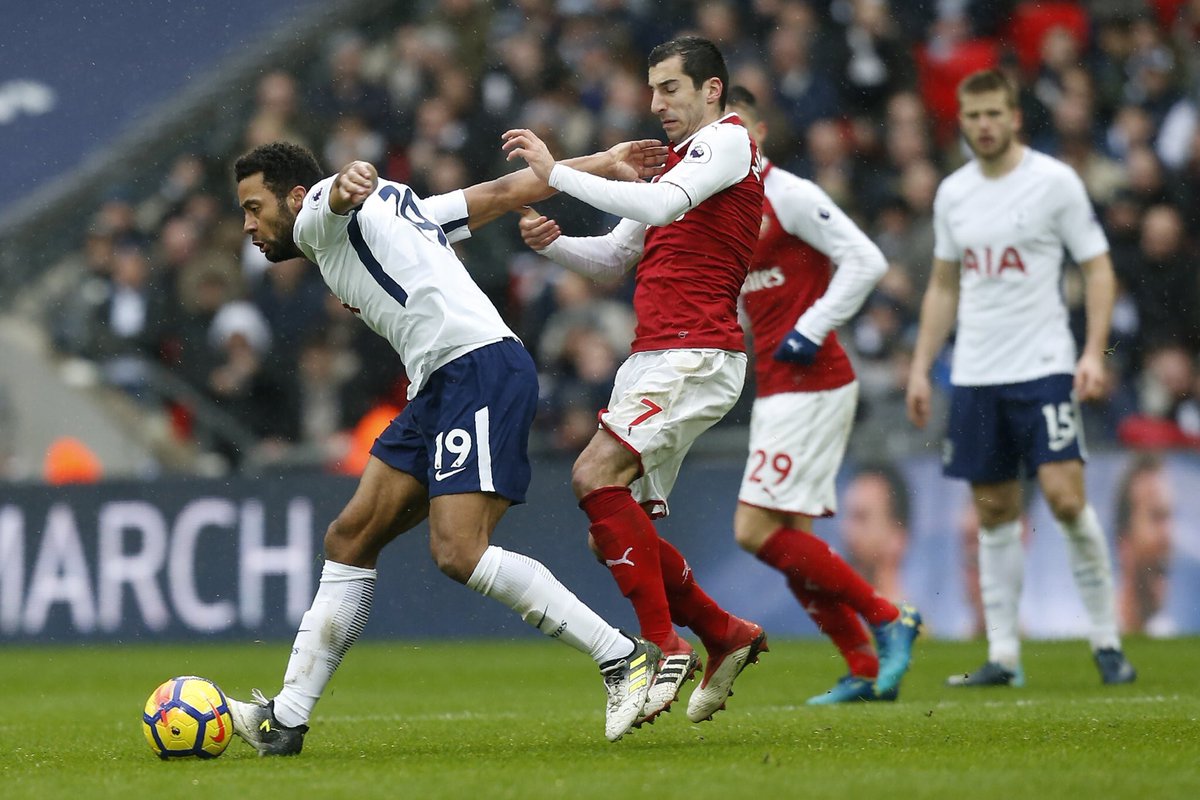 Dembele has never recorded more than three goals or assists in a season during his eight years in England, whilst he has only ever started 27 league games. However, he links the defence to the attack and is perfectly suited to the double-pivot role in a 4-2-3-1 formation.
Spurs haven't lost this term when they have set-up in this manner, as their six defeats in all competitions have come when Pochettino has altered the system. Dembele was present when they were beaten against Chelsea, Arsenal, Leicester City and Manchester City, but with the exception of Chelsea he was used as the solitary deepest midfielder.
The Belgian midfielder was immense against United recently and frustrated Paul Pogba in the encounter. He drew a foul from the £90 million midfielder when he turned away from him and disposed him effortlessly on another occasion.
Sir Alex Ferguson was a known admirer of Dembele and contemplated signing him before he made the move to White Hart Lane almost six years ago. Former Fulham manager Martin Jol once described him as 'probably the best player on the ball I've ever seen'.
Dembele is particularly important when pressed because he's good under pressure, as he can either dribble around players to relieve the issue or make a quick pass. His quick feet also enable him to launch counter-attacks for his side.
He may have to be used a little more sparingly in the next few months due to his body constraints. Pochettino has now realised his attributes are crucial and he will definitely impact the closing stages of their season.