The Serie A club's campaign has located four missing youngsters in Europe
09:34, 03 Sep 2019
Roma have helped locate two more children in Europe after featuring missing youngsters on their Twitter transfer unveilings.
The Italian giants used the social media platform and their huge following for good, spreading awareness in the search for kids who are missing across the continent with two located in the summer.
A nine-year-old boy from Belgium was located after he was featured in Roma's announcement video following the signing of Davide Zappacosta from Chelsea while a teenage girl was also found safe in London after being shown in a previous new player unveiling video.
On Monday, a 13-year-old boy from Kenya featured in Henrikh Mkhitaryan's transfer video was found and on Tuesday morning, an eight-year-old girl from the same country, shown alongside Chris Smalling's unveiling, was also located.
🛑A fourth missing child has been found! 🛑
#ASRoma
have today been informed by
@missingchild_ke
that an 8-year-old Kenyan girl featured in the
@ChrisSmalling
transfer announcement video has been found safe.
On Sunday, another Kenyan child, a 13-year-old boy was also found safe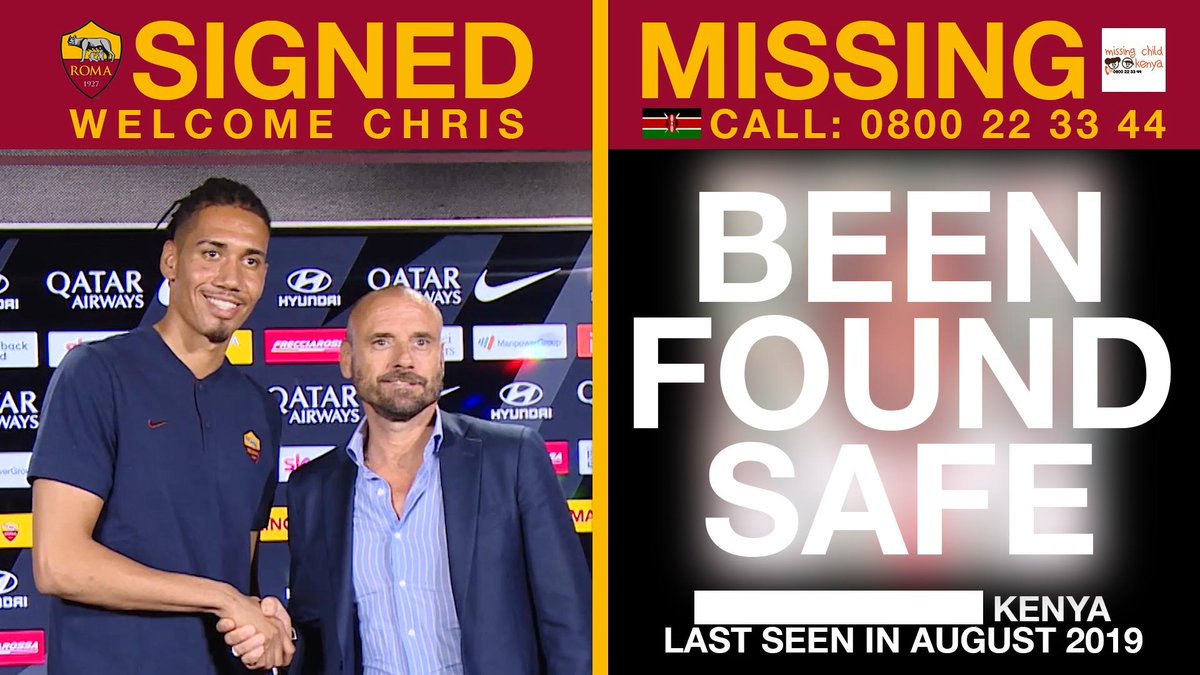 The Serie A club teamed up with the International Centre for Missing & Exploited Children and Missing Kids for a summer-long campaign.
Jo Youle, CEO of Missing People said: "We have been delighted to partner with AS Roma, and it is fantastic that two people have been found. It has also been a great opportunity to make more people aware that 186,000 people go missing in the UK every year.
"AS Roma's posts get great engagement for us on social media, so that has been a bonus too. We would be happy to take up any opportunities to partner with more sports clubs and let more people know about the issues around disappearances, for the loved ones left behind, as well as the people who go missing.
"Thanks to the support of players of People's Postcode Lottery, Missing People is able to keep its free confidential helpline open 24/7, as it really helps the charity."
The original videos of those discovered have been removed to protect their identity.
On the pitch, Roma raced into a 4-0 lead after just half-an-hour against Sassuolo on Sunday. Mkhitaryan found the net as they ran out 4-2 victors.
Having drawn their opening two fixtures, the victory took them to eighth in the Serie A table.
♥️ Amazing news from
@ICMEC_official
&
@ChildFocusNL
!
FOUND! A 9-year-old boy who featured in the
#ASRoma
Zappacosta video 12 days ago, after going missing in Belgium, has been found safe.
Last month, a teenage girl from London, who also featured in a Roma video, was found safe