Charles Leclerc and Carlos Sainz are lacking leadership as their on-track woes continue.
07:00, 28 Jul 2022
The Hungaroring, one of the calendar's most painstaking tracks to race on, hosts this weekend's Grand Prix as Max Verstappen looks to continue his march towards consecutive world titles.
The Hungarian GP not only holds its place as a mainstay in modern F1, but holds a long history since it became the first Formula One venue behind the Soviet Union's Iron Curtain, and has been referred to as 'Monaco without the buildings' thanks to its narrow track, rolling hills and sharp turns. There's been a race in Hungary every year since 1986, with rain incredibly rare to see in the Pest County region of North-East Budapest in summer, however it is expected to be a weekend where we'll see intermediate tyres with showers anticipated to arrive on both Saturday and Sunday.
The defending champion, in case you forgot, is Alpine's Esteban Ocon, after an incredibly chaotic race last year. A lap one, turn one kamikaze lock-up from Mercedes driver Valtteri Bottas saw him go straight through the leading pack as they were attempting to take the hairpin opening turn. Lance Stroll also hopped over the curb into the side of Charles Leclerc, and by the time the safety car was out, there were five drivers out of the race.
Read More:
Kimi Raikkonen clipped a pitting Nikita Mazepin, forcing the front suspension to collapse, and Ocon would've gone straight to first if it wasn't for a non-pitting Lewis Hamilton who forfeited the position at the end of lap four, and George Russell chancing his luck by flying past him in the pitlane only to be told to hand back the positions gained shortly after. 60-odd laps later and some expert defensive driving from Ocon's teammate, Fernando Alonso, and the Frenchman had won his only race to date.
This year, the landscape of F1 looks quite different. Mazepin and Raikkonen are no longer racing, Antonio Giovinazzi now races in Formula E and as a backup for Ferrari, and the duo of Bottas and Russell have moved teams.
Last year's Hungaroring race was a modern classic 🍿
And there was drama from the off! 💥😱
#HungarianGP
#F1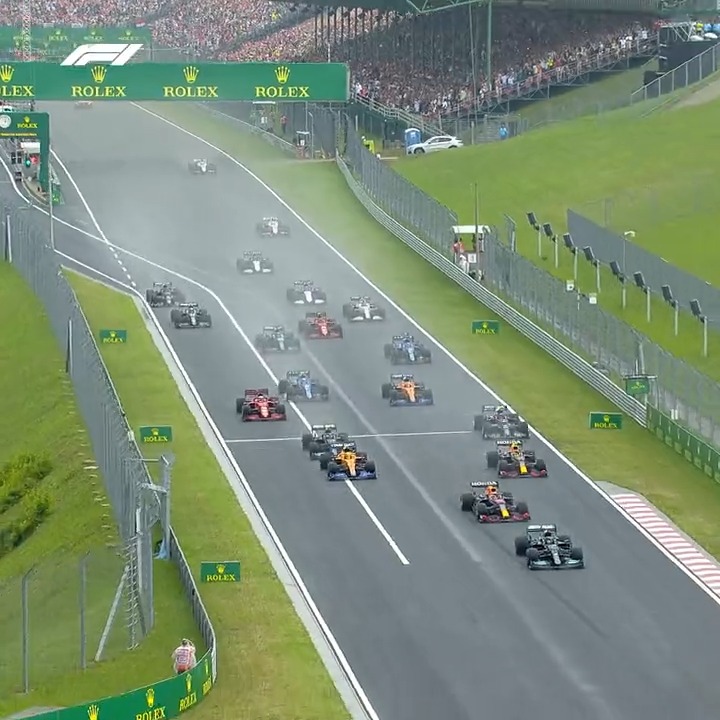 In terms of team news post-France, all eyes will be on Ferrari to see how they react to a horrendous collapse of a weekend at Le Castellet. Charles Leclerc met the barrier after holding a comfortable lead, and Carlos Sainz was on the cusp of a podium finish but had to pit, being told to do so at the most inopportune moment, and ended up in fifth with a fastest lap bonus to boot.
A strong comeback is needed from the Scuderia this weekend if they want to hold any hopes of a comeback in either championship, and team principal Mattia Binotto is already targeting a 1-2 finish in Hungary. If only it was so easy.
The turmoil in Italy will be good news for Red Bull, who can keep their head down and get on with motor racing, however they will be keeping an eye on their old friends at Mercedes, who have been working hard to develop their car to be able to compete at the top, with their first double-podium of the season coming last weekend after Russell managed to overtake an un-focussed Sergio Perez after a virtual safety car window to take third spot.
Behind the title-chasing trio is Alpine, who would love to replicate last year's success however it remains unlikely to do so. Ocon and Alonso have combined for 93 points so far this season, four more than their rivals at McLaren, who will be hoping Lando Norris can continue to deliver the points for them this season. Daniel Ricciardo has confirmed his desire to stay in orange until the end of his contract, but his failure to reach the top ten in the drivers' standings may attract unwanted criticism.
Battling in the bottom-midfield is Alfa Romeo, Haas and AlphaTauri. Bottas & Guanyu Zhou have been impressive in the Alfa's this year, sitting comfortably sixth ahead of Mick Schumacher and Kevin Magnussen at Haas. Any sort of points would be an improvement on last year's record, and the American team have been finding some form as their young driver seems to have settled into his surroundings in the paddock. AlphaTauri still have a reliable driver in Pierre Gasly, and Yuki Tsunoda's chances of retribution in France were scuppered too early for the Japanese star to really make an impact.
Sitting in the basement of the constructors championship is Aston Martin, followed by Williams. Despite their new Saudi-funding, the British luxury car giants are yet to really turn their car into something spectacular this season. The final corner of the last race saw Lance Stroll dangerously defending his position as Sebastian Vettel looked to snatch the point away from his Canadian teammate, all to end up with the German four-time champion backing off to avoid a collision. Williams will naturally continue to struggle as the levelling of the playing field is yet to really come into F1, but Alexander Albon is still a solid driver for this season.
If the rumours of Nicholas Latifi being replaced by Alpine's junior driver Oscar Piastri are to be believed, then they could have a very solid end to the season, but points would still be a surprise at Hungary next weekend.
Hungary is the last venue of a race before the summer break, where the F1 paddock will take a month off from travel and racing to work on car developments and refine their new upgrades, before returning to Spa, Belgium on the last weekend of August.