The former unified lightweight champion returns to the ring on 13th August
13:55, 12 Jul 2022
Former unified lightweight champion Teofimo Lopez will return to the ring on 13th August in Las Vegas. The 24-year-old will move up to super lightweight to face Pedro Campa in his first bout since losing to George Kambosos Jr last year. The return mission is being billed as Operation: Take Back by the fighter's promoters, Top Rank Boxing.
Campa is unlikely to provide too much trouble from an in-ring standpoint. 'Roca' has carved out a 34-1-1 record in relative obscurity, fighting just once outside his native Mexico. His sole defeat came against a fighter who was 11-8-1 at the time. This is less Operation: Take Back than Operation: Punching Bag.
But the intrigue around Lopez's return does not centre around his opponent. A fighter coming off a high-profile defeat and a nine-month lay-off can be forgiven for easing back into the swing of things. But the real draw in seeing 'El Brooklyn' back between the ropes can be found in seeing what defeat will do to a fighter who built his reputation on confidence.
Before fighting Kambosos, Teofimo was already starting to trouble the pound-for-pound list. With Floyd Mayweather long gone from the professional ring, and Canelo seven years his senior, it felt inevitable that Lopez would top the P4P list one day. After all, he was coming off a win against Vasiliy Lomachenko, a fighter many viewed as the best on the planet. That victory had seen exciting, youthful promise give way to modern-day, world class supremacy. Lopez wasn't the man of tomorrow any more. After befuddling Lomachenko in a remarkable performance, he was supposed to be the man of today.
🚨 Time for the 𝐓𝐀𝐊𝐄 𝐁𝐀𝐂𝐊 🚨
@TeofimoLopez will make his Junior Welterweight debut vs. Mexican veteran Pedro Campa at
@ResortsWorldLV
.
#LopezCampa
| AUG 13 | ESPN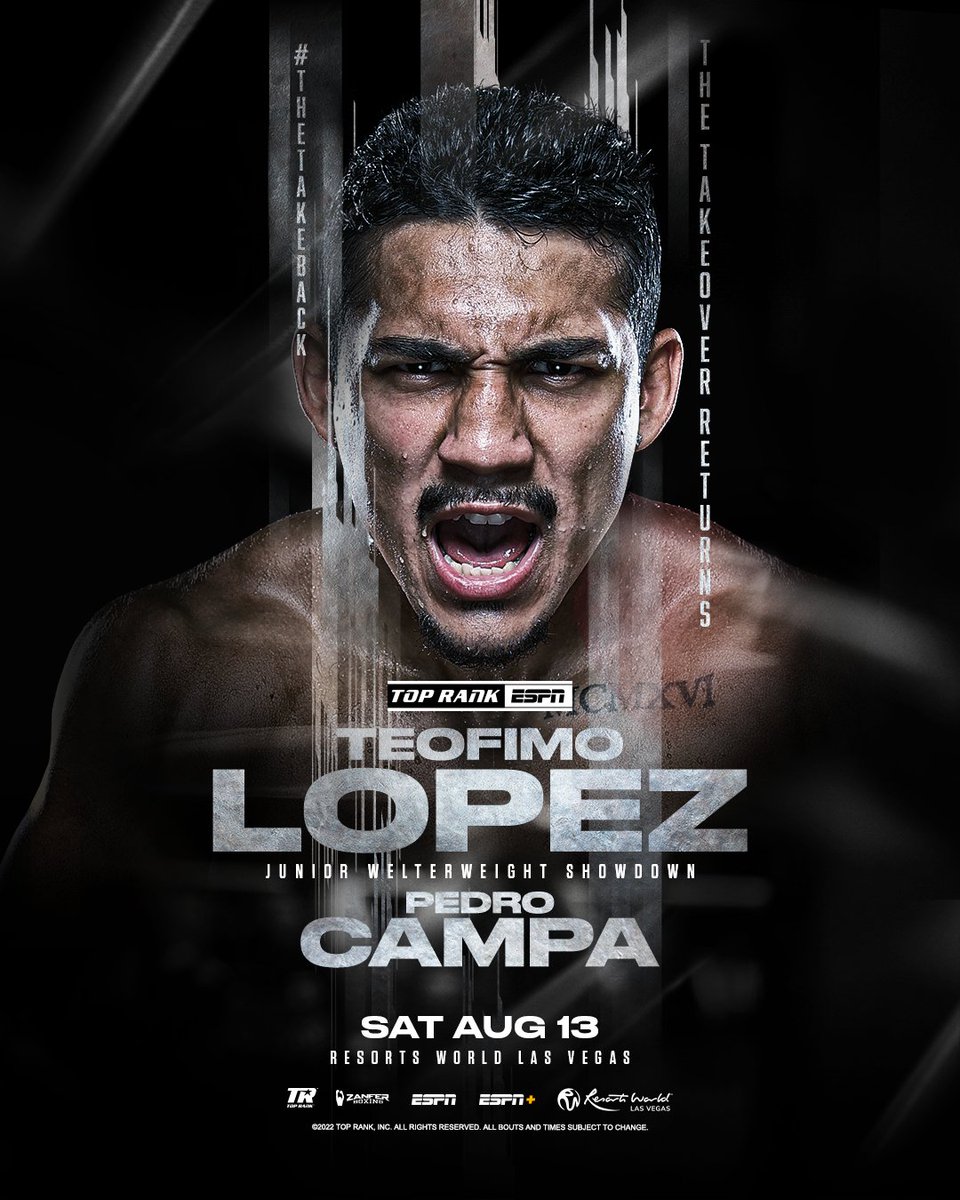 Now Lopez is fighting to prove he is not the man of yesterday. That the man who bulldozed Richard Commey in two rounds to win the IBF lightweight title in 2019 still resides within him. That the imperious boxer who solved 'The Matrix' in November 2020 is still alive and well. Operation: Take Back is less about taking back Lopez's belts or his status, and more about taking back himself.
The sort of brash, confident character that Lopez portrays often jibes uncomfortably with defeat. Take 'Prince' Naseem Hamed for example. The Sheffield superstar was borderline unhittable until Marco Antonio Barrera hit him far, far too many times in 2001. Hamed would box just once more, looking a shadow of his former self in a narrow win over Manuel Calvo. So too Roy Jones Jr, who lost three bouts on the spin in 2004-05 and never recovered the form that had made him a legend, despite a further 13 years spent in the ring.
The cockiness that has made Lopez so engaging and marketable must now be set aside. That persona only works in your favour if you can back it up. To once again armour himself with the confidence of victory, he must humbly climb back to the mountaintop. Campa is a start, but there will be other tests.
There is precedent for such a rebuild. Saul 'Canelo' Alvarez powered his way through the weights to the very top of the sport in the years following his 2013 loss to Floyd Mayweather. The Mexican lost to Dmitry Bivol earlier this year, but not before several history-making, title-winning nights made him the defining fighter of the last decade. Lopez can take inspiration from his journey. Like 'Canelo', Lopez was built up as the sport's saviour at a young age before suffering a damaging defeat. Like 'Canelo', he can use this as an opportunity to rise.
Don't go expecting an upset on 13th August in Vegas. If Campa does manage to do a number on Lopez it will be more 'Buster' Douglas than Bivol. This is merely the first step on a long road. We've seen Lopez's undeniable talent. Now it's time to get a close look at his character.
*18+ | BeGambleAware | Odds Subject To Change