The two clubs meet in the Champions League tonight
15:00, 22 Feb 2023
As Porto visit San Siro this evening to take on Inter Milan, one man's name will be on both sets of supporters' lips. Jose Mourinho. He may have managed Chelsea, Real Madrid and Manchester United, but these are the clubs that made him. The only two clubs he won the Champions League with. The iconic clubs that have defined his legacy.
Mourinho, along with Pep Guardiola, is one of the two defining managers of the century. But in the 2000s, it was the Portuguese who shook up the established elite with his perfect blend of charisma, arrogance, and results. It could have been a completely different story in his homeland, had Benfica not let him slip through their fingers by failing to offer Mourinho a new contract.
He left, and three years later would beat them to the Primeira Liga title with Porto, a club that hadn't won a league title in three years, but this was just the start of the most spectacular journey. With the likes of Deco, Paulo Fereira, Ricardo Carvalho and Helder Postiga, Mourinho instilled a resolute belief that his team simply could not be beaten, no matter the opposition.
READ MORE:
It led them to Uefa Cup glory in the 2002/03 season, as they beat Celtic in the final, but bigger things were to come. He'd laid the foundations for success. His side were incredibly hard-working and resolute, while their winning mentality became ingrained in them. It was a combination that we would see repeated elsewhere in his career, but it was built in Porto.
He had certainly drawn attention with his work in the Uefa Cup, but announcing yourself on a global stage takes something seismic. Having all but sealed a second league title after a remarkable unbeaten run, Mourinho faced Manchester United in the last 16 of the Champions League. Sir Alex Ferguson's Manchester United.
After a 2-1 win at home, Paul Scholes' header looked to be sending Mourinho out of the Champions League on away goals at Old Trafford. Then the moment arrived. In the 89th minute, Tim Howard flapped at a Benni McCarthy free-kick and Costinha turned the ball in. Cue Mourinho sprinting down the touchline in Manchester, punching the air on his way to join his ecstatic players.
That was the moment he realised he could win the entire competition. And he did. Lyon and Deportivo La Coruna fell before his side demolished Monaco 3-0 in the final. Mourinho had transformed Porto from unlikely league champions into the kings of Europe for only the second time in their history.
Pick your version of José Mourinho...
🔵⚪️ 2002–2004
⚫️🔵 2008–2010
#UCL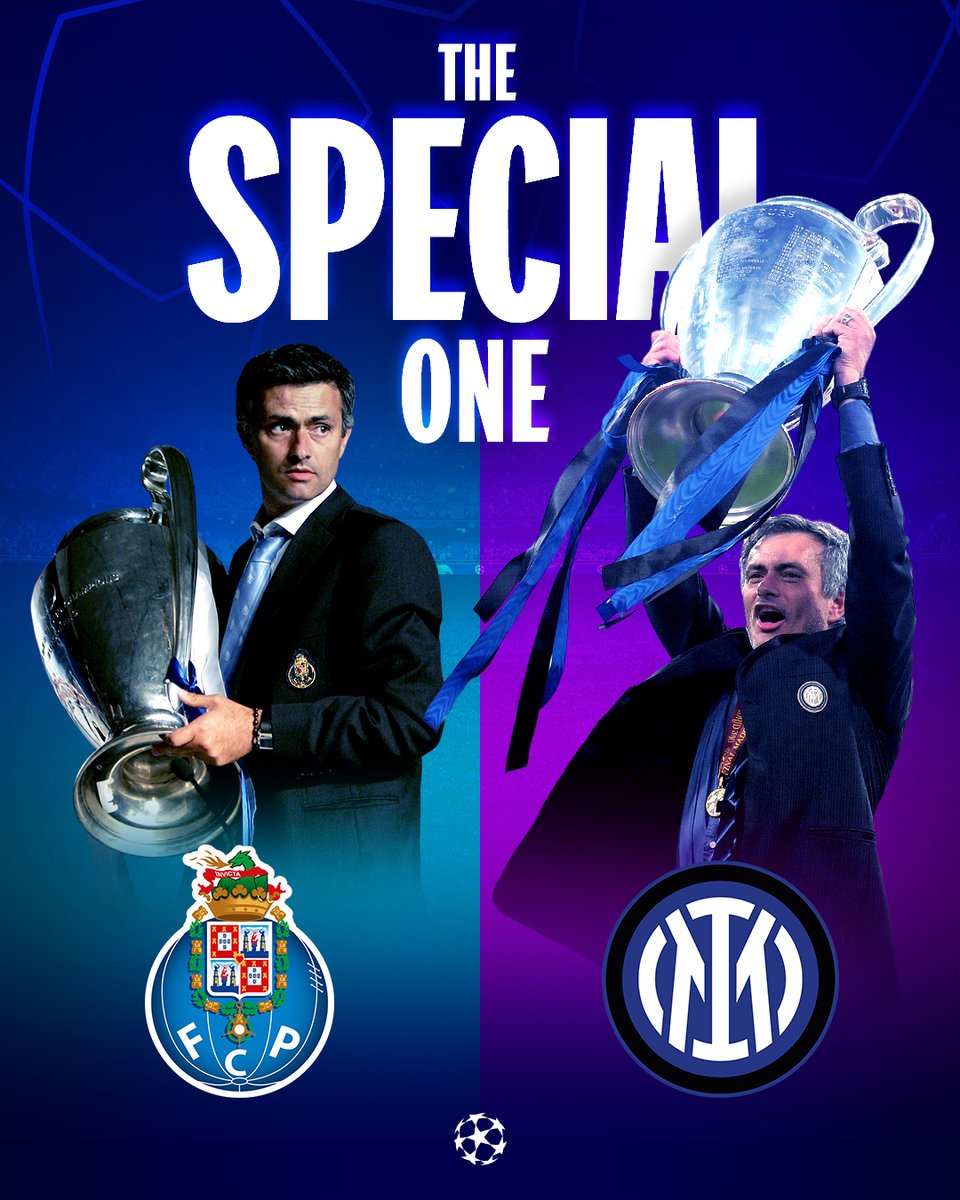 He'd also developed a style that suited him down to the ground. He'd draw all of the attention from the press, create a siege mentality for his players and defend them at all costs. To play for Mourinho was to die for Mourinho. His move to, and success at Chelsea was impressive, but it was different. He was handed an unlimited budget by Roman Ambramovich to knock Fergie off his perch and although he achieved that, he couldn't quite repeat his European success. Luis Garcia's ghost goal was the closest he got.
He was loved by Chelsea fans during his time there, but it doesn't come close to how Porto and Inter Milan fans feel about him. Last season San Siro chanted his name as he visited with his Roma side, and he is still heralded in that part of the world as immortal. The connections he formed in Milan, not just with his players and coaching staff, but with the fans, are almost incomparable to those he formed elsewhere.
Having won Serie A in his first season but lost to Manchester United in the Champions League, big things were expected of Mourinho in his second season. Once again, he went about crafting the squad in his own image. He signed Diego Milito, swapped Zlatan Ibrahimovic for Samuel E'too, brought in Wesley Sneijder and Thiago Motta - all of whom would become key pillars of his team.
And they were brilliant. The Champions League run was brilliant. He beat former club Chelsea home and away in the last 16 and then defeated CSKA Moscow in the quarter-finals, but it is the semi-final meeting that is most fondly remembered. Barcelona, the club Mourinho worked at under Sir Bobby Robson, were now the best team in the world under Pep Guardiola.
They were the Champions League holders, had already beaten Inter to top spot in the group stage and had Lionel Messi at his peak, along with Xavi, Andres Iniesta and Sergio Busquets. They were, for many, unbeatable. But not for Mourinho. His team turned around a one-goal deficit at home to secure a 3-1 win to take with them to the Camp Nou.
Then, he put on the most defensive display you have ever seen, as his 10 men escaped with a 1-0 loss that took them to the final - a defeat that Mourinho refers to as "the most beautiful defeat of my life".
Inter went on to beat Bayern Munich in the final, and become the first Italian side to win the treble. That made Mourinho immortal, but he simply couldn't turn down Real Madrid and, after just two seasons, he left the club. His final hug with Marco Materazzi, which saw them sob onto one another's shoulder as they left the Bernabeu shortly after toppling Bayern, is a mark of how much he meant to his players.
Both Inter and Porto have been touched by the magic of Mourinho. A manager who at his peak was majestically untouchable. Tonight they meet in the Champions League once again, but neither are likely to experience another era comparable to the one when they had the best boss in the world.
*18+ | Be Gamble Aware