Hiroshi Moriyama has been painting his body as various rugby shirts throughout the tournament
10:51, 25 Oct 2019
One of the highlights of this exceptional Rugby World Cup has been the presence of Mr. Hiroshi Moriyama. Moriyama, also known as 'Bak-san', has attended a host of games across the tournament around his home country Japan, with his visibility exceptionally noticeable in the fact that he goes completely topless with a specific painting of one of the participating countries' jerseys on his body.
Aiming to attend over half of the 48 games across the competition, Bak-san, who works on weekdays for a Japanese pharmaceutical company, will have adorned the colours of every single one of the 20 nations by the competition's conclusion.
The Sportsman managed to track the man of a thousand coats of paint down for an exclusive interview. And Bak-san explains how he began painting his body five years ago at a Top League game in Japan:
"I saw young guys painted their torso in blue at a game of the [Auckland] Blues. I wanted it to look like a real jersey so people could be surprised."
The paint is called 'Miracle Paint', specialised for application on the body and the face. Though it takes just a single minute to wash-off, the application - usually done by his wife - is a bit more arduous.
"It takes one to three hours depending on the complexity of the design. It costs 6,000 Japanese Yen (JPY) - just under £50-per-shirt. For this World Cup, I prepared 56 bottles of paint including some spares and the total spend is more than 300,000 JPY (£2,150) just for the paint."
He's so far attended 21 games with a 57% win prediction accuracy in that more than half of the teams he has had printed on and around his torso have come up trumps. Deciding which side to back has been a fairly simple process.
"I made the plan to complete all 20 teams and this order was the most efficiently done by putting the Japan jersey on in all pool matches and expecting New Zealand and South Africa to get through to the quarter-finals."
Does anyone have an idea for a simple and short message in Italian language on my back to cheer up Italy
@Federugby
at Ecopastadium tonight?
#RWC2019
#RWC2019
世界最薄チャレンジ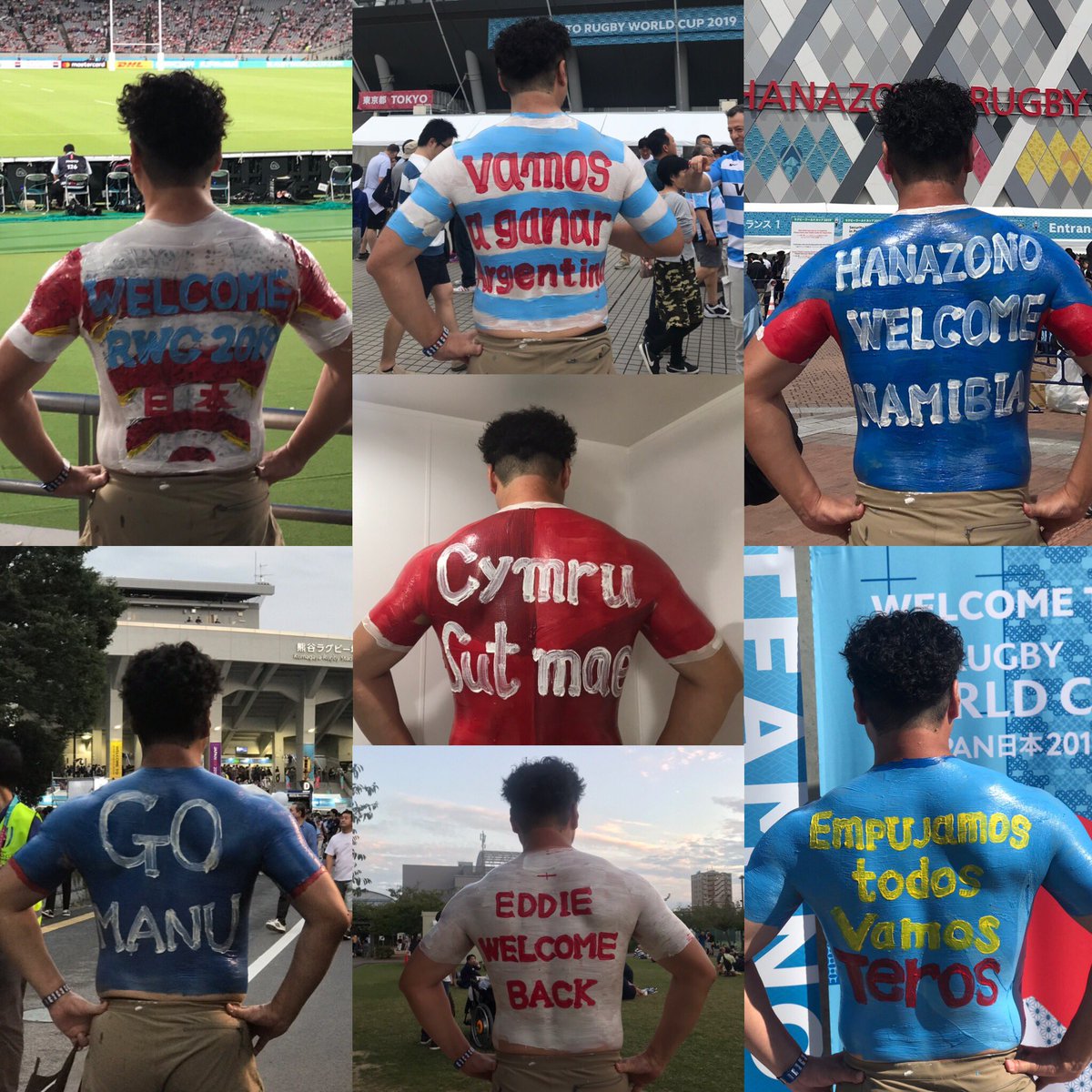 For Moriyama, Japan's games against Ireland and Scotland were the "impressive" stand-outs, though Uruguay beating Fiji at Kamaishi was also extremely memorable. On that occasion, Moriyama was wearing the colours of Uruguay as they managed a narrow 30-27 victory.
Bak-san acquired the tickets mostly through a ballot and also made sure he got access to the ticket website immediately after it opened for general sales - despite the plethora of tickets he has been afforded "there was no secret nor a magic wand."
Describing the event as more like a 'festival', Bak-san explains what hosting the tournament means to Japan. "This Rugby World Cup is a tremendous opportunity for Japan to revitalise this sport in this country. Far more people are realising rugby is attractive and I hope this will increase the number of players and spectators so that rugby becomes a major and sustainable sport in Japan."
So what does Bak-san predict for this weekend's semi-finals as Wales take on South Africa on Sunday, 24 hours after the titanic tussle between England and New Zealand?
"Wales or South Africa is more difficult to answer," he says. "I'll say Wales, but South Africa is also one of my favourites."
Most notably, Bak-san is backing England to overcome the All Blacks in Saturday's Yokohama semi-final clash. England have yet to overcome New Zealand while Eddie Jones has been head coach. After his nation Japan were knocked out of the tournament at the hands of South Africa, he's now also supporting England to go all the way and lift their second Webb Ellis Cup.
And what has ultimately been his favourite shirt to 'wear'?
"Japan at the top of course, but I also like the tartan of Scotland."