On the way into work this morning the trams, buses and trains were all packed full of people reading the morning headlines. Every one of them was reading the same thing as the newspapers were packed from front to back with stories of England's Euro 22 success.
The 2-1 win over Germany in extra-time has been analysed minute by minute, with both goals set to be repeated for the rest of time and the trophy lift seen as the moment football finally came home. The coverage of the team's subsequent party and celebrations across the country have been joyous, while the inspirational role models these women have become over the past month will be more impactful for young people than we can possibly imagine.
But perhaps the most important thing, as we drink in this remarkable success, is just how normal it feels. 87,192 people crammed into the national stadium to watch a women's football match, something that would have been unimaginable a decade ago, and although people applauded the support, nobody was surprised.
READ MORE:
Outside of the stadium, fan parks were packed as the public gathered around big screens to see if England could actually win a major final for the first time since 1966. The significance of those crowds, including the millions watching on TV at home, shows that women's football has gone mainstream and for the first time, it was treated on an equal footing to the men's game. Looking at those in the crowds, those dads, brothers and sons have embraced the game just as much as the women have - and this unity is what has made the entire thing so spectacular.
Families watched on as goalscoring hero Chloe Kelly whipped off her shirt in a moment of sporting delight, and the country cheered her on as she raced around Wembley. That image is one that adorns the front pages today and it is perhaps the perfect picture. Yes she is a woman. Yes she took her top off. Yes it was a hugely powerful sporting moment that the entire country saw.
This image of a woman shirtless in a sports bra - hugely significant. This is a woman's body - not for sex or show - just for the sheer joy of what she can do and the power and skill she has. Wonderful.
#Lionesses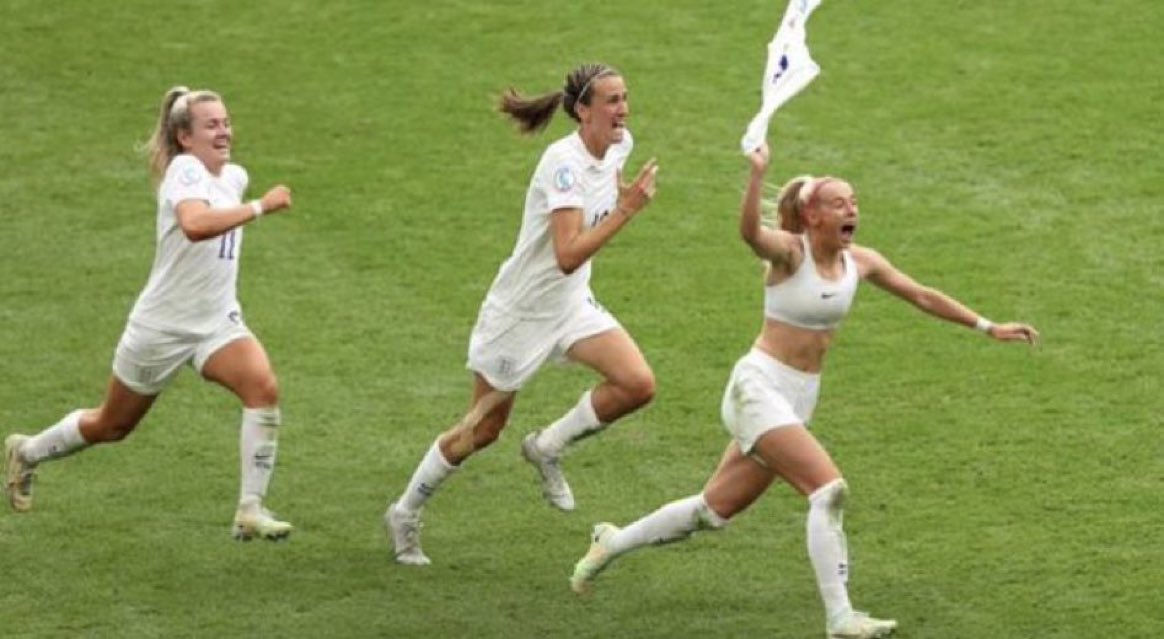 There'll be an open-top bus parade through the streets of London today as the Lionesses show off the European Championship trophy to the adoring fans, both new and old. Millions of people will celebrate this achievement and even the Royals have got involved, as the Queen has written a letter of congratulations while Prince William handed out the trophy.
It's a significant day for this country and it might sound basic - but this is exactly what it would be like if the men won a trophy. That point cannot be underestimated after years of inequality. Finally the England women's team are treated 'normally', by the press and the public.
That normality doesn't just stretch to those involved in the press however. And it doesn't have to be positive. As England lost their one goal lead, just as they did in the men's final one year ago, social media was a steady stream of nerves and criticism, with a healthy dollop of substitution advice for Sarina Wiegman.
Just as people were begging for Jack Grealish to be brought on in 2021, Alessia Russo's introduction was begged for as England looked to put the final to bed. In the midst of such a tense final, perhaps it was easy to overlook the significance of that. The top trends on Twitter were all about England and even the minefield that is a Facebook comments section turned into a place of celebration.
On a personal note, I watched the game with my family. People who hadn't watched a moment of the tournament were suddenly engaged as the clock ticked on, and it truly felt like a special occasion. My mum doesn't like football at the best of times but even she was texting about it, while my brother in the States and his American wife were overjoyed with England's success - proving that these Lionesses have had an impact beyond these shores.
It's a point of view that will have been replicated all over the country. WhatsApp groups were packed with chat about the final, and tweets and memes were being shared between groups of friends. It was your classic England match, and it doesn't matter that they are women. It's what we've been craving all along.
It's not normal for England to win a major trophy, we all know that far too well, but this wall-to-wall coverage has been completely and beautifully 'normal'.