The 24-year-old reaches only the second semi final of his career.
21:56, 03 Dec 2021
World number 15 Jack Lisowski will be left ruing missed opportunities, as he let Zhao Xintong back into a game he looked like dominating. The young Chinese star has reached the second semi final of his career, having made the last four of the China Championship three years ago. Lisowski was on the brink of going 3-0 and then 3-1 up before the interval, but after the interval Zhao took every single frame on the way to victory.
The first frame saw Zhao miss a costly blue, and 'Jackpot' wrapped up in just ten minutes. Lisowski was made to work harder in the second, as his opponent looked like nicking the frame before snookering himself on the yellow after potting a beautiful long red.
Lisowski squandered his chances in the third, and when a brown stayed out at 57-56 it gave Xintong a chance to snatch the frame for 2-1. A red looked on by the top cushion, and you'd have bet the house on Jack potting it, but the miss allowed 'X-Factor' to draw level going into the break. On another night, Lisowski could have been 4-0 at this point and he would be punished for his misses.
𝗭𝗛𝗔𝗢 𝗛𝗜𝗧𝗦 𝗧𝗛𝗘 𝗝𝗔𝗖𝗞𝗣𝗢𝗧 🇨🇳
Jack Lisowski 2️⃣-6️⃣ Zhao Xintong
6️⃣ frames in a row for the world number 26, who is through to his first ranking event SF. 👏
#UKChampionship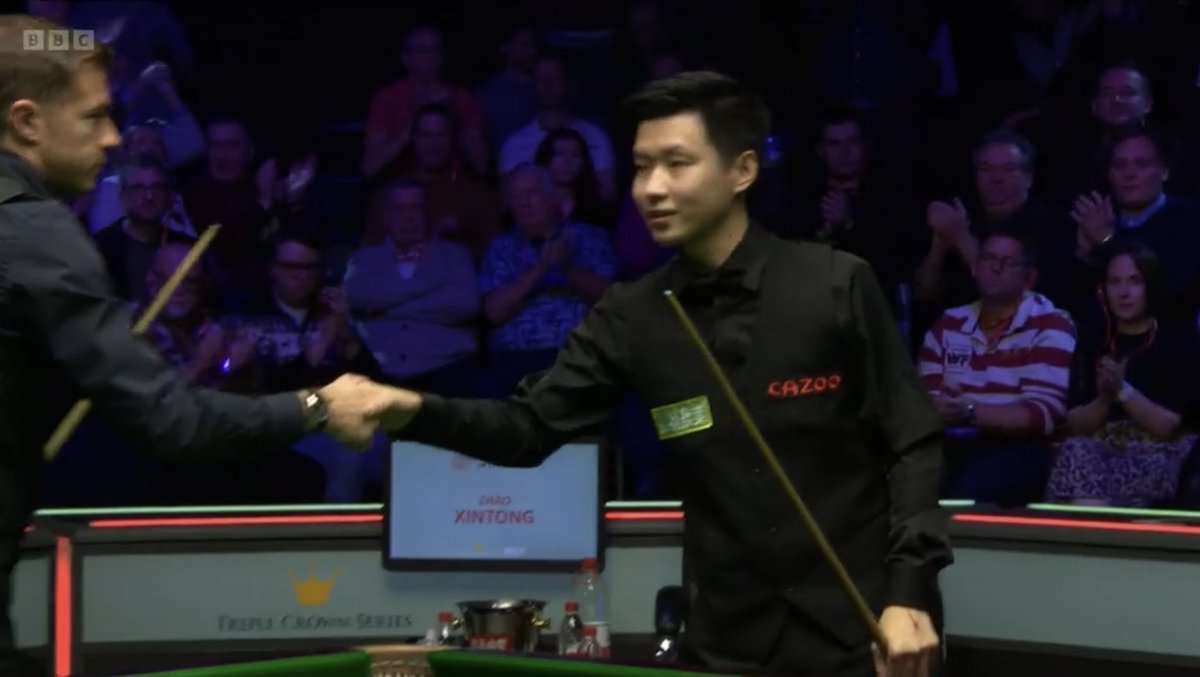 Lisowski initially looked refreshed after the interval, racing ahead with a break of 61. Xintong answered back brilliantly, clearing with 74 to go in front for the first time in the match. From this point, the Chinese player never looked back. A closing break of 33 kept the momentum going as he took the sixth frame. Xintong was beginning to dominate now, and a 56 break in the seventh put him within a frame of the semi final.
Xintong took his sixth straight frame with his best break of the night, a spectacular 83 handing him a victory to savour. The 24-year-old has been backed to become a force in world snooker by Ronnie O'Sullivan, Stephen Hendry and Jimmy White. Displays like this demonstrate why the greats of the game are tipping him for success.
The evening session's other quarter final ended in a 6-1 win for Barry Hawkins over Andy Hicks. It's been a fairytale run for Hicks, who was a semi finalist at this event 26 years ago, but the underdog came unstuck against the world number 14.