The Leicester midfielder has only ever been capped once by England, in a 7-0 victory over Monetengro in 2019
08:00, 03 Oct 2022
England didn't give the best showing in their final warm-up of fixtures ahead of the Qatar World Cup and many were quick to turn their frustrations towards manager Gareth Southgate for not giving certain players minutes, while omitting other players from the squad.
Many Three Lions supporters were quick to criticise the England boss for once again overlooking Leicester City midfielder James Maddison. Among the English contingent since the start of the 2021-22 season, only Harry Kane has been involved in more goals (32) than Maddison (24). The 25-year-old to this date only has one England cap to his name. His sole appearance for the Three Lions came in a 7-0 victory over Montenegro in 2019.
READ MORE:
Given how much of an impact the midfielder has had while the Foxes have seen a huge drop-off in their recent rise in the top-flight, imagine what Maddison could produce surrounded by the other national team stars?
The creative midfielder has had his ups and downs while at Leicester, but while the club has been on a worrying decline in recent months, he has stood out more than most in matches, even if his side haven't won. His influence on the Foxes currently cannot be overstated. His statistics currently better the likes of Mason Mount and Jarrod Bowen who have been able to retain their place in Southgate's group, but we're supposed to believe he picks players based on form. After all, Harry Maguire still gets game time despite being demoted to Manchester United's third-choice centre-back.
James Maddison has registered 11 goal involvements in his last 10 Premier League games:
⚽ vs. Norwich
⚽🅰️🅰️ vs Watford
⚽ vs. Chelsea
⚽🅰️ vs. Southampton
🅰️ vs. Brentford
⚽ vs Arsenal
⚽ vs. Southampton
❌ vs. Man Utd
❌ vs. Brighton
⚽ vs. Tottenham
Take him to Qatar? 🤔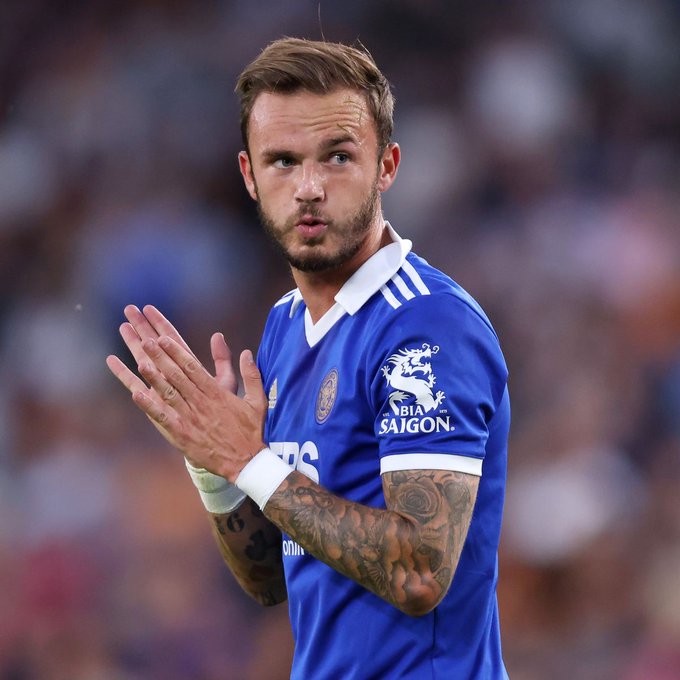 We are less than 50 days away from the World Cup and the next period of the domestic calendar is cluttered before the break for Qatar. The Foxes have got nine games to cram in before the World Cup. And in Maddison's case, he and Leicester, despite their current predicament, have a favourable set of fixtures to help earn him a last-minute place on the plane.
To kick them off, they have an East Midlands derby to endure as they welcome Nottingham Forest to the King Power Stadium. The Tricky Trees have experienced some teething problems since their return to the Premier League, having lost five out of their first seven league games. This game comes at a crucial time for both sides, and Maddison will see this game as the perfect opportunity to get a good run going to not only propel Leicester up the table and away from danger, but to get himself into the forefront of Southgate's mind ahead of the winter tournament.
Leicester's top-flight schedule before the split for the World Cup is completed with AFC Bournemouth (A), Crystal Palace (H), Leeds United (H), Wolverhampton Wanderers (A), Manchester City (H), Everton (A) and West Ham United (A).
These fixtures look quite favourable for Maddison over some of the players currently locked into the England squad, and while he has found himself unlucky over the last couple of international breaks, he needs to focus on putting himself at the top of the England boss' list of names for Qatar. If he continues to have an impact in the Foxes goals over the next few weeks, it will be difficult for Southgate to ignore him any longer.
While it is a race against the clock to barge his way into the team, Maddison will know that there is a lot of football to be played before the mid-season break and there are always twists and turns along the way. As they say with the beautiful game, anything can happen.