Football /
James Maddison: The Rise And Rise Of Leicester City's Creative Genius As Manchester United Move Is Mooted
James Maddison is continuing to prove himself at every level
The Premier League season only finished on May 13, and we've only just found out who has won this year's prestigious Champions League but the transfer window is now in full swing; a flurry of fervent speculation with a whole host of movers and shakers as subject.
Having witnessed Manchester City lift the EPL title - for the fourth time in seven years - and Liverpool win their sixth European Cup, one side that has refused to be anything remotely resembling a wallflower are the 13-time league champions Manchester United.
The Red Devils finished the season almost completely antithetical to how they had begun under the watchful eye of Ole Gunnar Solskjaer in the winter. The Norweigan avoided dipping his toes into the January transfer window following on from a stellar start to life at Old Trafford as the fifth man to sit in the dugout since Sir Alex Ferguson retired in 2013.
However, an unconvincing squad that eventually made ventures to the Theatre of Dreams torturous as spring approached has made arrivals necessary to generate the remotest of hopes to compete on multiple fronts in 2019/20.
Matthijs de Ligt, João Félix, and Paolo Dybala have been just some of the exciting, exotic names to be bandied around about a move to Man Utd, but it is a new figure - far more familiar to observers of the Premier League - who has now emerged.
It's everyone's prerogative to choose either to welcome or reject the unrelenting rumour mill, but it certainly makes the summer that little bit shorter. The transfer window for arrivals is due to close on August 9.
Whether James Maddison will be swapping the blue of Leicester City for the red of Manchester United before that date remains to be seen. What the linkage for Solskjaer's side with the Foxes' midfielder so far represents, is the next stage of an incredibly rapid rise for the 22-year-old that might well see him be part of at his fourth permanent club in just the space of three years and reflects a clearly ascendant trajectory.
👏🏾 Leicester have officially announced the signing of James Maddison from Norwich.
The midfielder has signed a 5-year deal for an undisclosed fee.
The Foxes doing some great business this transfer window!
#LCFC
(
@LCFC
)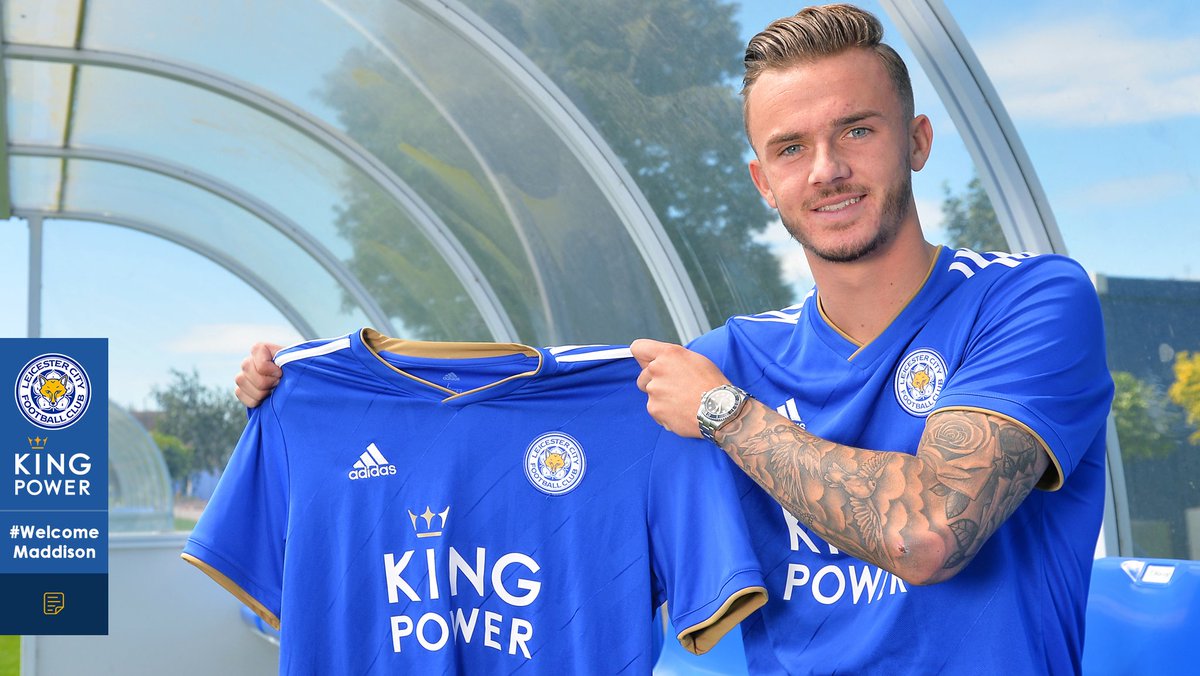 Maddison has only just recently completed his maiden season in the English top tier, and not one that was not altogether devoid of hardship that saw Claude Puel depart as manager and the arrival of Brendan Rodgers for the latter portion of the season. The entire Leicester City side proved their quality in coping with the devastating tragedy of the death of their owner Vichai Srivaddhanaprabha following a home match at the King Power Stadium against West Ham United, in October 2018.
Doubts upon whether his ability to step up to the pinnacle of the English league have been all but eradicated, with the club's supporters awarding him bronze position - behind another summer signing Ricardo Pereira and talisman Jamie Vardy - in their player of the season awards, whilst he scooped the Young Player of the Year gong.
The attacking midfielder was purchased by Leicester for upwards of £25million from Championship outfit Norwich City in June 2018; a disappointing mid-table finish for the Canaries had belied Maddison's exceptional contribution throughout the campaign, registering 14 goals and eight assists that saw him being granted a place in the Championship Team of the Year, and of course his move to the Premier League.
He finished his inaugural season in the top flight with a respectable tally of seven goals and seven assists in the league, and was only absent from the set-up on two occasions.
It has so far marked the culmination of a burgeoning career that began in League One with Coventry City after rising through their academy and was stoked in the Scottish Premiership after what the player himself deemed an 'invaluable' loan spell at Aberdeen from Norwich in 2016.
He is due to play in the Under-21s European Championships later this summer after being excluded from Gareth Southgate's first-team plans for the conclusion of the UEFA Nations League - how long he stays out of Southgate's set-up seems certain to have an none-too-distant expiry date.
In an interview with The Guardian towards the beginning of the season, Maddison explained where he finds his natural comfort on the pitch;
"The No 10 position is my favourite role. I am a player who likes to play in between the lines and try to break that midfield line whether it's when I receive a pass or can go and show everyone what I am about.
Creativity is something that became glaringly apparent was severely lacking at Manchester United - and indeed England - and Maddison's clear adaptability to several different clubs in such a short space of time is sure to be both invaluable, and build up a bit of confidence for a demoralised Red Devils' fanbase.
Being a self-proclaimed Manchester United supporter doesn't hurt him either.
💸🦊 Man Utd have reportedly made a £60m bid for James Maddison
The Leicester midfielder is one of only 3 players to make 100 chances in Europes top five leagues this season.
#LCFC
#MUFC