Mark Noble came off the bench in injury time to take a penalty, but the captain dramatically missed
16:22, 19 Sep 2021
It was just meant to be for Jesse Lingard and Manchester United today. The man who was ridiculed in midweek for costing Manchester United a point in the Champions League returned to haunt West Ham with a late winner, while David De Gea dramatically stopped a late Mark Noble penalty to secure all three points.
In the dying seconds of the game, we were treated to another spectacular United finish. At 2-1 down, West Ham were handed a lifeline after Luke Shaw was adjudged to have handled in the box and although Declan Rice had the ball in his hands, former United boss decided to bring on captain Mark Noble to take the penalty.
Noble's penalty record is exceptional, and De Gea's is woeful, as we saw in the Europa League final. In fact, he hasn't saved a penalty in normal time since 2016. So we could all predict what happened next. Diving low to his left, he denied the skipper in his final year at the club, and secured a huge three points for the visitors, who went into second place with that win.
After Jadon Sancho and Marcus Rashford came off the bench in the Euro 2020 final and missed, much was made of substitutes coming on 'cold' to take a penalty. Noble only touched the ball once as De Gea made himself an unlikely hero on a testing day in London.
Lingard came off the bench once again and after the nightmare he had in Switzerland he earnt himself redemption against the club that adored him last term. He established himself as one of the most dangerous players in the Premier League in claret and blue and now looks desperate to make his mark for the Red Devils. With the scores level at 1-1, he got one on one with Kurt Zouma, jinked inside, and curled the ball into the top corner.
It was a finish that typifies the type of character he possesses, despite all the criticism, he was able to shut it out and help his side secure another three points, as they made it 29 games unbeaten away from home.
It wasn't all good news for United however. Fred and Scott McTominay in central midfield looked second best and afforded too much space to the Hammers, who broke the deadlock with a touch of fortune, thanks to a big deflection from Raphael Varane. Dangerman Said Benrahma, who has been sensational so far this season was given too much space and took aim from the edge of the box, as his strike deflected off the defender and past David De Gea.
Mistakes happen but it's all about how you respond.
We're always behind you,
@JesseLingard
❤️
#MUFC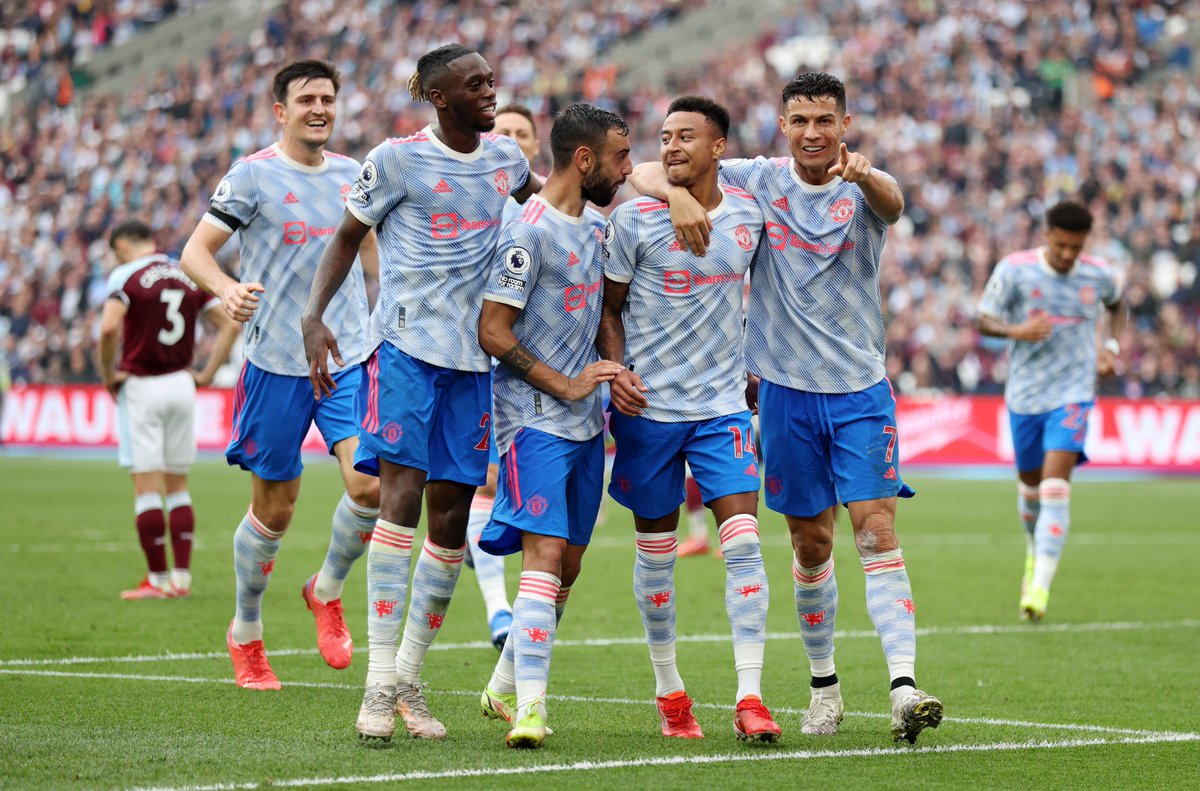 That goal, as we have seen so often for Ole Gunnar Solskjaer, woke Manchester United up. Cristiano Ronaldo fluffed a great opportunity moments before he made the Hammers pay. Fernandes found his countryman in the box and he was again quickest to the rebound after Fabianski had saved his initial effort. For all of United's flaws, he makes up for them.
The second half was a tight affair. Twelve yards out, Ronaldo was denied a golden opportunity by Fabianski who raced out to deny him from close range. West Ham's lack of a natural striker, especially one as complete as Michail Antonio was apparent as they attacked United's back line. Although they cut through on several occasions, they didn't have that poacher to finish the chances that their attacking play threatened.
Penalty calls for both came in the second half, with Ronaldo seemingly unlucky on a number of occasions, but nobody could predict the drama that came late on. Lingard off the bench won the game for United, but surely Noble's failure to convert from the spot will bring an abrupt end to penalty-taking substitutions.