The 47-year-old triumphed on Sunday night
10:00, 07 Mar 2022
Joe Perry enjoyed what he described as the greatest moment "by a country mile" of a 30-year career on Sunday night – beating Judd Trump to win the Welsh Open.
The 47-year-old, who turned professional in 1992, defied the odds to claim a 9-5 victory at the Celtic Manor resort against former world champion and world No3 Trump.
It was just a second ranking title for Perry, whose only other success had come seven years ago in Thailand – when the organisers failed to even provide him with a trophy.
But this time there was the stunning Ray Reardon trophy to lift aloft as he also pocketed the £70,000 first prize and banish memories of what had previously been a terrible season.
It has been a superb run in Newport from Perry, who has come through a brutal draw and also beaten the in-form Ricky Walden, Mark Allen, Kyren Wilson and Jack Lisowski.
But it was a below-par display from the Juddernaut in his first ranking final of the season – a concern ahead of his bid to win a second world title next month.
There has only ever been one older winner of a ranking event – and that remains Welsh legend Reardon, the man whose name was on the trophy.
Perry, whose ranking had fallen to No42 before this event and into the 70s on this seasons performances alone, got to celebrate a special achievement with his mum and dad in the arena. And this success propels him back inside the world's top 25.
The 12th different winner on tour this season, Perry said: "I can't believe it, this is the absolute highlight of my career by a country mile – by a long, long way.
"I thought maybe it was over and coming to an end - so to get this best moment against a great champion like Judd is amazing and the icing on the cake. Judd had an off day, he has torn me to pieces in the past - but I played really well tonight.
"My mum and dad have supported me since I was 10 or 11 years old and if it wasn't for them I wouldn't be a snooker player. I won a tournament before but no one was there. I know they are proud of me but this is amazing and for them as much as me.
"I felt brilliant today but this afternoon but for some reason I kept missing easy balls. I don't know why, maybe concentration or the moment. But I was good in the evening.
𝗔 𝗣𝗥𝗢𝗨𝗗 𝗠𝗢𝗠𝗘𝗡𝗧 𝗙𝗢𝗥 𝗣𝗘𝗥𝗥𝗬 🏆
Judd Trump 5️⃣-9️⃣ Joe Perry
The Gentleman reigns in Newport as he lands the first 🏆 of his career on home soil. 🙌
#WelshOpen
•
#HomeNations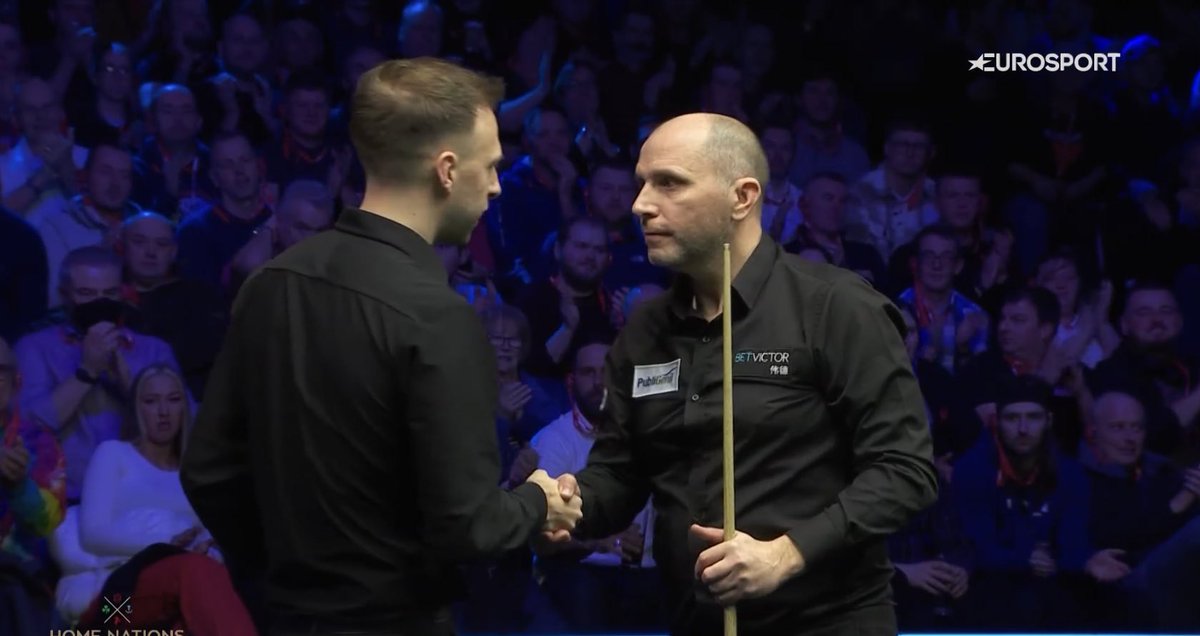 "I never thought this was going to happen again and was happy just to get the opportunity to walk down the steps for the final session, let alone get all the confetti afterwards. And wow, I am back up to No 23 after this win.
"And I also must say that this is a new venue for us at the International Convention Centre, but it is one of the best we play at on the circuit. The crowd have been amazing and I can't wait to come back next year."
Watching six-time world champion Ronnie O'Sullivan said: "Joe played fantastically well in the final session, the numbers and scoresheet show that. And scoring is what it takes to win matches and finals. He has done media work in the recent years and is very good at it, and maybe that has helped him relax knowing there is a career after snooker."
Trump said: "Joe is one of the nicest guys on tour and this is his first ranking win in the UK, so everyone is happy for him. He was the best player all week and he also played very well in the last session.
"It was a tough game for me, I didn't really turn up or play well today but that was the same throughout the tournament and I did well to get to the final, really. I could easily have gone out in an earlier round, and it wasn't good enough here to beat someone playing well like Joe."
The afternoon session saw both players struggle to catch fire and a series of tense frames and exchanges.
Perry nicked the opener despite a break of 60 from Trump, and after the world No2 levelled he edged ahead once more with a run of 59.
Trump made it 2-2 with a break of 69 and then took the lead for the first time but there was never to be more than a single frame between the players in the first eight frames.
Perry drew level at 3-3, and then after Trump showed a rare sign of cutting loose with a break of 73 stole another huge frame to make it all to play for in the evening.
The 47-year-old then jumped all over a bad safety effort to make a century with 108 in the first frame of the second session only for his opponent to respond.
However the momentum was with Perry and breaks of 51, 66 and 68 helped put him on the brink at 8-5 and a cool 70 saw him home.