Football /
Juventus' Trip To Empoli Highlighted The Effect Cristiano Ronaldo Has On Smaller Clubs
Camera phones at the ready...
No less than seven League One clubs and five in League Two have a bigger stadium than Empoli FC. The Tuscan club have just signed a deal for a complete rebuild of the dilapidated 16, 284-seater Stadio Carlo Castellani starting next season, but the temporary stands and concrete slabs in place of seats would simply have to do as Juventus were the visitors last weekend.
Normally with an attendance of less than 10,000 supporters, Empoli press officer Marco Patinostro received over 1,000 emails asking about ticket availability before the club released them online, an unprecedented demand even for a game versus the Turin giants. Those that were on open sale sold out within hours, leaving many disappointed.
There was one reason alone why there was such a mad rush for tickets: Cristiano Ronaldo.
The chance to see such a global superstar among a tiny crowd sent supporters into delirium, the scramble for tickets and the number of people sitting in the home section with "Ronaldo" emblazoned on the back of a Juventus or Portugal shirt incredible to see.
While the impact of CR7's move from Real Madrid in the summer was easy to predict for Juve themselves, hardly any of those endless column inches were dedicated to the effect for the smaller clubs. The match versus Empoli – when the Bianconeri rescued a 1-0 deficit thanks to a Ronaldo brace – truly highlighted how ill-equipped a club who were in Serie B last year are to deal with the hysteria surrounding the megastar.
Fully aware that many areas of the stadium would be filled with Juventus (or rather Ronaldo) supporters, Empoli charged a minimum of €70 with no concessions for non season-ticket holders. Before the match, a home supporter revealed that his annual pass cost just €120, a further illustration of how the club were ready to make money from one-off visitors while they could.
"Forza Magico Empoli" read the banner on the section of the stadium that housed the club's Ultras, a notion that encapsulated the "magic" of football for those who truly dedicate themselves to watching their team play live. Those fans chanted and sung throughout the 90 minutes, and were handed their moment of unadulterated joy when their side took the lead through Francesco Caputo.
What a stark contrast with those who had only been interested in one player throughout the first half, those fans disgusted that they had not yet seen a moment of brilliance from their idol and even more incredulous that Juve were 1-0 down. The modern advertising-led, social-media driven state of the game was on full show as camera phones came out at every mere glimpse of CR7, the footballer creating hysteria of film-star proportions.
It was sad to see supporters who would never know the joy of following a team like Empoli week in, week out, those who dedicate their weekends to the side and each other no matter what the weather or the result. The home fans sung and applauded throughout the entire match – even when global star Ronaldo scored his brilliant second goal – proud of their team's effort despite the eventual outcome.
They didn't know their opponent's names, they didn't even know any Juve songs, they just wanted to catch a glimpse of the star through their screens in order to share their experience online. In this respect, a comment or a like from others gives some kind of misplaced self-value, rather than feeling satisfied just to be one of the 16,000 present.
This is an Empoli home section, sponsored by the Ronaldo fan club 😳. How many of them even know a single Empoli player?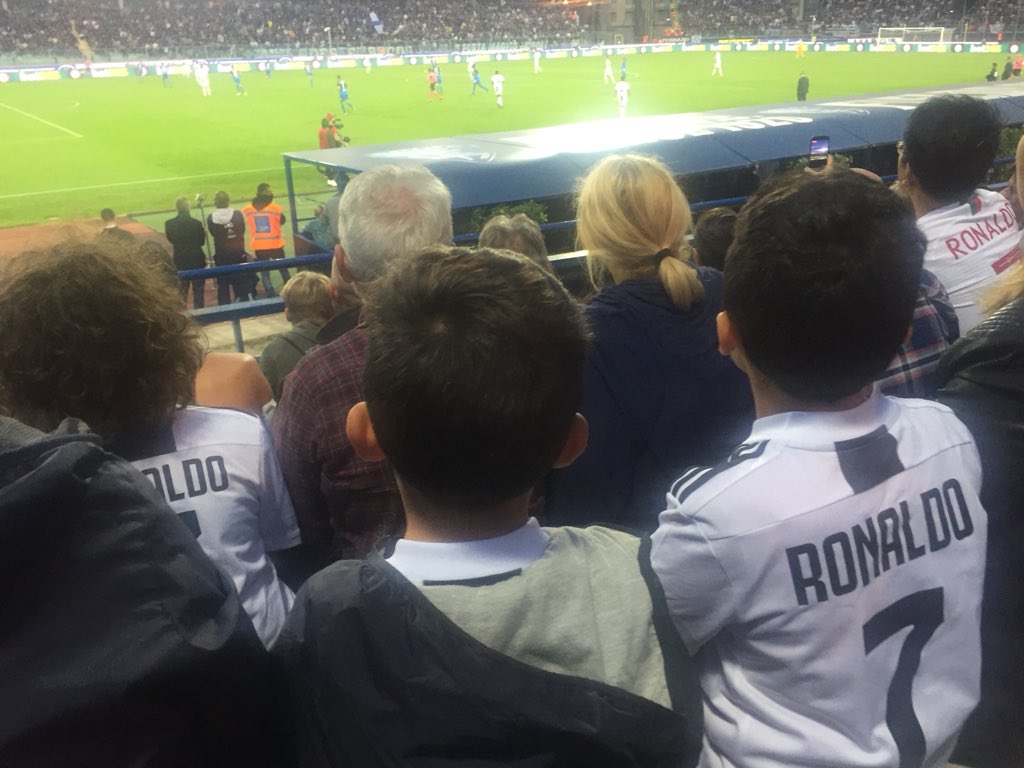 Everyone is entitled to enjoy the game however they see fit, however it's difficult to escape the feeling that the hype created by Ronaldo is pushing people away from what's important. Of course, it is an amazing experience to see such a talented player in the flesh, but why not view that with your own eyes rather than through a screen? Why not let the memory in your head take over from the one on your phone?
It was a scenario that will be played out over several small Serie A grounds this season, but there was something disquieting about the kind of adulation shown for Cristiano Ronaldo at Empoli last weekend. What ever happened to watching a football match?