The new champion made quite the impression as a 15-year-old
18:05, 06 Dec 2021
Ken Doherty was the first major scalp for new snooker sensation Zhao Xintong – and can now feel a lot better about losing to a 15-year-old.
The 'Cyclone' from China claimed a brilliant breakthrough title by winning the UK Championship final with a 10-5 victory against Belgium's Luca Brecel.
Zhao, 24, won the hearts of the York Barbican with his dazzling array of skills at the table and an engaging personality and ever-present smile away from it.
The story about being without a hotel room at midnight before the biggest day of his life – and plans to celebrate by singing Queen's "We are the champions' in a karaoke bar have already entered into snooker folklore.
But former world champion Doherty, 52, had an unwelcome sneak preview of what was to come when being bombed out of the International Championship by Zhao in 2012.
Then a teenage amateur wildcard gifted a place in the draw by the Chinese authorities, Zhao – who started playing at the age of nine and is one of the most successful graduates of the Chinese academy system - justified that faith by knocking out the 1997 Crucible king Doherty 6-5 in a thriller.
The youngster repeated the trick at the same event in Chengdu 12 months later, beating six-time world champion and former Crucible finalist both by emphatic 6-1 scorelines.
And Ireland's Doherty, who has followed his recent success from the BBC studios as a pundit, said: "I still remember that match vividly. It was a situation that a lot of the professional really didn't like.
Still can not believe it I have won UK Championship! Thanks for everyone's big support. I will keep working hard and keep playing entertaining snooker.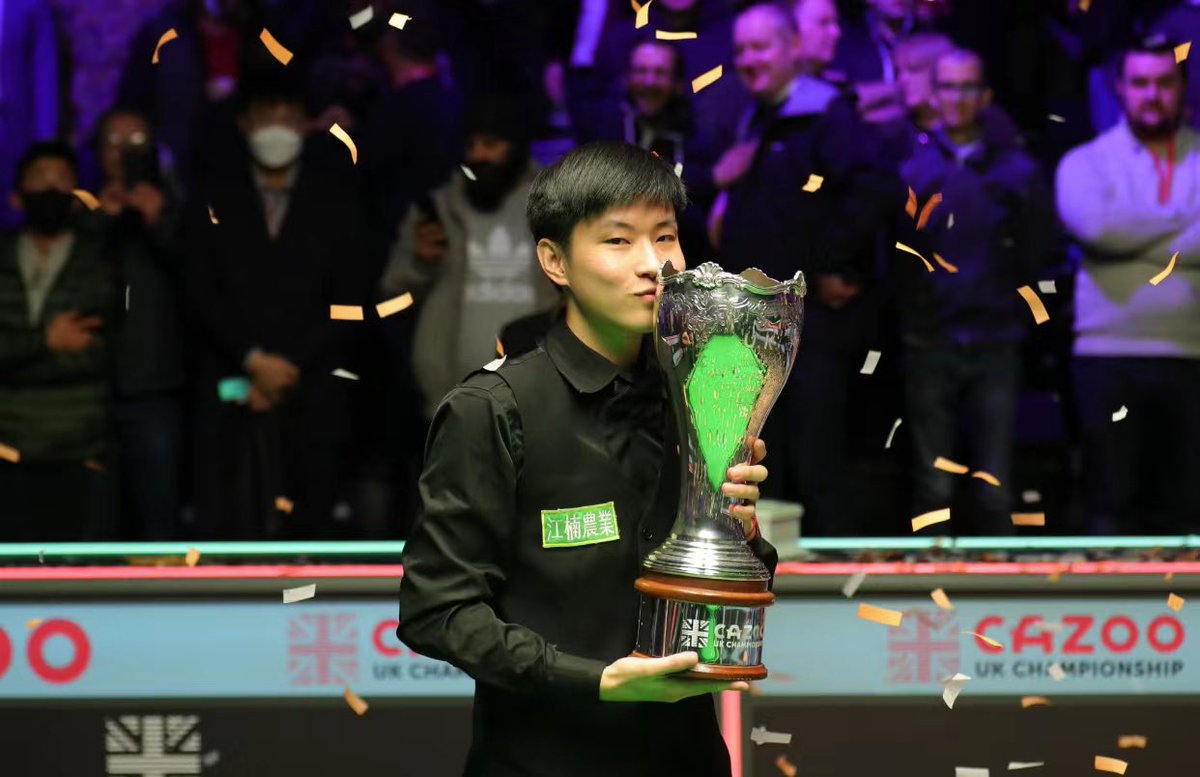 "You could go out there and back to China, a 10,000-mile round trip and if you were one of those playing the extra round against a wildcard you could be back home without even really being in the tournament.
"Zhao beat me 6-5 and he was only 15 at the time, a youngster with a lot of ability given his place in the draw by the Chinese authorities.
"You could see he had a prodigious talent even back then – very calm and cool for someone so young. And maybe the big hallmark was playing with a smile on his face.
"That has never changed from those first experiences, and he did that again all the way to the title in York.
"Of course he was very raw in 2012, an amazing potter as he still is, but not to much else to his game. But I remember thinking when I got back to 5-5 'He's going to crack now, he'll fold'.
"But he didn't. Quite the opposite in fact, he made a great break in the last frame which for a kid like that suggested he had something a bit special and different.
"Then the following year in the same International Championship in Chengdu he thrashed Steve Davis and Barry Hawkins 6-1 – so maybe we can all feel a bit better about it now!
"It was clearly no fluke. As an older player sometimes you hope the youngsters aren't as cool under pressure or will get nervous, but he never has been.
"It was the biggest match of his life on Sunday night, and he played like he didn't have a care in the world which is extraordinary and will serve him very well in snooker.
"His personality seems well suited for this game which can test you in so many ways – calm, confident but also engaging, a bit quirky and with a good sense of humour.
"It is great to see him come to the fore after that time for the work he has done, he played brilliantly throughout the tournament at the Barbican."
Well deserved - congrats to new UK champion Zhao Xintong
Doherty is by no means alone in having highlighted Zhao as a champion in waiting.
Davis, after that embarrassing defeat eight years ago, said after losing to the 16-year-old: "This boy was astonishingly good and better than anybody I have ever seen at that age - and that includes Ronnie O'Sullivan."
And the Rocket himself has been gushing with his praise in recent days, comparing Zhao's raw talent to that of tennis legend Roger Federer, and claiming that having shown the bottle in the final to go with his huge ability "he is potentially within a year, 18 months or two years, the best player in the world.
"If he can stand up to pressure, there is no player on the circuit that has the complete game like him. He is like Steve Davis but with Jimmy White's talent. Very, very scary."
Two of snooker's big three titles are now in the hands of young Chinese players, with Yan Bingtao defending his Masters title next month at Alexandra Palace.
Ding Junhui, not exactly a veteran at 34, was tipped for years as almost a shoe-in to become the first Chinese world champion – but he is now China's No4 having been leapfrogged by younger players he once inspired.
And WPBSA chairman Jason Ferguson said: "I think now is the time to see a Chinese world champion. We've said it before - everybody thought Ding would win it and he may still do so.
"We've always said we thought Zhao will be a future world champion so I think we are approaching the time within the next few years when that will happen with others like Yan Bingtao and Zhou Yuelong out there.
"There's a huge wave coming into the sport and this is testament to the huge talent that is out there.
"Over the last few years the WPBSA have been taking far more responsibility for the amateur sport, developing academies.
"Zhao Xintong was one of our first students at our academy in Beijing and we always thought he was one of the most talented players we have ever seen.
"We're seeing that little bit of a wave coming, and what this final did is give these players out there the belief that one day it can be them."