The Olympics brought us some fantastic moments, but which were the standouts
08:50, 10 Aug 2021
The Tokyo 2020 Olympic Games might be over but they have left The Sportsman's team with plenty of memorable moments.
Here are our picks for the highlights of the last couple of weeks in Japan…
Jason Kenny's Keirin gold – Ryan Wood
It was the most stunning of rides, and the perfect way for Britain's greatest Olympian to cap off another phenomenal fortnight for Team GB. The reigning champion collected his seventh career gold by sprinting away from the pack immediately after the pacing bike had left the track in the men's Keirin final, holding on to win by some distance.
It was as brilliant as it was ballsy.
KENNY'S AUDACIOUS ATTACK IN THE KEIRIN FINAL WAS A SIGHT TO BEHOLD
Sky Brown's bronze – Simon Lillicrap
What an inspirational young woman she is. After twice failing with a kickflip indy, 13-year-old Sky landed the move at the third time of asking to collect a magnificent bronze medal in skateboarding's debut at the Olympics.
She became Britain's youngest ever Olympic medallist thanks to that, too.
Kieran Woolley's collision with a camera guy – Megan Fitzpatrick
Not everything went to plan in the debut for skateboarding, with one cameraman paying the price for not being quite up to speed with the newly-added sport.
When Australia's Kieran Woolley was reaching the end of his men's park preliminary he slightly over-balanced and went crashing into a rather-too-close camera operator. Thankfully both were ok, but for a few moments it stunned everybody in the arena, with Woolley immediately checking the prone journalist was ok.
The 17-year-old went on to finish fifth in the event.
Only 2⃣ athletes have ever been able to sweep both the 100m and 200m in consecutive Olympic Games:
Elaine Thompson-Herah and Usain Bolt. 💪
#JAM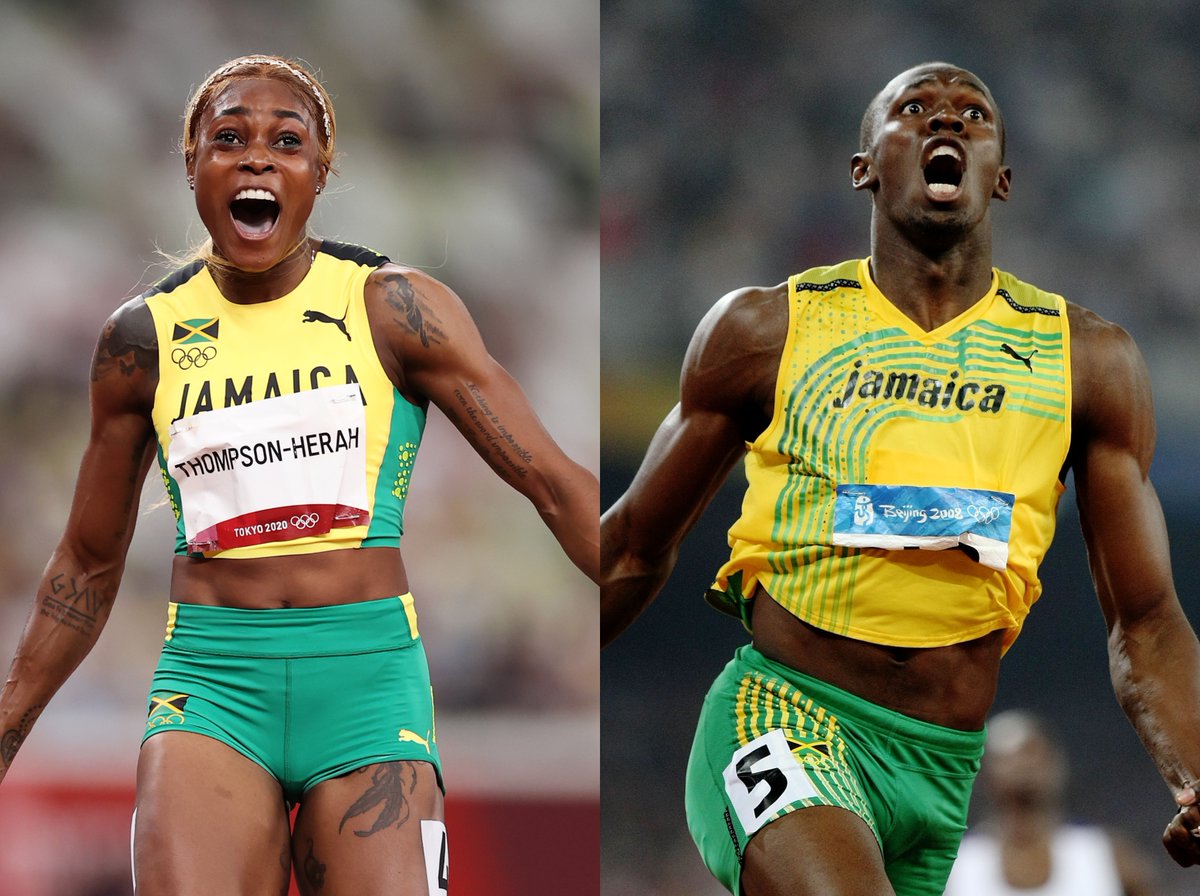 Elaine Thompson-Herah defending her 100m and 200m titles – Sam Penfold
Jamaica's sprint hopes were supposedly dealt a huge blow by the retirement of Usain Bolt, but Elaine Thompson-Herah picked up the metaphorical baton.
Having already defend the 100m gold, she went on to record the same feat in the 200m with a stunning run in 21.53 seconds, becoming the first female and only the second person ever to defend both sprint crowns.
The other person to achieve that feat? Usain Bolt, of course.
Emily Campbell becomes first GB medallist in weightlifting – Kieran Spratt
If you hadn't heard of Emily Campbell prior to the Olympic weightlifting, you're forgiven. The participation of Laurel Hubbard, the transgender athlete from New Zealand, caused so much controversy that the remaining contenders for the women's category were given little air time.
So Campbell's silver-medal display came out of the blue for some, but she was a more than worthy runner-up to China's Li Wenwen. And that scream of joy when she realised she'd won an Olympic silver medal was truly magnificent.
BILES' WITHDRAWAL WAS A BRAVE DECISION OTHERS WILL LEARN FROM
Simone Biles showing it's ok not to be ok – Kris Voakes
There was initial talk that Simone Biles was suffering from a physical injury when she pulled out of the women's artistic team all-around, but her insistence afterwards that it was a mental concern which forced her to pull out stunned the world.
"I felt like it would be a little better to take a back seat, and work on my mindfulness," said the 24-year-old. "I didn't want the team to risk a medal because of my screw up."
Her decision to withdraw from the event and make no apologies for her motivations was exactly the type of move a role model in the spotlight should be making. She, and others like her, will be an inspiration to many future Olympians with exactly that sort of leadership and honesty. It's really ok not to be ok.