The England right-back looks revitalised under Diego Simeone
11:27, 11 Oct 2019
Kieran Trippier must have whiplash. Not because he's been out with the Derby County lads for team bonding, but because of how quickly the opinion of him has changed back and forwards over the last couple of years.
He impressed at Burnley and earned himself a move to north London club Tottenham Hotspur, and while he was bedded in slowly, there's no denying that he made an impact once he convinced Mauricio Pochettino he was ready, and it was all up from there. At the 2018 World Cup, he was brilliant for England and came back to adulation and a huge amount of acclaim.
It was the season after in which things started to go very wrong, very quickly for him. In what could almost be seen as a foreshadowing for a fair few Spurs players looking at their form this season, Trippier fell off the edge of the proverbial cliff. His defending was non-existent. He struggled to track players, he didn't know what day of the week it was or if he was coming or going.
The attacking element to his game remained for the most part, but as a full back, if you can't defend, you can't do your actual job, and unless you're Marcelo, that's not going to go well for you. Criticism and ridicule came from all quarters. It's easy now in the age of social media to rip a player to shreds - and boy did that happen to Trippier.
Still easily the right side of 30, there were plenty of expectations for Trippier to kick on from the World Cup and really establish himself as a great player. That didn't happen. He fell flat on his face, but then something strange occurred.
Trippier decided to make a move - not to another Premier League club as so many British players had done before him when things weren't going well for them at their current club, but to La Liga and Atletico Madrid of all places.
Now, anyone who has watched a Diego Simeone side knows - get forward all you want as a full-back - but if you're not back to defend you're not going to want to be in that dressing room at half time when 'El Cholo' gets a hold of you.
Eyebrows were raised for plenty of reasons - his choice of team and working under Diego Simeone for a start - but more than that, we're more likely to see a resolution on Brexit than we are a plethora of British players moving abroad. It just doesn't happen - and it is a real shame.
Gareth Bale is perhaps the biggest example of a British player moving abroad in recent times, and while he's won all there is to win in Madrid and his time there cannot be considered anything other than a success on the field (yes Zidane, really) his time off it is embarrassing at best.
Kieran Trippier - La Liga + Champions League:
8 Games
2 Assists
81.3% Pass accuracy
17 Key passes
15/34 Accurate crosses
5/8 Dribbles complete
18/23 Tackles won
11/21 Aerial duels won
9 Interceptions
If anyone can get the most from a defender like Trippier, it's Diego Simeone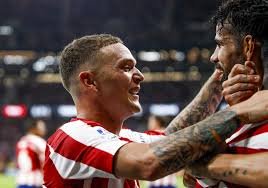 Bale speaks very little Spanish, and is mocked for it by his teammates and the press. It just smacks of British arrogance - the old let's go abroad and expect them to cater to me. Bale should have made far more of an effort, and it's easy to see how that alone could have put some other players off. However, just look at Jadon Sancho at Borussia Dortmund. Getting minutes he could hardly dream of in England, and his career is thriving.
Taking the plunge, if you're prepared to throw yourself into the culture of the club, the language and everything else, can not only be good for a player on the field but also in their personal life. Trippier is certainly finding that out. When he initially spoke about the move, he made it clear he would be taking Spanish lessons and trying to immerse himself into life at the club. Atleti certainly played their part there as well, and it's worked like a charm.
Off the field, Trippier is happy and a well-liked member of the squad already in the dressing room. On the field, he looks like the version of himself everyone thought he would be post-World Cup. His attacking style of play is being harnessed, but Diego Simeone and his coaches have instilled that defensive side back into him like a charm. The media might focus on his assists, but it's his work up and down the line, his tackling being on point, his work rate and his defensive credentials that will endear him to Simeone and be making him one of the first names on the team-sheet.
Of course, playing under an elite manager like Simeone will have been a huge lure for Trippier, and it would be interesting to see who he feels has moved his career on more - he may well have felt he'd come to the natural end of his working relationship with Pochettino and needed something new to move him up a gear - much like Pochettino may be now wondering himself about his own relationship with the club itself.
Even Chris Smalling is doing well at Roma - a move few people saw coming. It just shows that a player doesn't need to just stick it out in the Premier League or refuse to move abroad because of preconceived notions about the league or the country. It can work out far better than you ever expected - a new coach, new teammates and a new way of life that can make you a more rounded person and even go to helping you on the field.
Things look rosy for Trippier at the minute, and he's gone from being memed-up on Twitter to being someone people talk about with admiration and respect. He took a huge risk and was brave enough to put himself on the line - not something many players do. It was a gamble, but he decided to play at the high rollers table, and at the minute, he's got a full house.