"If a protester had jumped on the table during the 147 I'd have judo chopped them with my cue and gone all Jackie Chan."
22:26, 19 Apr 2023
Kyren Wilson marked the 40th anniversary of Cliff Thorburn's first Crucible 147 in style by making a magnificent maximum himself to join an elite club.
World No7 Wilson lit up an incident-packed World Championships yesterday with a sensational moment of snooker perfection.
The 31-year-old from Kettering despatched 15 reds, 15 blacks and all the colours in the fifth frame of his first-round clash in Sheffield against Ryan Day.
It was the 13th maximum ever made at the blue-riband event, and Wilson became the ninth player to achieve the feat – with Ronnie O'Sullivan and Stephen Hendry having done it three times each.
For world No7 Wilson it was the fourth time in his career that he had made a 147 – and this was one of the best ever seen in any tournament.
The break sees Wilson edge ahead of Neil Robertson and Day - who had already made 146s - in the race for the high-break prize. And if his 147 is not equalled, it will earn him £55,000.
The last two blacks after reds 14 and 15 were incredibly tough as he fell out of perfect position.
And there was a superb final yellow reminiscent of the one Canadian Thorburn got for the first Crucible maximum back in 1983.
Thorburn sank to his knees on that occasion – while Wilson settled for a punch of the air as the sell-out crowd got to their feet to roar their approval.
The break however was not shown live on network TV by the main BBC channels with coverage having come off air at 11.15am – but was available on the red button and Eurosport.
Former world champion Dennis Taylor, in the commentary box for the BBC, said: "What a magnificent maximum that is."
Joe Johnson, the 1986 world champion, said on Eurosport: "It looked on right from the beginning with the reds spread – which he did himself."
The frame put Wilson 3-2 up after he had trailed 2-0 at one stage to Day. And he finished the first morning session with 6-3 lead ahead of the decisive second session on Wednesday night.
Wilson said walking off after the first session: "I'm absolutely buzzing, I am so happy with that.
"You know, I have said for a long time now that I have children I would love to leave a legacy, I'd love to leave something for them to watch back when they have kids. That is going to be one of those moments.
Absolute honour to make a maxi at the prestigious Crucible Theatre.
Stuff dreams are made of!
Thank you everyone for your messages!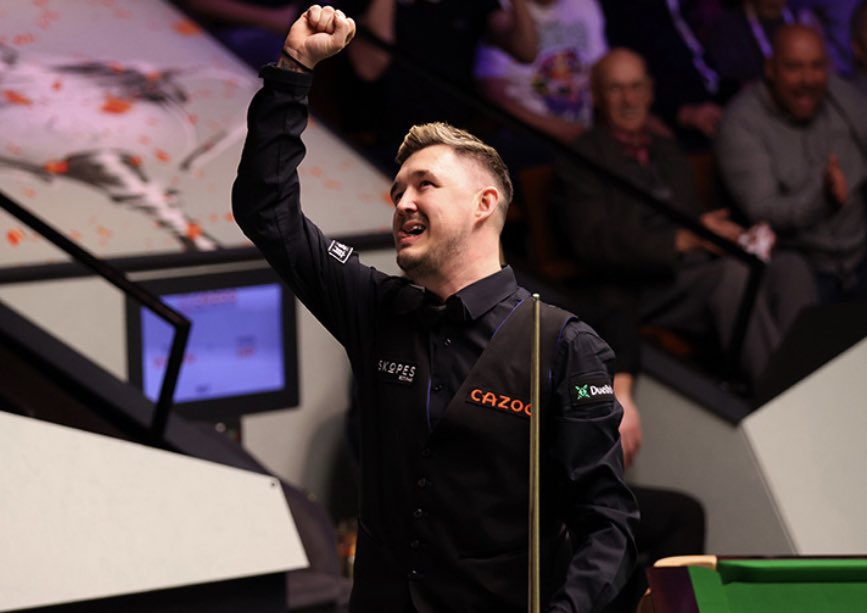 "It's definitely a bucket-list thing to try to do, make a 147 at the Crucible. There is no pressure like it to be honest. I am absolutely buzzing.
"I under-hit the black with two reds left. So, I left myself on a red where I had to leave a high black. I had to play it with loads of right-hand side to get across for the last red.
"That was a tough shot, let alone to get the positioning right. I was short on the last red as well. I had to throw in some left-hand side.
"I hit a good yellow, a good green, a good brown, just overcooked the blue and before I went down to it, I noticed everybody piled into the corner, all the press, with their cameras ready. I got a little bit distracted.
"I played a good pink with loads of right-hand side as well. I turned into Alan 'angles' McManus.
"I have had some maximums before in exhibitions. The amount of people that have come to me afterwards and said they have been snookers fans all their lives and that was an amazing thing to see live. So for the fans at the Crucible to see that live, I am sure it will live long in their memories.
"Without a doubt, that is one of the best things I have ever done in my career. I got down for the pink and I couldn't feel my right arm. The black was perfect. Happy days."
Jack Lisowski completed a 10-7 win over Thailand's Noppon Saengkham – and admitted he could hear the roars from the arena in his dressing room during a mid-session interval.
Lisowski, who initially wondered if more protesters had invaded the arena, said: "I could hear Kyren's brother Taylor screaming, I was sat in my dressing room and I could just hear this shouting.
"And I thought, unless someone's gone mad or it was another protest, that's a 147. I feel very comfortable out there, and the scoring is definitely a side of my game that has improved. I am more relaxed in my ninth appearance at the Crucible, and maybe coming into my prime."
"Both my kids got to watch the 147 at school. My older son Finlay was in PE and they stopped it. And my younger son Bailey had his teacher Miss Palmer streaming it.
"If a protester had jumped on the table during the 147 I'd have judo chopped them with my cue and gone all Jackie Chan."
Wilson went on to complete a 10-5 win over Day last night – and set up a last-16 clash with four-time world champion John Higgins.
The Warrior equalled a record held by Ronnie O'Sullivan and Mark Allen of making five centuries in a Crucible first-round match with runs of 133, his magical 147, 120, 108 and a closing 102.
Bizarrely Wilson is the only one of the three joint record-holders who went on to win the match.